School went virtual. The economy cratered. These six parents are fighting to adapt
Schools expect students to log on for hours of live Zoom lessons — creating a version of school that feels more familiar, but also asks more of students and their families.
Listen
5:49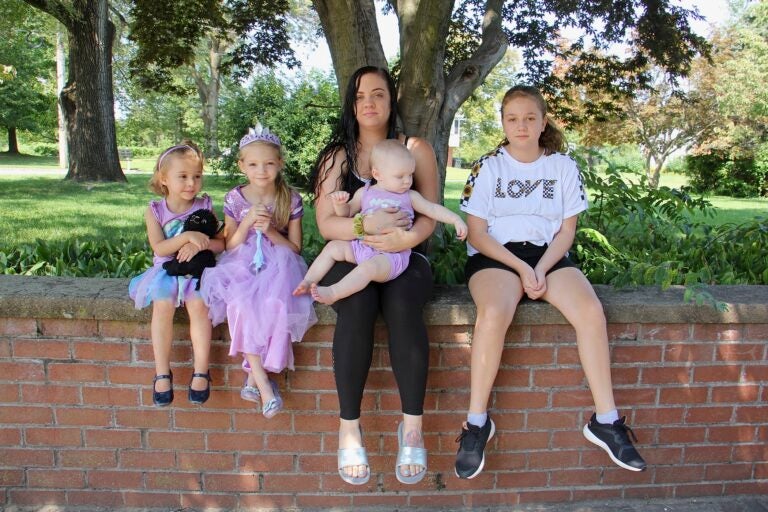 Are you on the front lines of the coronavirus? Help us report on the pandemic.
The fall semester in most southeastern Pennsylvania school districts has begun just as the spring semester ended: 100% online.
But that doesn't mean everything looks the same.
In March, school districts rushed to create online content for their students. The result? A hodgepodge of live lessons, recorded videos, and self-directed assignments.
This year, online school generally looks more intentional and intense. Schools expect students to log on for hours of live Zoom lessons — creating a version of school that feels more familiar, but also asks more of students and their families.
Parents find themselves thrust into unfamiliar, and, at times, uncomfortable roles: teacher, tech support, guidance counselor, principal.
That's in addition to work-related stress — which for some parents comes from juggling the work-from-home, school-from-home life, and, for others, comes from pandemic-related job and income loss amid the worst period of unemployment since the Great Depression.
Keystone Crossroads spoke with six families from around the Philadelphia region to highlight how parents are processing the start of this school year.
'I can't give her what she wants'
Single mother Tiffani Szabara, 30, isn't sure how much longer she can keep this up.
Since school started, the mom of four has gone from working full-time as a cook at a neighborhood restaurant to the equivalent of two days a week. She tries to pick up overnight shifts as an office cleaner, but that means going without sleep and asking her best friend and roommate to take over child care.
"At this point, the only way I am able to stay afloat is by trying to pick up extra overnight jobs," said Szabara, who recently moved from Pottstown to Phoenixville. "It still feels really surreal."
Of Szabara's four daughters, two are old enough to attend school in the Phoenixville Area School District.
Her oldest, seventh-grader Jaedlyn, has adapted well to the online curriculum, and seems to enjoy the added structure that has accompanied virtual schooling this fall.
But Szabara's first-grader, Cadence, is struggling. And it's left both of them feeling helpless.
Cadence has little exposure to formal school — only about a half year of kindergarten. She can't stare at a computer screen for eight hours and watch someone talk, Szabara said. Sometimes, when the fatigue and frustration mount, Cadence puts her head down at her desk and starts weeping.
"I try to show interest in what she's doing and encourage her. I tell her she's doing a good job," Szabara said. "And sometimes, honestly, I just let her sit there and color a picture because that's what makes her happy."
Although Szabara has scaled back her daytime working hours, she can't eliminate them completely. When she does work during the day, Szabara drops the kids off at her grandmother's house.
Her grandmother, much as she tries, can't help Cadence troubleshoot tech problems that inevitably arise when a 6-year-old tries to keep up with a full day of online lessons. Her daughter has already missed a couple of classes because of it.
"She knows that she has class and when she can't make that class she gets very upset about it," Szabara said.
Szabara would like to enroll her daughter in a program that requires fewer hours of online learning. She doesn't know where to find it, and private school is too expensive.
"I just feel bad," Szabara said. "I can't give her what she wants and what she needs to be able to be successful."
Get more Pennsylvania stories that matter
'In this for the long haul'
Marlese Tate expected the worst. So far, she's glad to be wrong.
"So far, so good," Tate said. "It's not what I really wanted, but I prepared."
Tate lives in North Philadelphia with her eleven-year-old daughter Malaaya, who attends T.M. Pierce Elementary school. The forty-year-old housekeeper had supported the School District of Philadelphia's initial plan to send children to the classroom a couple days a week.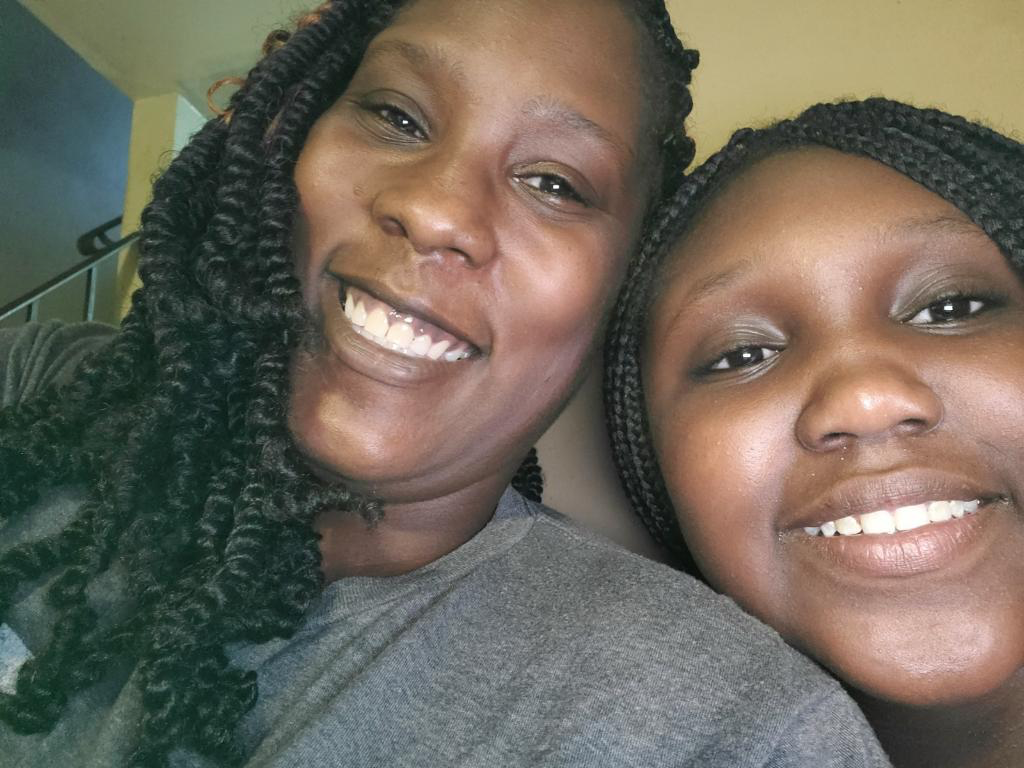 Officials' decision to abruptly reverse course left Tate frustrated and freaked out about balancing work and parental obligations.
"They forget that some parents don't have the luxury of staying home with our children," Tate told Keystone Crossroads in July.
Tate, like many other working parents, ended up turning to her own parent for help: Malaaya will spend her school days at her grandmom's house. The eleven-year-old is working alongside Tate's 16-year old sister.
"I didn't want this to fall on my mom, and I didn't want it to be somebody else's responsibility," she said. "But I have no idea [what I would do without her]. I pray that I don't have to find out."
Tate took a few days off of work last week to be able to be with her daughter as the school year began. Instruction was a lot smoother than it was last spring, Tate said, though their district-issued Chromebook has had some technical issues.
Tate said she's already looking into purchasing a computer to replace the one issued by the district. Doing so will require saving up and delaying some other purchases, but she doesn't see another option: she expects her daughter to spend the rest of the year online.
"I am not very optimistic this is going to end in November," she said. "We all kind of feel like we are in this for the long haul now."
'I'm blessed'
Despite losing her job and her house, Lauren Hightower considers herself lucky.
It's a word she uses a lot when describing her son Brian's transition to online learning.
"I'm lucky. I'm blessed," said Hightower, 30. "He's very cooperative. You say, 'Sit, do your work. And he's like, 'Ok."
Hightower and her girlfriend recently moved from their longtime home in Wilmington, Delaware after the landlord more-than-doubled the rent. It would have been tough to manage in normal times, and impossible after Hightower lost her job as a restaurant manager and had to become Brian's full-time caretaker.
"I mean I wish that I could go back to work. It is hard," said Hightower. "Our income has dropped in half."
Luckily — to borrow Hightower's word — her girlfriend still has steady work and the family found a charming old country house for rent in rural Chester County.
Her son started school in the Avon Grove School District last Monday. The staff and parents have been exceedingly friendly — offering tech tips, restaurant recommendations, and even a special Zoom session where new kids can interact online.
As for school, Brian, 6, is thriving. He's academically advanced for a first-grader, Hightower said, and looks forward to a day full of online lessons.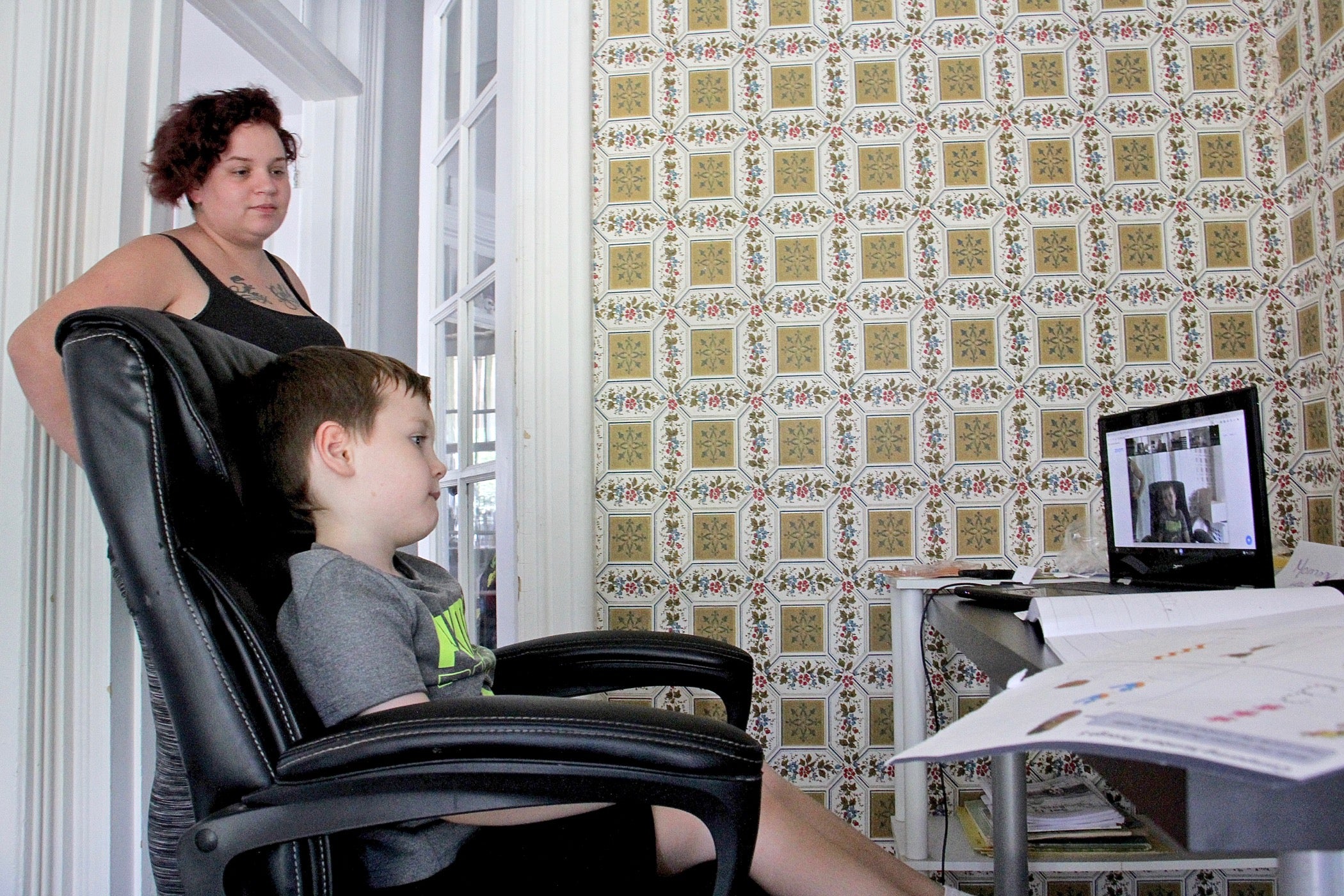 "Last [spring] it drove him crazy that all he did was sit in front of a tablet and play games, like learning games," said Hightower. "He didn't wanna do that. He wanted instruction. He wanted somebody to teach him."
Hightower knows it isn't that way for every child. Last spring she was the primary caretaker for a 10-year-old relative with special needs. She saw him struggle to understand the online lessons — much less complete them. As the child's guardian, she felt helpless.
"I'm not a teacher," Hightower said. "I can sling beers and shots all day. But I can't teach you how to comprehend your math or your reading."
With Brian, Hightower has to troubleshoot the occasional tech problem — but that's it.
The only thing she worries about is his social skills. Brian is naturally withdrawn and a little anxious. She noticed him start to open up when he attended kindergarten in person and wants badly for him to be in that kind of setting again.
"He progressed so much being in a school setting," said Hightower. "And I think that's from being around other kids."
'Not the same'
For Tyree Lee, Lanier Park in South Philadelphia is a refuge, a place for children to splash in the fountain to beat the heat and parents to connect.
Lee, 29, was there with his ten-month-old son and eight-year-old daughter Miyanna at the end of last week, recharging after the first few days of his daughter's virtual school.
"It's kind of difficult," Lee said. "Because a lot of us parents are not teachers."
Miyanna is in second grade at Cornerstone Christian Academy, a private school located in West Philadelphia. Paying the school's tuition has required careful budgeting: Lee's been able to hold on to his job working security, but his girlfriend lost her job as a home health aide in March, only returning to work a few weeks ago.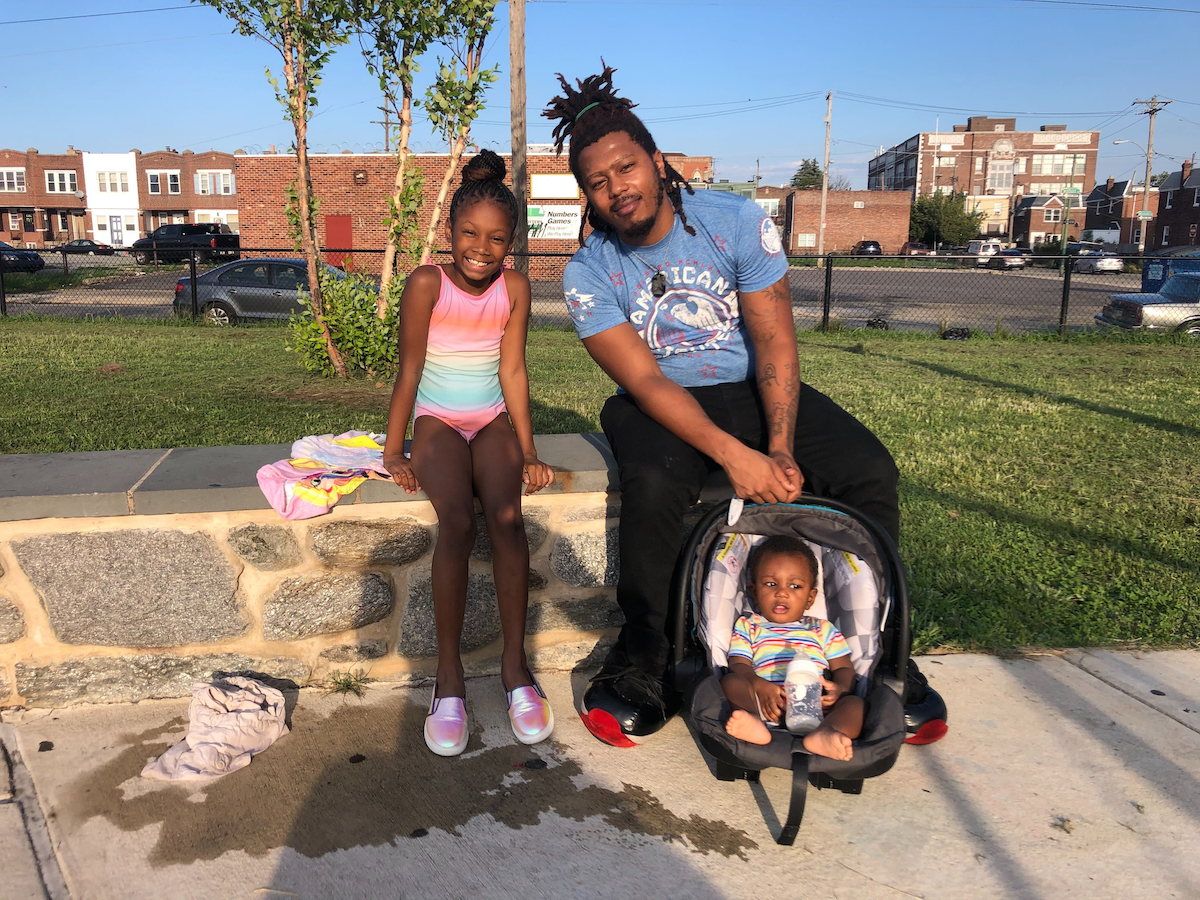 "It was hard at first, because we went from two paychecks to one," he said. "But we got through it."
This year, Miyanna is doing her schoolwork at a day care program, a setup that's essential for working parents. Lee helps her after work when he can — that day walking Miyanna through her multiplication tables in between splashes in the fountain.
Lee may not consider himself much of a teacher, but his daughter is a quick student.
"She doesn't come home [from day care] saying, 'This is hard,'" Lee said. "She really enjoys herself."
Miyanna said that school is going well so far, but she misses her friends and classmates. Some of them, she said, are having a harder time than she is keeping up with their coursework.
"I think they should have made the kids go back to school," she said. "Because some parents are going through things, and their kids may not be able to make it online."
Lee said that issue is one of many that make virtual school unsustainable.
"What kids are losing basically is socializing," he said. "I grew up making friends in school, but now everything is online … that's not the same."
Lee said he's holding out hope that there will be a vaccine by November, allowing students to safely return to classrooms.
But until then, they'll have these afternoons at the park — a little oasis of normalcy in a turbulent time.
'Just tell me the most effective way to do this'
If you're struggling to make sense of whatever digital portal your kids use to access and submit their online work, you are not alone.
Even in tech-savvy parents, like Ally Mitchell, find the process maddening.
"The actual school day is going much better than I expected," said Mitchell, a mother of four who lives in Phoenixville. "The assignments and homework are a whole other beast."
Mitchell, 31, and her husband both work for a technology company. Even so, they find themselves straining to understand what exactly their three school-aged kids are assigned to do on a given day or in a given week.
"I emailed each of their teachers being like, 'Somebody, please, just tell me the most effective way to do this,'" said Mitchell. "I need to learn so I can teach them how to manage their own work. Because it's not happening right now."
The internet is another headache. It's too spotty to simultaneously handle the traffic created by three kids and two parents working from home. Mitchell and her husband spend a lot of the day troubleshooting tech issues for their kids.
For some relief, they've hired a babysitter who comes by twice a week to look after their youngest child, who is 17 months old. Mitchell's mother-in-law fills in another day.
The couple crams a lot of their work into the early-morning and early-evening hours. A lot of days end with the couple in bed catching up on email.
Mitchell believes things will get smoother as the year goes on. Her three kids — all age 10 or under — have varying levels of comfort with online learning, but seem capable of making it work. Part of Mitchell's confidence comes from her school district's teachers, who email and communicate constantly so that parents and kids feel supported.
"I have goosebumps," said Mitchell. "It has astounded me. They have gone so far above and beyond with these kids."
'Kind of dreading when they go back'
Doireann MacLean has lived in her West Philadelphia apartment since May, but there are still books and other items strewn across the floor, waiting to be shelved.
MacLean, 33, is the mother of a three-year-old and an eight-year-old who has epilepsy and another cognitive disability. Nearly every waking moment is allotted for her work as a massage therapist or caring for her children.
"It's been stressful," MacLean said. "I can walk to work in a little over an hour, so sometimes that's my alone time."
MacLean shares custody with her ex-husband, but she has the kids for most weekdays and oversees the majority of the school work.
Normally the school year would mean a break for MacLean. Her son Finn attends Hackett elementary in Fishtown, where last year he had a classroom aid and multiple therapists.
This year, though, those folks are trying to keep Finn on track through a computer screen. The first few days were tough.
"It was a lot of yelling over each other because the parents were not paying attention, not muting at the right time," she said. "It was a little bit loud, a little bit chaotic."
On one particularly bad day last week, MacLean grabbed one of her son's toy cars and parked it in front of the computer, out of view of the camera.
"He was still sitting there listening, but he wasn't necessarily doing work," she said.
Working nearly full-time as her son's unpaid school aide has meant a lot less time for booking clients. MacLean said she's glad to have been able to return to work last month, but she estimates her income is only about half of what it was before the pandemic.
"Before I could schedule myself when people wanted to book," she said, "Now I have to schedule myself whenever I can possibly work."
Despite these challenges, MacLean thinks the district was right to play it safe and start online, especially because her son has motor control issues that make it difficult for him to wear a mask or wash his hands.
But it's more than just safety that makes her glad school is virtual right now.
"I am kind of dreading when they go back to school, even though it will be easier in a lot of ways," MacLean said. "Because I won't see them as much, and that will be sad."
WHYY is your source for fact-based, in-depth journalism and information. As a nonprofit organization, we rely on financial support from readers like you. Please give today.