Safehouse supporters huddle to work on messaging, sway public opinion
Kensington residents vocally oppose Safehouse's planned site in the neighborhood. Some supporters aim to help with messaging, to get more people on board.
Listen
2:03
Usually, when a crowd of people gathers in a room to talk about supervised injection facilities, tensions run high. But at a party in Society Hill on Friday evening, pretty much everyone was in agreement that such a site would be a powerful public-health tool that would help save lives.
It was the first convening of a group of supporters of Safehouse, the nonprofit that plans to open a supervised injection facility in Kensington.
Marissa Perrone hosted the evening with husband Joe Piscitello. She had the idea for what she called a "friends of Safehouse" group after attending the most recent community meeting in Kensington, at which neighbors voiced opposition to Safehouse's proposal to open a space near the Kensington and Allegheny El stop where people could inject drugs under medical supervision.
Perrone said she was struck by the degree of opposition from the neighbors, and what she described as the level of misunderstanding about what Safehouse will and won't do. She was surprised that people thought this was a project paid for by the city. She wanted to make the argument that this was a way people could be linked to treatment. And she didn't think investing in Safehouse had to mean that Kensington wouldn't get the other improvements it so sorely needs.
"A 'friends group' can change the narrative — it doesn't have to be the Safehouse or improving Kensington," she said.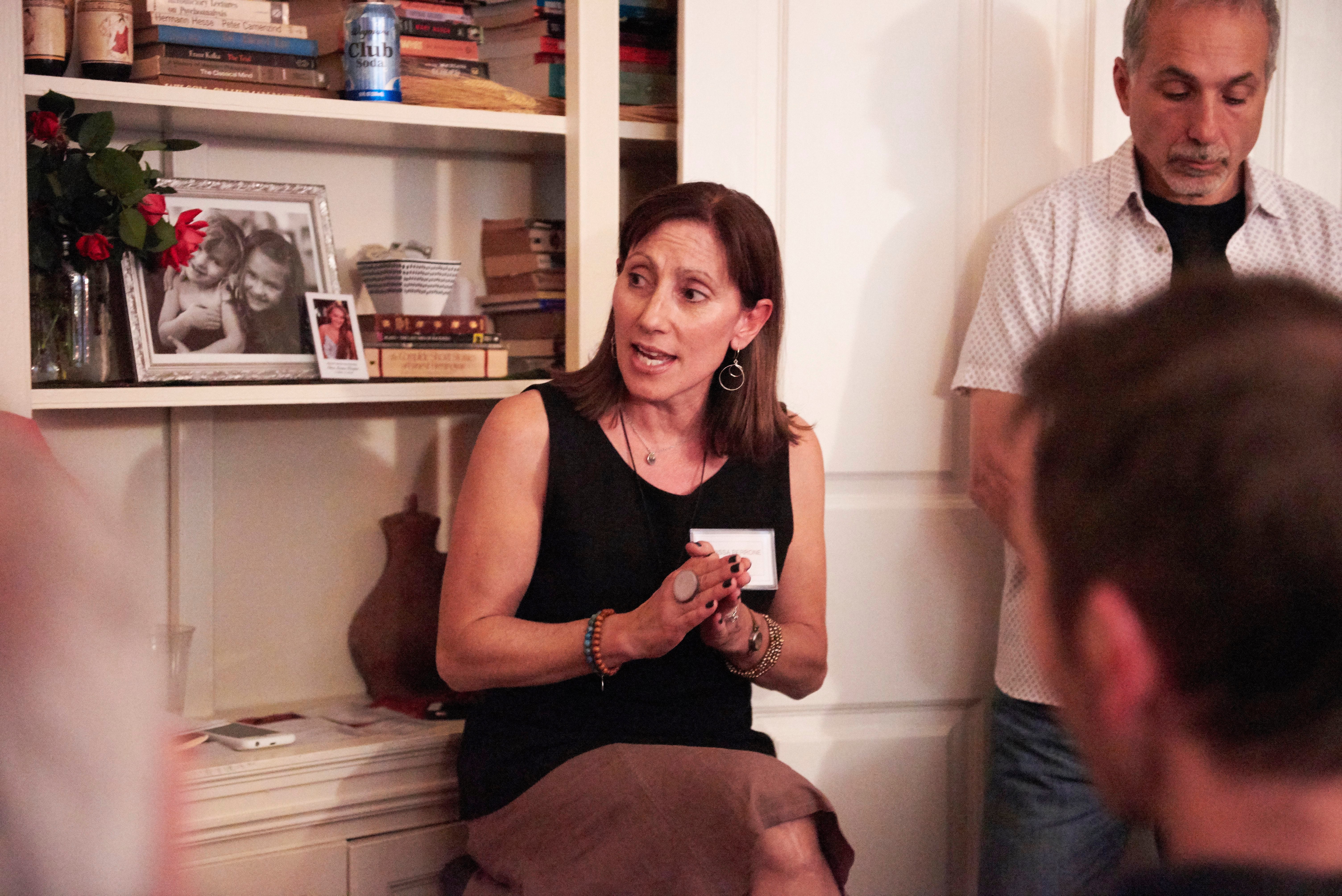 So Perrone thought it would be helpful to convene a group of that could help dispel myths about supervised injection facilities and also be a voice advocating for them.
Perrone and Piscitello are invested in Safehouse because they believe it would have helped their 24-year-old son, who has struggled with addiction over the years.
"We knew he was in Kensington, and there were nights that we would literally wonder and go out and hope that if he was overdosing that somebody would find him," said Piscitello, a personal-injury lawyer.
He said he wishes there had been a place like Safehouse for his son to use.
"That would have been a dream — to know that maybe he's in Kensington, but maybe that's not certain death."
Their son is currently in recovery. The couple was joined by Izzy Harper, who lives in Point Breeze, and her mother, Cara Moser, who lives in Massachusetts. Moser's daughter, Eliza, died of an overdose several months ago in her home. Her younger brother found her body and tried to resuscitate her.
Moser said she knows her daughter would not have wanted that.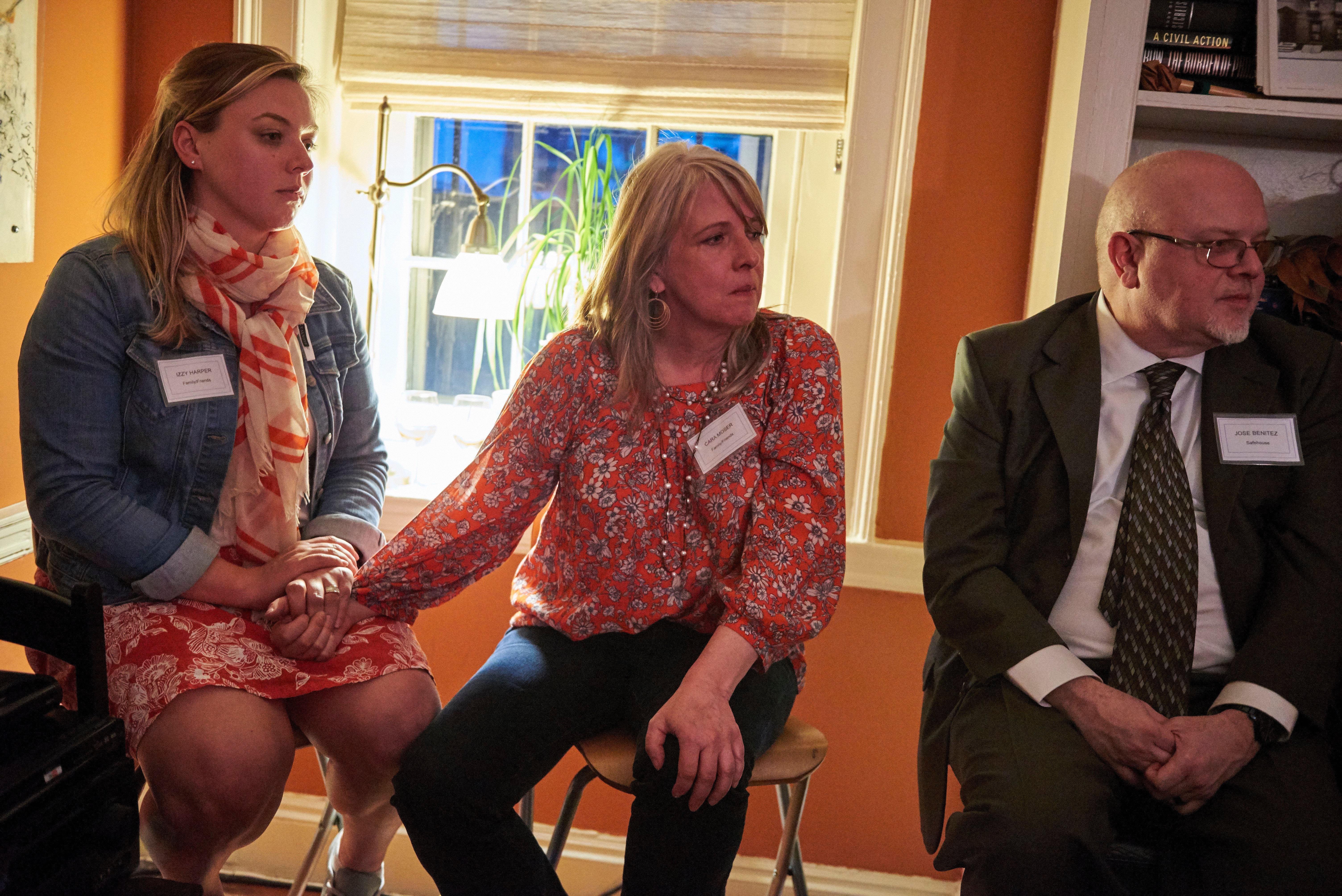 "I know that on that day, had she had an option, she would have gone somewhere. She did not want to die."
So the two linked up with Piscitello and Perrone to create a network of advocates. They reached out to other families who had lost loved ones to overdoses, as well as activists, attorneys, and those in the medical profession, including Jeanmarie Perrone. She is head of medical toxicology in the emergency department at University of Pennsylvania Hospitals and is Marissa Perrone's sister.
In all, about 50 people sipped wine and ate snacks Friday alongside Safehouse board members Ronda Goldfein of the AIDS Law Project and Jose Benitez of Prevention Point to strategize ways to get their message across more clearly.
"This reminds me of the early HIV days, when we were all in rooms together trying to figure out how to not lose people," Benitez told the group gathered in the old row house.
Though the initial aim may have been to clear up misconceptions and make the idea of Safehouse more palatable or easier to understand, as the conversation unfolded, a new theme emerged: A first step is to listen.
Jose Benitez, President of Safehouse and Executive Director of Prevention Point Philadelphia, speaks during the Friends of Safehouse event. Beside him is Ronda Goldfein, Vice President of Safehouse. (Natalie Piserchio for WHYY)

Dr. Bonnie Milas, a physician at UPenn, shares her experience of losing both of her children to drug addiction at the Friends of Safehouse event on May 10, 2019. (Natalie Piserchio for WHYY)

Trish Kinkle speaks during the Friends of Safehouse event. (Natalie Piserchio for WHYY)

Anthony Curci, of South Philadelphia, speaks during the Friends of Safehouse event. (Natalie Piserchio for WHYY)

Jane Goldin, Executive Director of the Philadelphia Mural Arts Program, speaks during an open discussion at the Friends of Safehouse event. (Natalie Piserchio for WHYY)
Bill Kinkle is a nurse in recovery who lived in Kensington with his wife, Trish, before moving away because of a shooting near their house a few years back. He said that although he fully supports Safehouse, he thinks it's important to take the concerns of Kensington residents seriously — they are concerns he would have if he still lived there.
"There's potentially increased crime, there's potentially more people congregating, the concerns of the community about people selling drugs in the periphery — these are all valid concerns," Kinkle said. "I just don't think people feel listened to."
Trish Kinkle pointed out that a lot of people in Kensington are touched by addiction, too. Being married to someone who has struggled with it so intensely, she said, she can relate to the sense of bitterness that more resources are going toward people with substance-use disorder, and not toward supporting their families.
"They're not angry at Safehouse because they have economic difficulties; they have that with or without substance-use disorder," she said. "They're looking at Safehouse as another thing that's here to address the person that uses drugs, where we have to sit back and deal with all the consequences and the effects."
A number of people commented that large public meetings were not the ideal venue for such nuanced conversations and suggested smaller group chats with pastors, community leaders, and individuals.
Carol Rostucher with Angels in Motion, who works and lives in Kensington, said she has much better success talking to people one on one.
"They get to ask their questions and get them answered," said Rostucher. "They don't listen to me speak. That's what they want, they want to be heard."
Roz Pichardo, who works at the Kensington Storefront and Operation Save Our City, said she's been talking to pastors in the neighborhood. She also has passed out fliers on her block and hosted a small sit-down with her neighbors.
"They didn't know that doctors were gonna be there," Pichardo said. "They didn't know they were gonna be receiving services or treatment. They just didn't know. So if we can have an approach where we're doing block by block, it worked for me to educate the few people that I did, but you know I'm only one person."
Some at Friday's gathering were worried about the optics of a group of outsiders serving at the next community meeting as the other voice in the room in opposition to Kensington neighbors.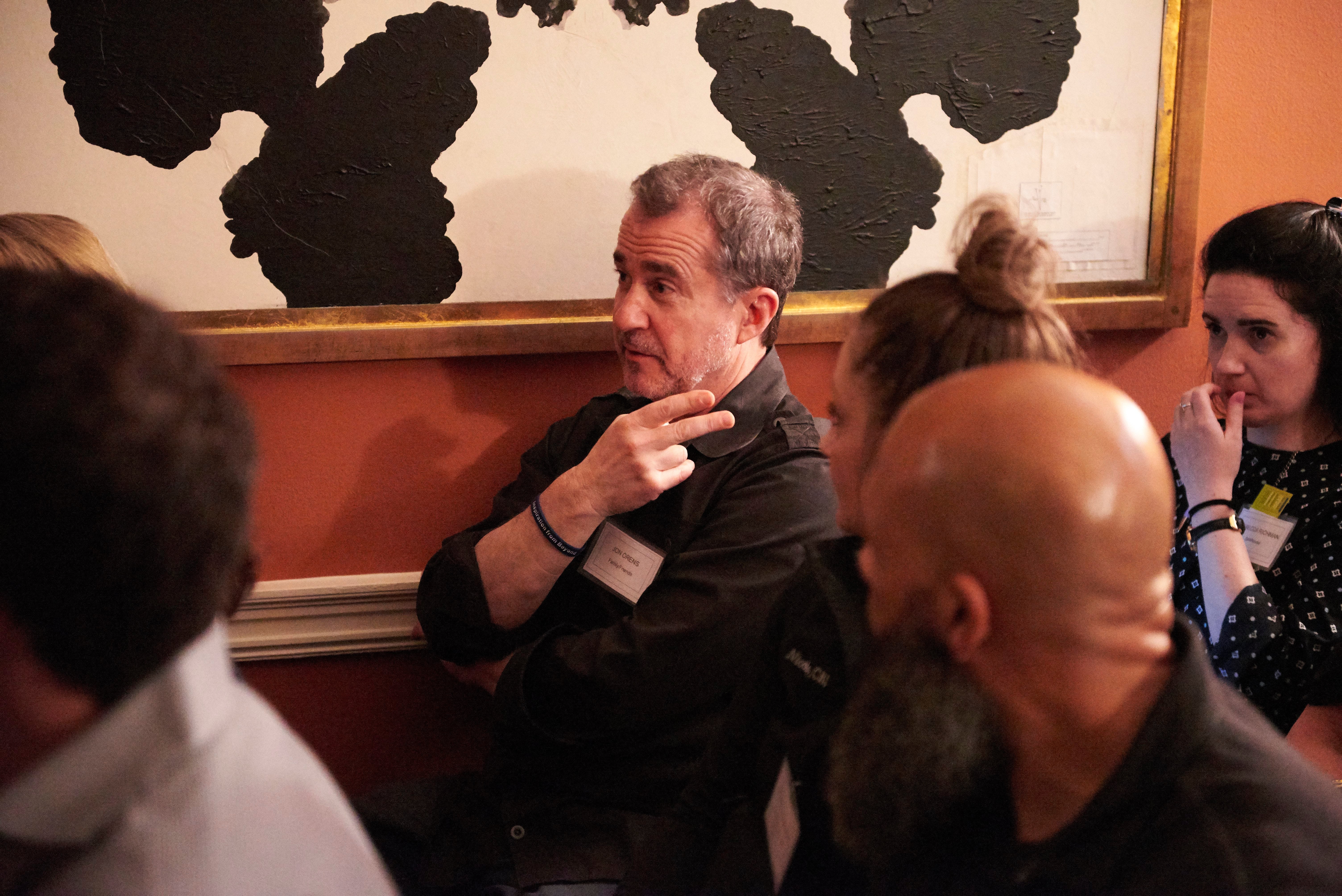 "The majority of us are white folks sipping wine a couple miles down the road, telling that neighborhood what they need to have, and I don't think that's necessarily fair," said Bill Kinkle.
In part to counter that, Rohit Mukherjee of SOL Collective said he thinks the message needs to be clear that these sites should exist all over the city, not just in Kensington, and welcomed one in his neighborhood in Kingsessing.
Perrone, who organized the event, acknowledged the dynamic, but also said as family members of those with addiction, they are affected by this, too.
"It's not an us and them — we're all connected. It's like air pollution. There are no boundaries."
Safehouse board member Goldfein said a network of organized ambassadors for the cause would be helpful, especially those whose lives have been touched by addiction.
"I think a group of people that are affected has tremendous impact in sharing their stories and explaining why it's important, and doing a lot of education in a way that may be less polarizing than the people who have created Safehouse," Goldfein said.
She said she hoped this group can work on the community aspect so her team can focus on the federal lawsuit filed against Safehouse.
WHYY is your source for fact-based, in-depth journalism and information. As a nonprofit organization, we rely on financial support from readers like you. Please give today.