Rough but far from ruined: Seeing Philly's past anew along the Northeast Corridor
As PHS seeks to spur new investments in the areas lining North Philadelphia's stretch of the Northeast Corridor, Community Contributor Brett Sturm invites us to look closer at this landscape's fascinating past – much of which is still in plain sight along the tracks.
The Pennsylvania Horticultural Society (PHS) recently revealed a list of its next generation of civic landscapes. These seven public spaces range from the airport interchange on I-95 to points along Broad Street, and will assume the focus of the Society's public landscape work as the organization nears its 200th birthday in 2027. In a rather ambitious, laudable move, PHS included on this roster the North Philadelphia span of Amtrak's Northeast Corridor, with hopes of making a more attractive passage through Philadelphia.
The Northeast Corridor is a 457-mile network of rail which conveys as many as fifteen million people annually from Boston to Washington and among points in-between. The roughly seven-mile stretch selected by PHS was built between 1864 and 1867 and incorporated as the so-called Connecting Railway. In linking the Philadelphia & Trenton line at Frankford Junction with the Pennsylvania Railroad's main line at Mantua Junction, this route became the final piece in the PRR's bid to unite its eastern and western holdings. The Connecting Railway enabled direct transit between New York and West Philadelphia for the first time, effectively bridging a gap between the metropolitan northeast and the midwestern hubs of Pittsburgh and Chicago beyond.
Today, the physical decrepitude of the Corridor is well-known, as is the economic malaise of the many post-industrial neighborhoods that line its tracks. What is seldom emphasized, however, is the fact that in Philadelphia, the scenery visible to passengers along the Corridor is, despite a professed grittiness, emblematic of the city's railroad heyday—an ever more distant era when rail access defined opportunity and Philadelphia reigned as this nation's leader in blue-collar manufacturing.
Of course, coaxing the typical train traveler to look out the window, see past the grit, and attempt to perceive the Corridor in a new, albeit retrospective, light is a tall order.
Last autumn, as part of a studio project in the University of Pennsylvania's graduate program in historic preservation, I undertook this task nonetheless. My goal was to communicate the legible, historic elements of North Philly's railroad landscape in a way which would inspire passengers to notice, understand, and ultimately appreciate a view most people consider banal, gloomy, or just plain ugly.
Somewhat ironically, I found that the best way to compete with the omnipresent smartphone was to design a set of interpretive tools accessible from—you guessed it—a smartphone.
With the aid of archived insurance maps and photographs, I compiled a list of buildings, sites, and infrastructure elements that are (or would have been) visible from the tracks. I located these places, along with short descriptions and the occasional historic image, on a Google map. I then referenced the locales in video footage of the Corridor shot from the seat of a moving train. Finally, I put together a short documentary clip explaining my endeavors and posted it all on the web.
In the end, I was amazed by the sheer volume and variety of stuff—everything from factory buildings and row houses to ballparks and graveyards—that populated and continue to populate the northern and southern banks of the North Philly Corridor. I suppose all areas of the city exist in layers. But along a stretch of land often dismissed in martial terms—the phrase "bombed-out" comes to mind—bits and pieces of layers combine to create a view of Philadelphia that is rough but far from ruined. As a landscape, the Corridor is complex, expressive, and really, really interesting.
So rail travelers: if you look, what, exactly, might you see?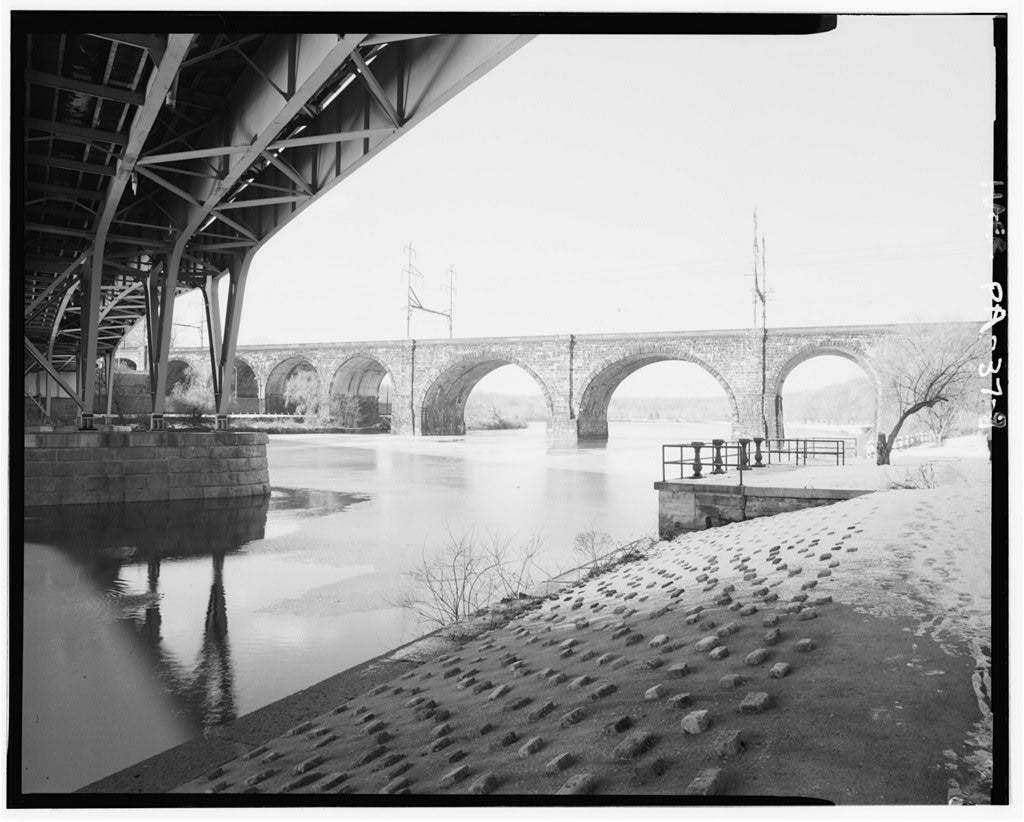 The Corridor, itself, has changed drastically since its genesis, and certain aspects of its infrastructure testify to this transformation. The Connecting Railway's Schuylkill River Bridge, which both Amtrak and SEPTA trains traverse on their way into North Philly, was beefed up repeatedly to handle increased traffic around the turn of the twentieth century. Last altered in 1915, the bridge's original iron truss was replaced with stone as opposed to reinforced concrete, perhaps on account of its assertive position in the city's riparian environment. The original bridge, after all, had been prominent enough to land itself in Thomas Eakins' 1871 painting, "Max Schmitt in a Single Scull."
Train travel waned after 1915, however, and this is a story written in other aspects of the Corridor's infrastructure. Overpasses at 25th, Dauphin, and 17th Streets reveal abandoned spurs and additional tracks—extra, overgrown lanes where freight cars were likely docked and loaded. Passenger stops at Turner Street (formerly Engleside Place) and Ridge Avenue no longer exist, and where T. P. Chandler's North Philadelphia Station (built 1896-1901) once deposited travelers at North Broad Street with Beaux-Arts exuberance, today a dollar shop is the sole tenant in the otherwise useless landmark building.
Postcard of the former North Philadelphia Station. | The Library Company of Philadelphia

North Philadelphia Station turned discount store. | Brett Sturm

North Philadelphia Station, 2012 | Brett Sturm
Meanwhile, to describe each of the many factory buildings which once made use of North Philadelphia's railroad, one would require a book's worth of words. The litany of items produced, stored, and traded along the Corridor reads like some nineteenth-century antecedent to Amazon.com: lumber, coal, ice, textiles, tobacco, furniture, rail cars, engine pumps, plumbing fixtures, water towers, derricks, window sash weights, firefighting equipment, biscuits. And beer.
German immigrants began brewing beer near the intersection of 32nd and Thompson Streets in the 1850s, purportedly utilizing natural caverns to chill their malty product. The arrival of rail and the advent of refrigerated train cars led to a renaissance for area breweries like Bergner & Engel, however, which by the 1900s exported Philadelphian lager as far as Paris. Though Prohibition squashed Brewerytown's vitality in the 1920s, fragments of this beer landscape—like the abandoned Poth Brewery at Jefferson Street and Glenwood Avenue—are still visible from the train.
Bergner and Engel Brewing Company c. 1900 | Warren-Ehret Company Photograph Albums, Hagley Museum and Library

(Brett Sturm (2012))
Further north, at the intersection of Broad and Lehigh, a giant brick and concrete structure looms near the tracks. This is the former Ford Motor Company production plant, a building that churned out in the scant thirteen years between 1914 and 1927 over 625,000 automobiles, among them the iconic Model T. During WWI, the plant was converted for the manufacture of steel helmets. Every Doughboy in Europe was equipped with one of the over 2.7 million helmets produced here and carried by train to Port Richmond.
Finally, North Philadelphia's rail landscape was more than just a place for transit and industry. It was a place where people lived and came to relax. Nestled between rows of middle-class houses at the corner of Lehigh and N 20th Street, Shibe Park (later known as Connie Mack Stadium), hosted the Philadelphia Athletics and Phillies from 1908 until its replacement by Veterans Stadium in 1971. Babe Ruth, Lefty Grove, Jackie Robinson, and Ted Williams all took the field there. Today the massive Deliverance Church fills the stadium's block, which thus continues to host reverent crowds on a regular basis.
What's the point, one might ask, in identifying evidence of the past in an area plagued by vacancy, neglect, and a plethora of other problems in the present?
It is simply a matter of recognizing, broadcasting, and hopefully augmenting value which already exists in this part of the city, an area to which many turn a blind eye. No, North Philly's rail landscape is not particularly attractive, and, as a 1929 image taken in Glenwood Cemetery suggests, it probably never was. The landscape has proven to be highly productive, however, and is productive still. Glenwood Green Acres, for example, is a community garden occupying the 1800 block of Glenwood Avenue. It thrives where a vacant factory building burned in 1984, proving that in some ways, the Corridor landscape is as resilient and industrious as ever.
PHS intends to honor the past as it transforms the Corridor into a more attractive place for both residents and passersby. Here's hoping such a plan involves honest attempts at interpreting—as opposed to shielding or distracting from—historical aspects of the Corridor's scenery, rough though they may be. Indeed, the story of Philadelphia lurks in this landscape, and if armed with a little context and an open mind, we may all be surprised at what we see there for the first time.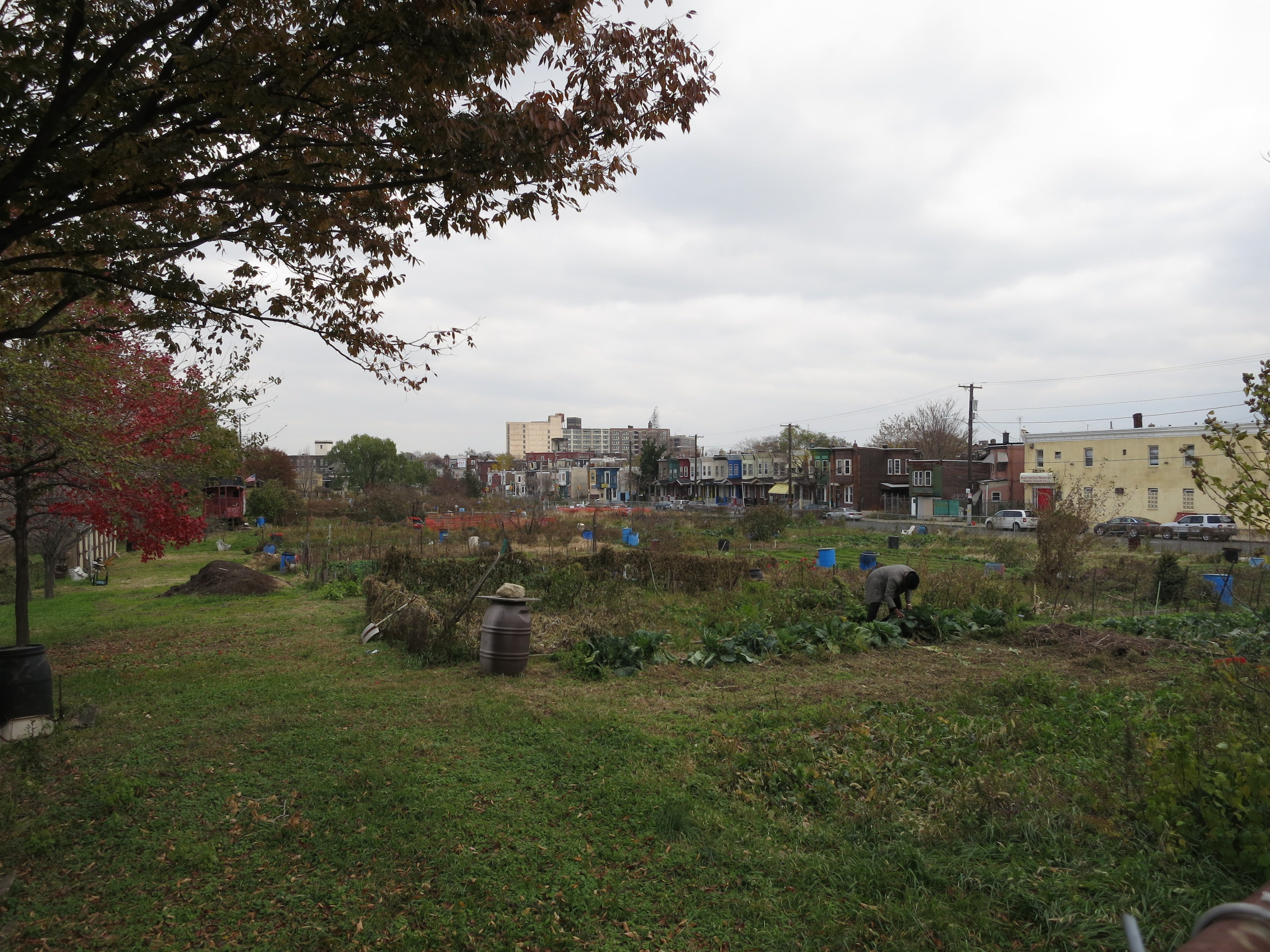 WHYY is your source for fact-based, in-depth journalism and information. As a nonprofit organization, we rely on financial support from readers like you. Please give today.