Root beer's Philadelphia roots
The concoction of sarsaparilla, sassafras, wild cherry, wintergreen, and ginger has been saluted as one of the country's first convenience foods.
Listen
2:02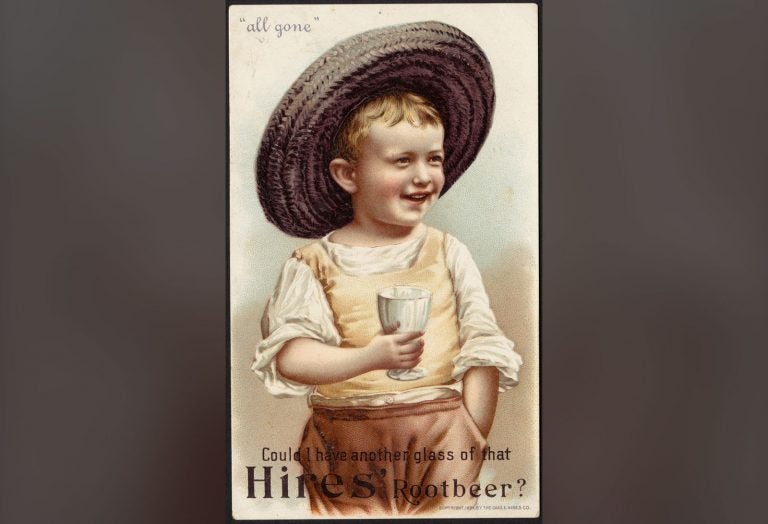 Today, most medical professionals agree that Americans' soda habit is hurting the nation's health.
It's ironic. then, that soda was invented by doctors and pharmacists in the 19th century. Philadelphia figured prominently in its origins: Dr. Philip Syng Physick tried to simulate bubbly spring water by adding carbon dioxide to plain water, and pharmacist Townsend Speakman sold fruit juice and carbonated water, inventing the first soft drink in 1807.
But another Philadelphia pharmacist took the industry to new heights.
In 1875, Charles Elmer Hires created a root beer by mixing sarsaparilla, sassafras, wild cherry, wintergreen, and ginger. He sold it at his drug store at Sixth and Spruce streets.
He was not alone in his inventiveness. In the late 19th century, a generation of American entrepreneurs launched the Gilded Age. With the economy booming and wages increasing, new time-saving products were popular.
"A tremendous number of products were hitting the market," said Bill Double, author of "Charles E. Hires and the Drink that Wowed a Nation."
"The country was changing from a place where people produced their own products to one where they could go to a store and buy them."
Double sees Hires Root Beer as one of the first convenience foods. Originally sold as a concentrate, it could be mixed quickly by a housewife, eliminating the laborious foraging for berries, roots and botanicals, and steeping with sugar and yeast that its predecessor, "root tea," required. It was Temple University founder Russell Conwell who advised Hires to call it "beer," saying that "tea' would not appeal to men and the working class.
Two events further boosted Hires' product. A year after he developed his root beer, he reached a huge audience by giving away samples at the 1876 Centennial Exposition in Fairmount Park. Also at the time, temperance was becoming a mass movement in the U.S., so demand grew for a nonalcoholic drink such as root beer.
But Hires didn't rest there, turning to advertising to increase sales. At the time, advertising was mainly done by manufacturers of patent medicines. "Hires put his product out there," said Double. "He advertised it incessantly in newspapers, and it kind of led the way for a lot of other advertising that followed."
Trade cards also catapulted Hires root beer to national prominence. Collected by adults and children alike, the colorful cards stood out. "This was before color printing became available in magazines," explained Double. "They had the art on one side, on the other side they had the sponsor's pitch. They were an incentive for consumers to come in and buy the product."
Double will be speaking about his book at the Free Library of Philadelphia Wednesday November 14 at 6:30 p.m.
WHYY is your source for fact-based, in-depth journalism and information. As a nonprofit organization, we rely on financial support from readers like you. Please give today.