Right NEast/Wrong NEast: Google Maps makes an error

So much for telling the city's big news outlets to use Google Maps.
As Technically Philly reported last week, Delaware River is spelled wrong on Google Maps. The river is spelled "Daleware" in the popular mapping service, and can also appears in some spots in place of the Schuylkill River and Pennypack Creek (that has since been fixed).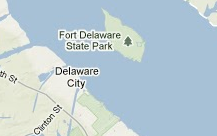 We're sure the Google employees have a lot to keep track of, but, um, the state of Delaware isn't misspelled.
Full Disclosure: NEast Philly Web Editor Chris Wink is one of the founders of Technically Philly.
Outside media don't care about the Northeast. We have all seen them misuse, misspell and mistake our neighborhoods and our streets, so we at NEast Philly wanted to do something about it. When they get it wrong, we set it right in a segment we like to call Right NEast/Wrong NEast.