Review: 'Wilde Tales' that Oscar wrote
Listen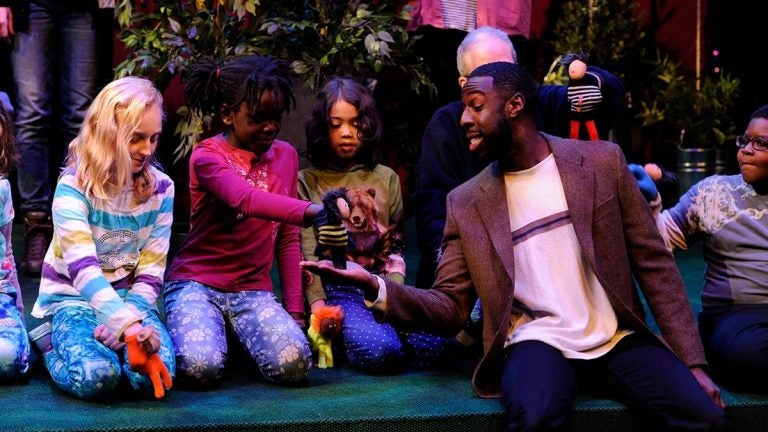 I'll now do something critics should do only on rare occasions: Review the audience. On a Sunday matinee produced by the Quintessence Theatre Group in Mount Airy, I watched the many kids in the crowd. And during intermission, I eavesdropped as they talked with the adults who brought them to "Wilde Tales," the stage company's holiday show.
Quintessence, with an ever-growing loyal audience at the Sedgwick Theater on Germantown Avenue, is devoted to classic plays or versions of them. So I wasn't surprised to see that the stage company was doing Oscar Wilde – one of the earliest Quintessence productions was a spirited "The Importance of Being Earnest," arguably the late 19th-century writer's most enduringly popular work. But who knew that Wilde wrote children's stories? (Apparently for his two boys.)
'Wilde Tales" is a stage adaptation of five of them that compose a collection called "The Happy Prince and Other Tales"; perhaps the most recognizable of them is "The Selfish Giant." It's about a giant who kicks little kids out of his beautiful garden, which then turns into a barren wasteland. After a time, the giant's heart is moved – especially by a little guy he helps to climb a tree. He welcomes the kids back and once again, the place blooms. "The Selfish Giant" has a surprise and theologically curious ending in which the giant dies, or maybe not really.
It's not your typical children's tale, and I was unsure at what level the kids in the audience — many were pre-schoolers or just beyond – would get it. But no one I could see or hear was obviously restless or noisy. In fact, throughout "Wilde Tales," which I found to be a stiff production of surprisingly dour stories that alternately got my attention or bored me, the tenor of the young ones appeared attentive.
"Are you enjoying it?" some elders asked during intermission – at least one of them, cautiously. The answer, I observed, was yes.
Perhaps they were caught up by being in the theater, but I have to believe they were affected by the five stories and the staging in a way that eludes me. Jeremy Bloom, a New York-based theater artist, adapted the stories and directs the production; I went home and read three of the original tales, and can say that Bloom's adaptations are straight-on, even down to nuance.
I can also say that the eight-member ensemble does just what "Wilde Tales" is constructed to do: The actors deliver them as if it's story time in the library, with additional effects that include hand puppets. In my mind, I could hear the pages being turned. Bloom uses a small children's chorus to blend with the actors in singing between the stories, to decidedly mixed effect. But that too is probably attractive to the young ones in the seats.
Wilde's mini-plots are about a nightingale pressed into killing herself to produce a rose that goes unappreciated; the ornate statue of a prince who gives away so many parts of himself to the less fortunate that he's eventually seen as a piece of junk; a miller who takes toxic advantage of a young farmer but chooses to see himself as angelic; a firework-rocket full of hubris but also uselessly wet, and the aforementioned giant and his garden. I leave out the detail that Bloom's production colors in – or that maybe one of the younger audience members can supply.
—"Wilde Tales," produced by Quintessence Theatre Group, runs through Dec. 31 at the Sedgwick Theater, 7137 Germantown Ave. in the Mount Airy neighborhood. 215-987-4450 or quintessencetheatre.org.