Review: Simply 'Having Our Say'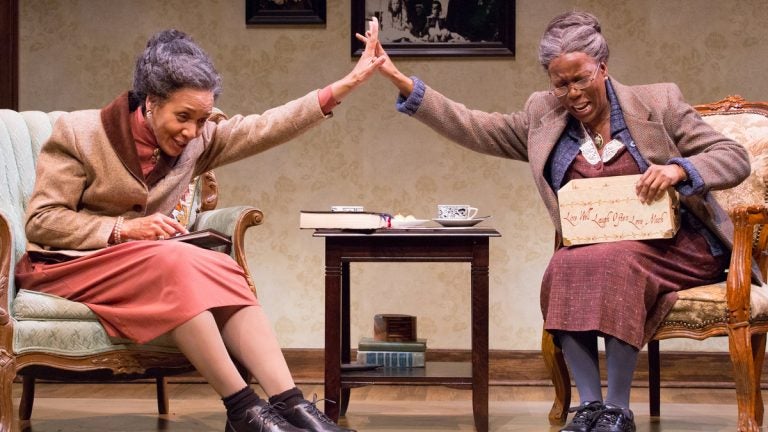 When the Delany sisters speak, you listen. You have to. Between them, they have more than two centuries of recollections and wisdom. So it's no surprise that the play "Having Our Say: The Delany Sisters' First 100 Years," taken from the best-seller about the sisters and their family, offers keen glimpses into personal history by two women who lived through it.
The show from Philadelphia Theatre Company is more like a table conversation than a play, delivered by two spot-on actresses, Perri Gaffney and Cherene Snow. They effortlessly channel the real Delany sisters as they expound on the family's roots, their parents, their siblings, the continuing challenges of being black and being women, and the rich gift of being American. They defined their own American dream – like most people who do – and then went after it. And lived it.
The Philadelphia Theatre Company is marketing "Having Our Say" as a celebration of empowerment and it is — but oddly, the sisters themselves never seemed to worry much, even in the grim face of Southern racism, about empowerment. "We were privileged," one of them declares in the second act. As youngsters, they were sheltered carefully by greatly respected parents. Their dad, who grew up a slave, was Henry Beard Delany, the nation's first black elected bishop in the Presbyterian Church.
Only when the girls became independent, it sunk in: Whatever the woes of segregation and the hurts of hate, they were living a relatively charmed life anchored by the constant encouragement of their family. They worked as teachers in the South and moved on to advanced degrees and careers in New York City. (One continued to teach high school, the other became a dentist like her brother).
"Having Our Say," a thoroughly charming stage adaptation, is written by Emily Mann, the artistic director of McCarter Theatre in Princeton. It's easy to enjoy the show as a character study, a memoir, or a down-home history discussion. I didn't find much of a play in it, or what I consider a play. But I became involved — particularly in the second act — with the enormous successes and satisfactions of these women. The play is set in the sisters' home in 1993, in Mount Vernon, N.Y. They were then ages 103 and 101, unmarried and inseparable sibs. "We never had husbands," says one of them "to worry us to death." Bessie Delany died at 104, Sadie at 109.
They became famous when Amy Hill Hearth, a New York Times reporter, wrote a feature on them in 1991, then collaborated with them on a 1993 book with the same title as Mann's play that followed in 1995. It went to Broadway. Other books followed.
As theater, "Having Our Say" is very a much like a one-woman show, but with two. In fact, Mann employs many of the same devices playwrights use in theatrical bios about a famous or curious character. Here we all are, guests in the Delanys' living room, apparently learning about their lives for something we will later write. Here they are, easily reminiscing and in so doing, unveiling bits about themselves and the way they relate to one another. And dispensing wisdom along with anecdotes – some revealing, some going nowhere.
Mann's script differs from one-person shows in one large respect: She doesn't fabricate a conflict that injects drama into the evening. These conflicts can seem forced and phony even as they turn a script about someone's life into more of a play. So ironically, Mann's script is all the more refreshing by creating less stage excitement. What you get is the Delany ladies having their say, no bells or whistles to accessorize the evening.
Mary B. Robinson's production becomes convincingly real with Christopher Ash's projection design, which flashes pictures of the actual Delanys and their family onto the stage, just above Jason Simms' pleasant living room, dining room and kitchen set. We watch the Delany family grow through the years. Paired with the genuine feel of performances by Gaffney and Snow, the projections take us into the Delany family's embrace. That's a comforting place to be.
—"Having Our Say: The Delany Sisters' First 100 Years," produced by Philadelphia Theatre Company, runs through Feb. 19 at the Suzanne Roberts Theatre, Broad and Lombard Streets. 215-985-0420 or philadelphiatheatrecompany.org.
WHYY is your source for fact-based, in-depth journalism and information. As a nonprofit organization, we rely on financial support from readers like you. Please give today.