Review: 'Ragtime' and spectacle time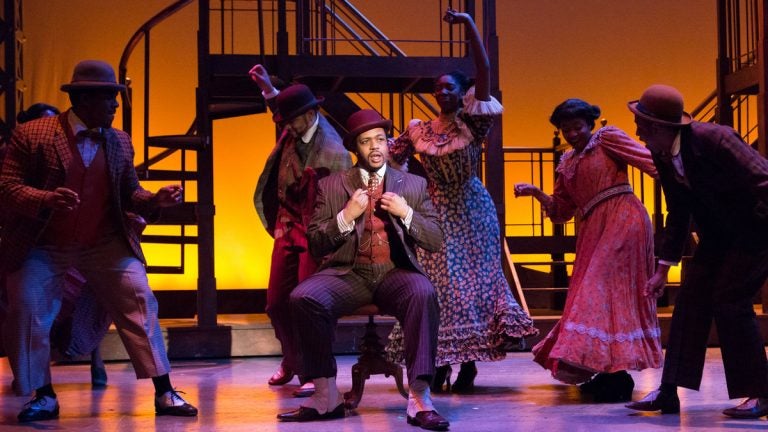 The stately production of "Ragtime" at Bristol Riverside Theatre does just what the show demands: With a good deal of spectacle, it depicts an America that will become a diverse nation of people sharing basic national values, but not a melting pot.
In the musical, taken from E. L. Doctorow's enormously popular 1975 novel, the time is the early 1900s and the place is metropolitan New York. The diverse communities are upper-class WASP suburbanites, blacks from Harlem and immigrant Jews who've come ashore from ports around Europe.
Put 'em all together and you get a fast-growing America, a recipe for political and social conflict and a very big musical show. "Ragtime" is an actor-packed musical, and Bristol Riverside comes alive with a cast of more than 30 performers. Just watch the first number with the full load on stage and you'll see why the musical has been called "an American tableau."
It's actually a tableau of two different Americas — at the show's beginning, a nation of hope, graspable dreams and endless open doors, and by the show's end, a place where reality has set in.
Essentially, "Ragtime" is a simple story with a big buildup, or what might be called a lot of fill. A successful Harlem piano player named Coalhouse Walker Jr. (a moving performance by Derrick Cobey) faces down racism after a bunch of white firemen beat him and destroy his gleaming Model T (played on the stage in Bucks County by a real gleaming Model T). He can't get justice — in fact, during his attempt to call out the racism, the police kill his woman (Ciji Prosser) as she's trying to get the President's attention at a rally. So Coalhouse Walker becomes an outlaw in the name of justice.
The show, like Doctorow's novel, has a number of celebrated characters from the period, including the activist Emma Goldman, the escape artist Harry Houdini, the dance-hall sensation Evelyn Nesbitt and black trailblazer Booker T. Washington. They become involved with Walker's plight, or they comment on some aspect of the nation's psyche. (They are played, respectively, by Sarah J. Gafgen, Will Connell, Chelsey Jean and Tamar Greene.)
A white family from New Rochelle (David Edwards. Matt Leisy and the excellent Leslie Becker) is thrown into the situation, on two different sides. Michael Thomas Holmes plays a Jewish peddler whose idea of America's promise becomes realized.
Bristol's artistic director Keith Baker creates a remarkably smooth staging with all these different factions on Jason Simms' set design, which uses large movable stairs in a way similar to a Broadway revival of "Ragtime" several seasons back. Head costumer Linda B. Stockton models her designs after Santo Loquasto's originals for the show, and they are knockouts. Stephen Casey's choreography moves the cast in sync.
"Ragtime" was much heralded when it opened in 1988, possibly because it made such good stage sense of a book with many diffuse characters in several settings. Terrence McNally won a Tony Award for his nuanced script. Steven Flaherty and Lynn Ahrens also won for their score, which I've never found all that gratifying. It consists of one infectious ragtime tune that sticks in your head for ages, and seems to repeat itself in several variations during the show.
Many numbers take the same swelling form – they begin as simple and end with the huge cast on stage and upping the musical ante, with more major peaks than the American Southwest. But spectacle, above all else, is what makes this musical attractive. Realizing that, the folks at Bristol Riverside never skimp.
_"Ragtime" runs through April 12 at Bristol Riverside Theatre, 120 Radcliffe St., Bristol. 215-785-0100 or www.brtstage.org.