Review: Nailing 'Arcadia,' brilliance, blather and all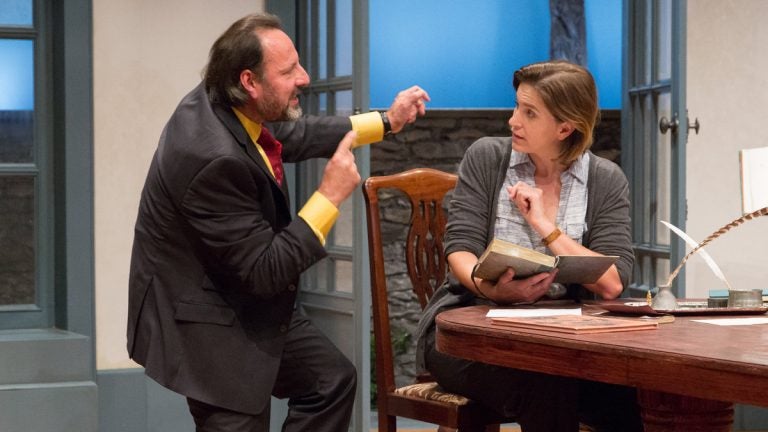 It's hard to tell what's more impressive about "Arcadia" – Tom Stoppard's brilliant boil-over of ideas or his unchecked propensity for making characters blather on to the point of audience exhaustion. The brilliance and the blather are inseparable in Stoppard's masterpiece, which received several revivals last year to mark its 20th anniversary and is now being given a great ride by Lantern Theater Company.
In the muscular production staged by Kathryn MacMillan, Lantern's associate artistic director, the two different centuries represented in the play project themselves in fine-tuned resolution, all in the same interior room of a country estate. My only hesitation comes with the way the production ends; I've seen clearer indications, in other versions, of what we can assume will happen to these characters after the last word is uttered.
But that's a minor point here, because Stoppard's story is so well told by an extraordinary cast – and besides, the muddy quality of assumptions is among the many themes of "Arcadia." The play alternates scenes between the early 1800s, when a privileged British family tangles with the redesign of the estate's gardens, and the here and now, when two competitive academics sift through clues in the house to piece together the events that happened there. In the audience, we get to see what really did happen there, and we also witness the way these researchers blindly challenge every idea but the ones they call their own.
Along the way, Stoppard sets literature against science in an argument that ultimately is about meaning and beauty; he pits mathematical manipulation against the manipulation of facts discovered in research, and reckless aggression against considered opinion. He spotlights Newtonian determinism in one corner and the world's recurring X-factors in the other, and he makes the resounding point that even though our planet itself may be mortal, life on it moves full-speed ahead. Indeed, that movement is what we're watching as characters in two centuries reveal themselves.
"Arcadia" has two casts – the old-story cast and the current-tale cast. In the first, the self-assured lady of the house (Charlotte Northeast) tries to run things as her teenaged daughter (Alex Boyle) studies with the tutor (Maxwell Eddy). The tutor has just had a poke with the wife of a guest in the house, a foppish would-be poet (Bradley K. Wrenn) who'd like to kill him. Another guest in the house, unseen in the play, is the young Lord Byron.
Fast-forward in the same room, and a researcher (Kittson O'Neill) is looking for clues amidst the old family's collection of notebooks and ledgers to determine the identity of a hermit she believes inhabited the grounds after all signs of anyone else may have been erased. She knows, she says, that such a hermit existed; his stick-figure likeness is included in a two-centuries-old rendering of the hemitage. She has the cooperation of the present-day descendants of that old family, a young mathematician (Daniel Fredrick) and his siblings (Angela Smith and Trevor William Fayle). Into the fray comes a Byron expert (Joe Guzmán), looking for the chance to trump everyone's research and make a name for himself.
Back and forth the centuries go and with every switch, we see who leaves a clue, how it's left, who finds it and how it's processed into a larger picture. I haven't singled out performances in this large story with many leading characters – the acting is uniformly class-A. So is the story, one of our great modern plays, brilliance and blather and all. It's strikingly offered here, with one revelation that rises above all the others: Whatever knowledge we have, or think we have, may or may not be meaningful in the long run – but it's our desire to know that matters.
"Arcadia," produced by Lantern Theater Company, has been extended through Nov. 9 at St. Stephen's Theater, 10th and Ludlow Street (off 10th Street, between Market and Chestnut). 215-829-0395 or www.lanterntheater.org.
WHYY is your source for fact-based, in-depth journalism and information. As a nonprofit organization, we rely on financial support from readers like you. Please give today.