Review: 'Moon Man Walk' and a new stage company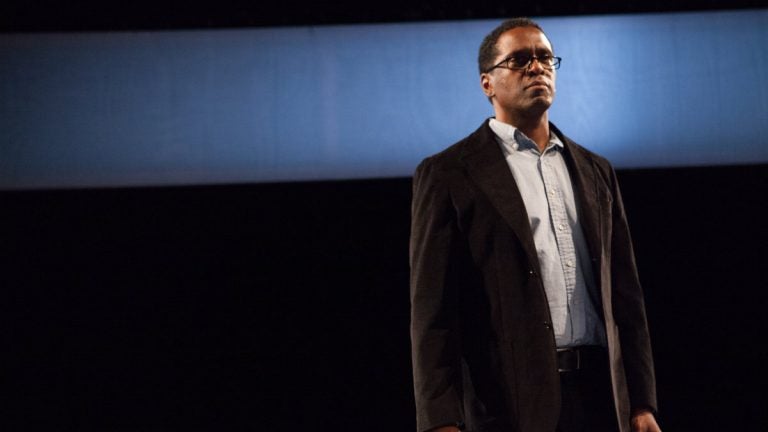 The endearing new play "Moon Man Walk," about a young black man who grows up trying to understand the father he never knew, is a theatrical paradox. The play is most credible when it turns to fantasy, and least believable when it's supposed to be realistic.
I'm pretty sure that's not how the playwright, James Ijames, intended it, but that's the way it comes across in its world-premiere production directed by Edward Sobel at the Prince Theatre, from a new Philadelphia stage company called Orbiter 3. In "Moon Man Walk" a boy named Monarch (the excellent Lindsay Smiling) is raised by a loving single mom (Jaylene Clark Owens), who answers questions about his missing dad by making up a story: His father was an astronaut trapped on the moon. Little Monarch is skeptical, but the tale's too attractive to dismiss. As he gets older and becomes a man, Monarch buys into it more and more.
In daydream scenes, he pictures his dad (Carlo Campbell) on the moon – a black man lost in space, an increasingly heroic figure in Monarch's mind. The way Monarch slips into his fantasies feels powerfully real — he himself is lost, and his fantasies allow him to at least grasp at an identity.
What's unreal, though, is the way the play sets Monarch up with a woman who will influence a decision that brings Monarch back to earth. I won't be specific about that – it would reveal too much of the plot. But the young woman, named Petrushka (a convincing portrait of a free spirit by Aimé Donna Kelly) comes into the play by chance twice, then sticks to Monarch like Super Glue when he's at his most vulnerable. Given Monarch's character, his willingness to enter this relationship is a mystery.
Even so, "Moon Man Walk" is an ambitious play that explores the idea of redemption from a self-imposed slavery – in this case, Monarch's growing obsession about who his dad is. James Ijames (pronounced EYE-ams), who began in the city as an actor, is proving himself a solid playwright and all-around theater artist; he recently was awarded a $75,000 Pew Fellowship. His loopy, insightful "The Most Spectacularly Lamentable Trial of Miz Martha Washington" was one of last season's highlights (also directed by Edward Sobel). And before that Ijames wrote, and delivered a fine performance, in a one-man play about James Baldwin, "The Threshing Floor."
"Moon Man Walk" is not just a premiere – it marks the premiere of the company producing it, a collective of five playwrights called Orbiter 3. Over the next three seasons, the new professional stage company will produce six plays, one from each writer and a sixth from a writer not yet named. Their debut production is classy, with moody music by Alex Bechtel; sometimes-netherworld lighting by Thom Weaver, who did the Spartan, roomy set; and Sobel's fluent direction, which at times has characters walking around one another like the imaginary orbits that clench the mind of the main character. And like the name of the new company itself.
"Moon Man Walk," produced by Orbiter 3, runs through July 19 at the Prince Theater, Chestnut Street between Broad and 15th Streets.