Review: 'Misalliance' misalligned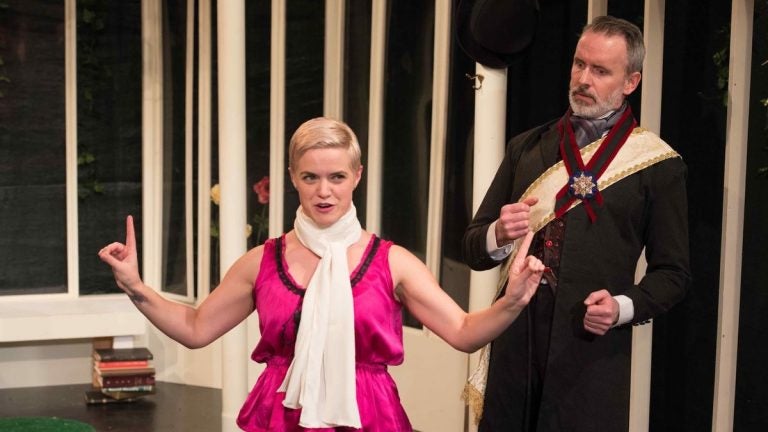 George Bernard Shaw's "Misalliance" is a rarely produced big blob of a play with a taxing first act and a second act that revs up after an aircraft crashes and the play's single interesting character emerges from the wreckage.
So, yes, I tip my hat to the Idiopathic Ridiculopathy Consortium for trying to make something out of "Misalliance," even something that fails. It's tough to bring off a play whose first act is all bluster and blather – an hour of character building, but with characters who have very little to build. They all connect in some way to a bore of an underwear manufacturing magnate, and most of them are plainly unhappy with their lives. At length, they expel ideas that Shaw half-bakes.
Then comes Act Two, whose relationship to Act One might be defended only at peril. A Polish flight passenger drops in, literally, and she's a breath of fresh and giddying air. She's unlike other women – liberated and, for the men around her, liberating.
She's the primary reason that ill-considered marriage proposals run like drunken sailors through "Misalliance." (Drunken sailors would have sharper dialogue.) The idea of a straight-forward, boundary-pushing woman is a part of Shaw's canon, and his character here is well-drawn. She's played with zest and a pleasant defiance by Kristen Norine – hers is the single major performance that comes off with feeling and not just emotion.
Director Tina Brock, who runs the stage company, moves her nine actors around the small playing area on the fifth floor of Walnut Street Theatre but there's only so much she can do. Some of them show their frustration by walking a pace forward and a pace back repeatedly in their confining space. Many of them speak their lines as if Shaw had written the play to be delivered through bullhorns. Holler at me, sure, but in something better.
"Misalliance" runs through Feb. 22 at Walnut Street Theatre's fifth-floor studio, Walnut Street between Eighth and Ninth Streets. 215-285-0472 or http://misalliance.bpt.me.