Review: 'Metamorphoses,' in the pool with the gods
Listen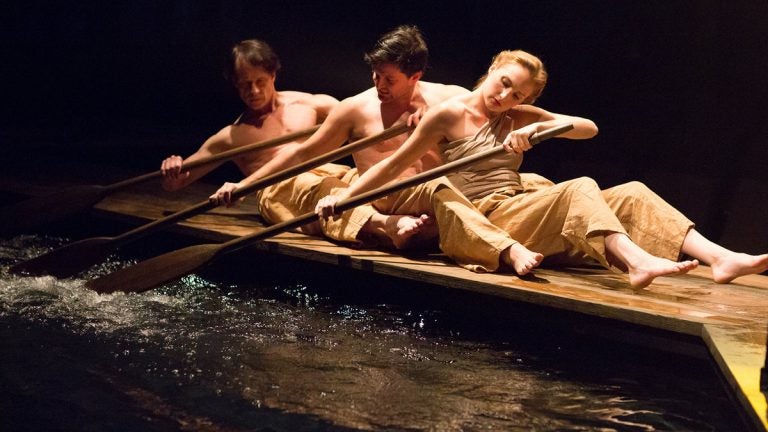 The gods must be crazy. Also jealous, generous, arbitrary and sometimes even caring. They're that and more in "Metamorphoses," Mary Zimmerman's masterly retelling of many of the Roman poet Ovid's tales that he based on myths and packed into 15 books that make a creation story for his time.
"Metamorphoses" is just what the title implies – it's about transformation and the constant changes that often define the shape of a life. In the clever, sometimes haunting and often beautiful Arden Theatre Company production that opened Wednesday night, the myths are alive in and around an onstage pool that serves as the literal setting for stories involving streams or oceans. Other times, the pool is a metaphor for the many things water provides or just the way it reflects. In Doug Hara's visually arresting production, the actors might be wet one minute in one myth, dry the next in another.
"Change me!" one cries at the very beginning, and she sends out her plea again near the end – the stage adaptation, which gives a sweet feel to these myths and uses a poetic but contemporary language, offers up a host of changes. A King Midas (Christopher Patrick Mullen) who's done great in the markets and is a family man, but only in public, gladly accepts Bacchus' (Brandon Pierce) offer to change things into gold. "Something to do at parties," the party-god tells Midas, even though he warns that the trick has its downsides.
When the doting Alycone (Alex Keiper) warns her husband (Sean Bradley) not to go to sea in a storm because her father, Aelous, is the god who makes waves without warning, he goes anyway. It takes a god to transform them both into birds that last beyond their deaths.
Both the fantastical (sleep is a character here, played by Lindsay Smiling) and the real (two gods come to earth as beggars to see how people react, and find pretty much what you'd expect) combine seamlessly in both the staging and the acting – it's as easy to identify with the mortals as it is with the gods. When Phaeton (Steve Pacek) sprawls on a water mat in the pool and tells the story of his childhood – having Apollo as a dad hardly brightens his teenage years – his therapist (Sharina Martin) explains his neuroses in perfect psycho-babble as she sits with her pad, on the pool deck. Phaeton could be talking about any dad anywhere. Apollo finally gives him the sun to drive across the earth, and he could be any dad throwing his kid the car keys. (In this case, not a good idea.)
Krista Apple-Hodge is an Aphrodite who must be respected; Leigha Kato is Myrrha, a daddy's girl, for sure; Clare O'Malley is the Eurydice too far gone to recognize her lover in the underground. And everyone in the cast is busy in many roles; the program notes assign a single character "and others" to each player. Some of the myths you'll recognize, others have Ovid's twist and all are carefully laced together by Zimmerman, the playwright, into 90 minutes that become more spellbinding in this production as it progresses.
Brian Sidney Bembridge designed the sleek poolside set, and Olivera Gajic uses simple draped Roman clothes, contemporary clothes and elegant costumes to make the necessary points of the different stories. Tom Weaver's lighting and Christopher Colucci's sound seal the deal, both in the heavens and down on earth.
"Metamorphoses" runs through Nov. 1 at Arden Theatre Company, on Second Street north of Market Street. 215-922-1122 or ardentheatre.org.