Review: 'Henry IV' with a cast of, well, lots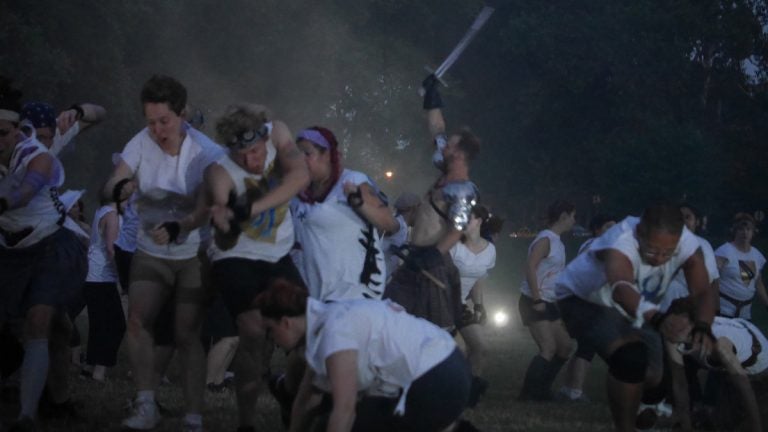 Staging an all-out war with eight or nine cast members playing both sides is a mighty challenge for some directors of Shakespeare. But not for Alex Torra. In his version of Shakespeare's "Henry IV," playing nightly through the weekend in West Philadelphia's green and rolling Clark Park, a civil war in Wales begins and 100 soldiers suddenly march into the park and onto the set.
It's a real sight, these 50 fighters in white shirts and 50 in red. And when the battle ensues, it's neatly choreographed (by Benjamin Camp) and just as nicely performed, with smoke machines and all.
It's also the most ambitious production by Shakespeare in Clark Park that I've seen in its 10 years of performances, and the most successful. Shakespeare in Clark Park produces one play a year, free to the audience, in the diverse and busy oasis of a neighborhood that becomes constantly more urbane. This year, the stage company collaborates with Team Sunshine Performance Corporation, a locally-based group of dance and theater artists who create their own works and use the audience to help.
The result of that collaboration is what's being called "Henry IV: Your Prince and Mine," and it's a forceful and highly engaging telling of the young playboy prince's tale. It has none of the glitches you often find in open-air productions – the sound by Daniel Perelstein is crisp and fully audible, the set of movable planks that become different pieces of scenery is flexible and easy to see from the large swath of green where the audience spreads out, Brett Cassidy's swordfight choreography for the main players is visible (at one point, in slow motion) from all over, and Oona Curley's lighting becomes appropriately stronger as night falls.
Beginning last year, the 100 men and women who compose the troops were gathered in a community sign-up. In addition, composer/theater artist Alex Bechtel was signed on to create scene-change and incidental music. He directs an eight-man choir accompanied by two percussionists, and their strong, evocative performance complements the production and enlarges its power. For a show in the park, the production team backing all this is huge.
It pays off, especially because the dozen-member cast handles the split-personality play so well. On one side – most of the play – Prince Henry (generally called "Hal" and played with great charisma by the gamely Brian Ratcliffe) and his buddies trick the drunken braggart Sir John Falstaff (the roundly talented Charlie DelMarcelle, in a crowd-pleasing performance). On the other side of the play, toward its ending, Hal quickly becomes a Serious Young Man, at the behest of his father the king (the excellent Brian Anthony Wilson). He, his dad and their troops end up fighting the Percy family, their enemies. The Percys are led by an angry character called Hotspur (a fine turn by Daniel Frederick), who has a large bone to pick with the king and has gathered an army.
It's an impressive production, with all the trimmings. The other players include Marla Burkholder, artistic director of Shakespeare in Clark Park, and they all contribute to the energy and pacing of the show – and to the fun of it, which comes through easily in their interpretation of Shakespeare's text. For the entire team, it was anything but a walk in the park to put "Henry IV: Your Prince and Mine' together, even if their smooth production makes it look that way.
"Henry IV: Your Prince and Mine" runs through Sunday evening, August 3, in a production by Shakespeare in Clark Park with Team Sunshine Performance Corporation. There is no admission charge, and audiences are invited to bring food and lawn chairs or blankets. The production runs about 100 minutes in West Philadelphia's Clark Park, at the section along Chester Avenue near 45th Street. Porta-potties are available. For information, including what to do if it's raining: 215-764-5345 or www.shakespeareinclarkpark.org.
WHYY is your source for fact-based, in-depth journalism and information. As a nonprofit organization, we rely on financial support from readers like you. Please give today.