Review: Anarchy and 'Mercury Fur'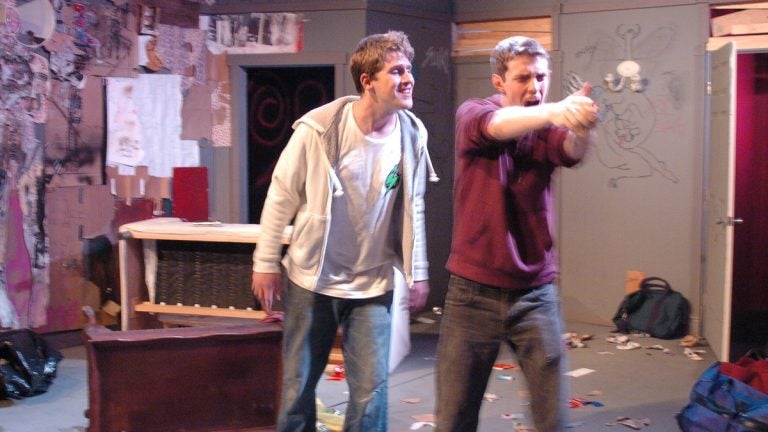 In the seedy play "Mercury Fur," which premiered in London a decade back, anarchy reigns. London is a wreck. Gangs have killed people willy-nilly, the streets are chaos, day-to-day life means constant danger and terrorism is a natural state of things. Basic services are virtually nil. (But almost every character has no problem working a cell phone.)
BrainSpunk Theater is taking on Philip Ridley's decadent play about total decay, which for some people is surely an ordeal to witness. Only my bladder had an ordeal, given that "Mercury Fur" runs two hours without intermission.
The play created much controversy in London, although it is hardly the most controversial play in the last 20 years, as BrainSpunk's publicity attests. Its plot involves two brothers aligned with a creepy mobster-like guy and the party they are planning, whose purpose is the torture and murder of a child. Can you imagine those invitations?
Charles Manson is real and unthinkable, but the idea that an entire society is composed of Mansons strikes me as implausible. BrainSpunk is giving "Mercury Fur" an intense production, except when it becomes too loud to process in the intimate space of Papermill theater in Kensington. But even so, I took it with a shaker of Morton's.
They play is tediously raw in its language, markedly desolate, and dumb in its similes (someone, for instance, is like "a million miles of machine-gunned afterbirth"). On the other gashed hand, "Mercury Fur" is never dull, at least not under the direction of Josh Hitchens and the performances of able actors.
They are led by Joshua McLucas and Samuel Fineman as the brothers (well-drawn characters) in charge of arranging the so-called party in a wrecked apartment (scenic design by Christopher King and major graffiti by Marek Danielewski), and Geremy Webne-Behrman as their deranged boss. Tyler S. Elliott portrays a stranger who chances in; Heather Ferrel is a deluded blind woman who may be a duchess or not. John Schultz is a character who may be a transvestite or not, and Jameson Lisak and Molly Edelman play party people.
Running through the script is a concept that eating butterflies is a treat causing hallucinations. If an insect defamation league exists, they might want to look into the matter.
"Mercury Fur," produced by BrainSpunk Theater, runs through August 8 at the Papermill, 2825 Ormes St. 215-278-9504 or brainspunktheater.com.