Restore Logan Square: a "Big D" leadership challenge for Philadelphia
This article was co-published by PlanPhilly and urban form website this old city
A freeway that once hacked through downtown like a meat cleaver now holds 300 trees and a dog park. A future vision of Philadelphia, perhaps, but this already happened in a place hardly known for progressive urbanism: Dallas.
Klyde Warren Park sits atop a recessed two-block stretch of Woodall Rodgers Freeway. According to its official website, the 5.2-acre park contains: "A botanical garden with native plants, a children's park, an interactive fountain … a great lawn, a performing arts pavilion, a restaurant/food kiosk … and a dog park."
I recently visited the impressive park and was equally struck by its impact on the surrounding area: vast swaths of land once marred by surface parking lots and other low-value uses are now desirable places to live and work. Klyde Warren Park was already the crown jewel of Dallas once it opened in 2012; now it is inspiring the development of an entire mixed-use district around it. The park – and those with the foresight to support it – provides a great model for our own city to emulate.
Philadelphia's Vine Street Expressway, aka I-676, is recessed from 10th – 21st streets in Center City. It coldly bisects the Chinatown and Logan Square communities, devalues dozens of acres of prime real estate, and degrades our historic Logan Square with four crater-like gaps that tear through the park's northern edge. Now is the time to begin the remediation of I-676, and we should start with Logan Square.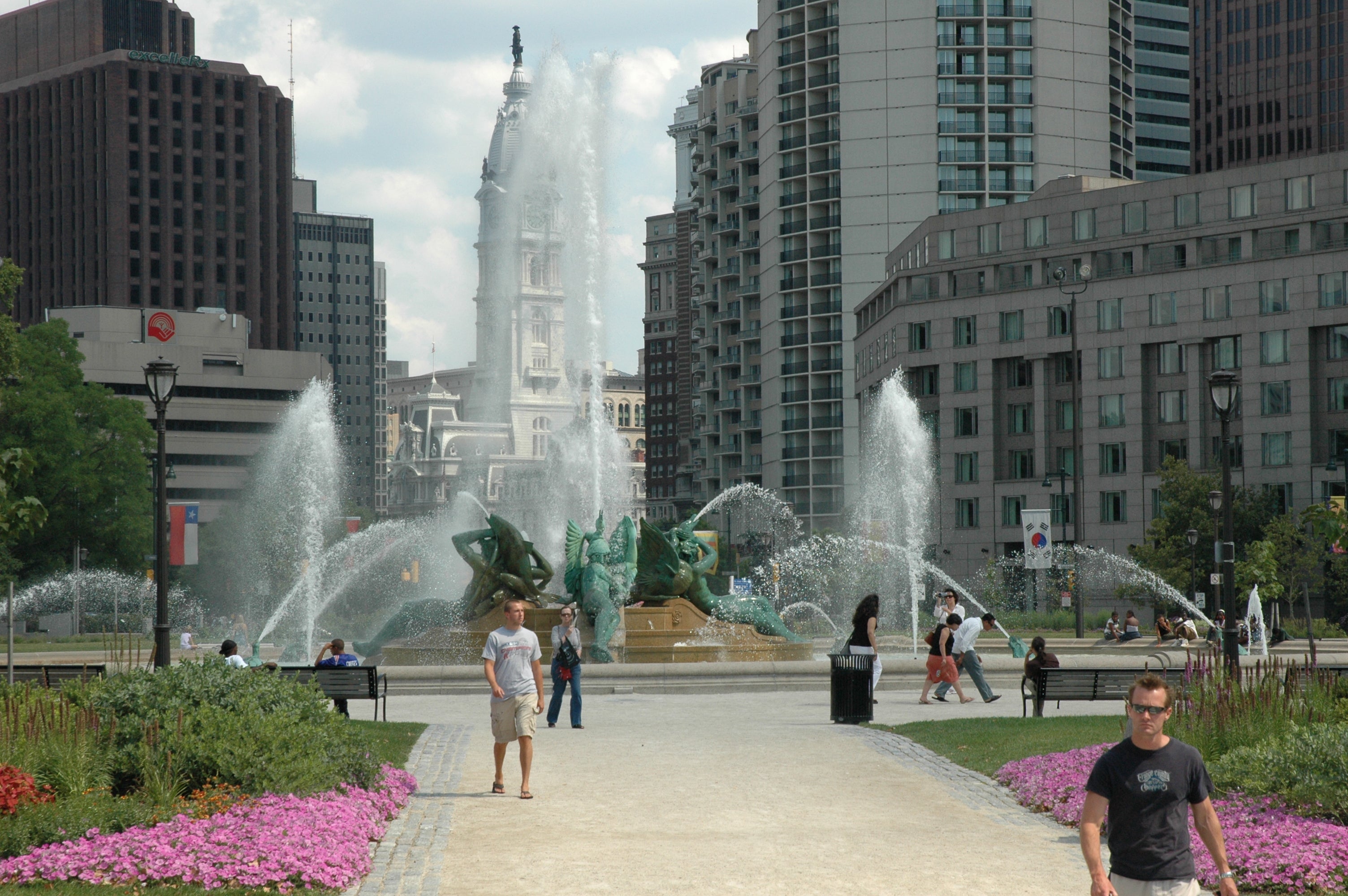 The four openings caused by I-676 degrade our historic and iconic Logan Square.
PennDOT is already preparing to cap the westernmost of these four gaps as part of a $120 million project to repair infrastructure above I-676. However, the agency declined to evaluate the cost of capping the three remaining gaps, as Ryan Briggs reported earlier this year. It's too late to modify the project outline – PennDOT will begin accepting bids in December – but local leaders should waste no time in asking PennDOT to assess the cost of capping the three gaps as a separate project.
One of four gaps will be capped as part of PennDOT's project (photo credit PennDOT).
Klyde Warren Park offers an imperfect baseline to approximate the cost of capping the three remaining gaps. The Dallas park totaled $110 million for 5.2 acres, at which rate it would run roughly $14 million to cap the three gaps in Logan Square that total two-thirds of an acre in size. An official cost estimate from PennDOT will allow local leaders to evaluate potential funding sources and develop a timeline for the project.
This is not a new idea, of course. It has been with us as long as the freeway itself. So why advocate for it now? To start, Philadelphia has some pretty important elections coming up, and this is the time when candidates test ideas and set agendas. This project will appeal to many groups, but it may see the most traction with Millennials, a generation that will constitute 75% of the workforce in ten years and whose presence in Philadelphia increased by roughly 100,000 people from 2006-2012. This voting group is expected to make a big impact at the polls in 2015.
But the more fundamental reason why now is the right time to advocate for this idea is rooted in basic economics. The scale and speed of nearby development has already strained our public spaces: Schuylkill Banks, Sister Cities Park, and the Comcast Plaza are all congested (while the Ben Franklin Parkway remains hostile to all but the automobile). The relative scarcity of quality public space in this area of Center City has caused overcrowding. This byproduct of Center City's continuing resurgence is in some ways a good problem to have, but it is a problem nonetheless. Our crowded parks and sidewalks will not find relief any time soon.
The following projects recently finished or are under construction within just two blocks of Logan Square: the 59-story Comcast CITC tower (to host 3,000 – 4,000 office workers and contain a Four Seasons Hotel), a Kimpton Hotel, the Mormon Temple, and six residential buildings totaling 1,574 units. Restoring Logan Square will satisfy the need for more quality public space in this area and will likely encourage still more development to follow, initiating a virtuous cycle of economic development.
Development sites (red) surrounding Logan Square (yellow) and I-676 (blue).
To glimpse the possible economic implications of Logan Square's restoration, we can look to outcomes for similar projects in Philadelphia: the blocks near Dilworth Park will soon add two towers approaching 600', Race Street Pier attracted FringeArts and the forthcoming One Water Street, and Schuylkill Banks has been an enormous draw for developers. Oftentimes, developers begin to build nearby once a major renovation such as this is announced or becomes likely: it happened in Philadelphia with the Reading Viaduct, in Dallas with Klyde Warren Park, and elsewhere.
The Free Library (left) and future Kimpton Hotel (right) can help activate the Square.
The main impediment to capping I-676 had always been the imbalance between capital expenses and projected gains from property value increases. Today, land values are high enough to justify the cost of this project. Furthermore, there are ways to finance the project with little investment from the city. One option worth serious consideration is a tax-increment financing (TIF) district, which enables borrowing against future property tax receipts to finance the restoration. The particular financing method doesn't need to be sorted out just yet. The more immediate need is public support.
Logan Square has the potential to be the most outstanding of William Penn's five original squares. All the necessary pieces are available to make this a reality. The only thing preventing the park from reaching its full potential is our inaction. We wouldn't tolerate this blatant mistreatment for our other beloved parks, would we?
Now is the time for us to finally become champions of Logan Square. We must support its restoration and begin plans to remediate the damaging effects of I-676. Philadelphia deserves better.