In renters' market, Philly landlords cut prices and offer enticements to woo tenants
Listen
5:28
When it comes to Philadelphia apartment hunting, best friends and Fishtown roommates Lisa Schaufler and Alyssa Koenigsberg have a series of demands. They also have a list of deal-breakers.
"We don't really like carpet that much, because it kind of feels gross. We need a dishwasher. We cannot do our own dishes," said Koenigsberg.
"I agree," Schaufler added.
"We need laundry in the unit, because we went to a place this morning that didn't have laundry, and they were like, 'bring it across the street,' and we were like, 'No, we'll never do laundry if we have to do that," Koenigsberg said.
Recently, real estate agent Cristy Michaels gave the two 25-year-olds a tour of a brownstone in Society Hill, a block away from Washington Square.
She emphasized the spacious bedrooms, roomy closet space, vaulted ceilings and original hardwood floors.
It was the 10th apartment Schaufler and Koenigsberg had viewed in the past week, turning the duo's quest into nearly a part-time gig.
"It's like our night job. We get off of work, and I'm like, 'Lisa, the minute you get off, get changed. We're going," Koenigsberg said.
After walking through the Society Hill spot, the two were impressed, though they were noncommittal, determined to not settle for anything other than apartment perfection.
It was a familiar situation to Michaels, who has been trying for months to rent out the $1,750-a-month apartment.  She says ever-so-choosy prospective tenants are not biting.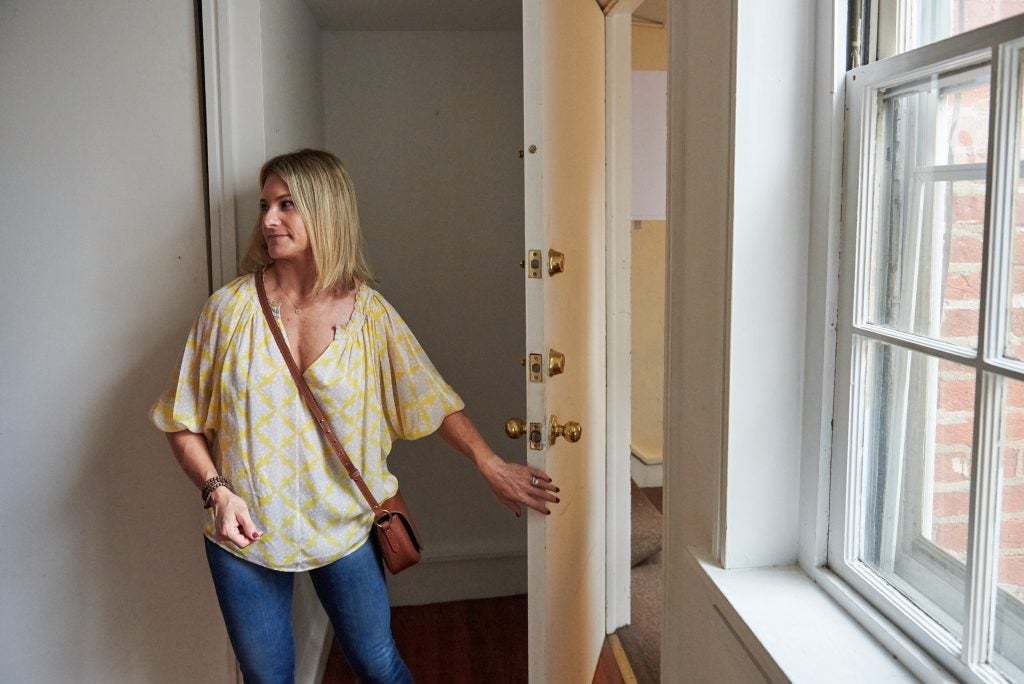 Apartment building boom
"The market is so saturated right now," Michaels said. Owners are decreasing rents in an effort to try to get renters in. I have one client who is now offering two free months. Two free months prorated over 12 months. That's an incredible deal."
Apartment leasing agents across Philadelphia are noticing a trend: It's getting harder and harder finding tenants to move in.
With the city in the midst of an apartment construction boom, renters have more options than ever, meaning landlords are increasingly dropping rents and sweetening the pot to woo tenants.
"Two years ago, we'd do a Craigslist post, and we'd get 20 hits instantly," said longtime Philadelphia real estate broker Mike McCann. "Now, I just had one, a little one-bedroom on Ninth and Spruce for $1,100. We had no hits in a week."
In the last year, according to real-estate research firm Real Page, eight apartment buildings have been completed around Center City, defined by the group as between Girard Avenue and Tasker Street from north to south and sandwiched between the Schuylkill and the Delaware rivers.
In that same area, 19 apartment buildings are currently under construction. Taken together, the upscale units expect to command an average rent of $1,900 a month for a one-bedroom unit.
The group estimates that, in the next year, nearly 6,000 new apartment units will be completed in the city, representing the largest number of new apartments hitting the market since the firm began tracking Philadelphia in the 1990s.
Rents trending lower
With a glut of new units, competition is brutal and rents are softening. According to Zillow, median rents in Philadelphia are down for the first time in seven years.
Anecdotally, the numbers are bearing out across the city.
"Everyone has been raising rents for the last five years or so, $50 to $100 per year," said real estate agent Neil Dessecker. "But now, maybe people are not willing to pay $1,700 for an apartment that rented for $1,400 just a few years ago."
One driver, said economist Kevin Gillen of Drexel University's Lindy Institute for Urban Innovation, is how the city's population growth is lagging behind the national average. Yet the pace of apartment construction has been on a tear. It's a dynamic that is giving renters an edge in leasing negotiations.
"We have a lot of units chasing relatively fewer renters," Gillen said,
"Right now the name of the game in the rental market in Philly is not to raise the rent," he said. "It's to keep the tenants if you can and ride this downturn out."
Part of the explanation, according to Gillen, can be traced to the housing bubble, when people were priced out of homeownership and forced into apartments. Just as many became renters after losing homes to foreclosure.
All that new apartment demand convinced banks to finance more apartment buildings and rental renovations. For years, new arrivals to the city were able to absorb all the new apartments in some of the city's hottest neighborhoods including Northern Liberties, Fishtown and Center City. But finally, Gillen said, the apartment-building spree in Philadelphia may soon be forced to slow down.
"That construction is being completed at the same time we haven't seen a big surge in population in the city," Gillen said.
The cooling of Philadelphia's rental market is echoing around the country. According to a new report from apartment website RentCafe, rents nationwide have remained flat for four straight months, which is the longest period of stagnation in recent history.
In Philadelphia, with all the new construction creating fierce competition, broker Michaels said landlords are offering creative perks of flat-screen TVs, credit at laundromats, gym memberships and free parking spots to draw in people.
If the incentives don't fill the existing over-supply of apartments, will all the new units opening up in the coming months start stoking a bubble?
Overall, market 'reasonably health'
RealPage's top economist Greg Willett doesn't think so.
He said the greater Center City area is witnessing a 3 percent drop in apartment occupancy compared with last year. But still, 94 percent of apartments are full.
"There's no big concern about this being a bubble market," Willett said. "The leasing activity is a little bit slow by historical standards, but it's still reasonably healthy."
McCann, the real estate broker, said even though the city's population increases are lower than the national average, there are still significant year-over-year gains, reversing decades of suburban flight.
Young people are especially excited to relocate to Philadelphia, drawn to the city's relative affordability. With time, McCann said, that pattern should balance out the apartment supply-demand equation.
"With all these millennials, the rental market is going to stay a healthy market. It's not like people are saying, 'I'm not gonna go to Philly anymore, I'm gonna go to Delaware,' he said. "That's not happening."
Not that there is anything wrong with moving to Delaware, but barring a mass exodus to the First State, real estate experts don't anticipate Philadelphia's apartment market bursting any time soon.
Economist Willett said the more than 5,900 new apartment units coming in the next year is significant for Philadelphia.
"But from my perspective, Philly has nothing to worry about. I live in Dallas, which is roughly comparable in size," he said. "The amount of product we have under construction in Dallas right now? Fifty-thousand apartments."
WHYY is your source for fact-based, in-depth journalism and information. As a nonprofit organization, we rely on financial support from readers like you. Please give today.