Real NEastate: for sale by owner open house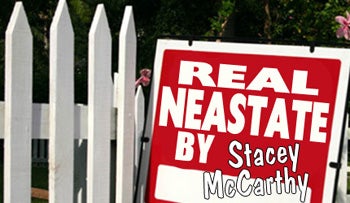 Q: I am selling my home myself without an agent. How do I hold a successful open house?
A: Tell everyone you know about your open house. Advertise the weekend before and the weekend of the open house. Buy some directional signs and the day before the open house, place them at major intersections within three to four blocks of your house. Make up a fact sheet to give prospective buyers an overview of your home. Include dimensions for each room, summaries of utility costs and property taxes and inclusions and exclusions. Make a sign-in sheet and ask for phone number and e-mail address to follow up.
Get your home showing ready by removing clutter, washing your windows, adding flowers and turning on soft music. Don't forget to confine your pets and hide your valuables. Finally, turn on all the lights and open the curtains; not only a good safety procedure, but also great marketing tactic.
An open house can be a good way to showcase your home, but it also exposes you and your home to a potential crime. Be cautious and stay safe. Explore several escape routes that you can use in case of an emergency. Notify a friend or a relative to call you every half hour and instruct them to notify the police immediately if you don't answer. Make sure your phone is well charged.
Also a good practice for the open house, and every time you show your home, is to inform your neighbors you are showing it and ask them to keep their ears open. And whenever you show your house, always walk behind the prospective buyer.
Good Luck!
Stacey McCarthy is a real estate agent with the McCarthy Group of Keller Williams. Her Real NEastate column appears every Wednesday on NEastPhilly.com. See others here. Read other NEast Philly columns here.