Reader Submission: local Acme employee retires after 36 years
As he had for the last 36 years, Joe Glackin finished dinner on Wednesday, Dec. 23 and headed out the door to work the evening shift at the local Acme.
The difference is, that night he walked out of Acme Markets as an employee for the last time. While many were lounging on their sofas or propped in bed reading, Joe had been stocking shelves, greeting late night shoppers, working a register, stopping a thief and on occasion, calling 911 for a customer in medical distress.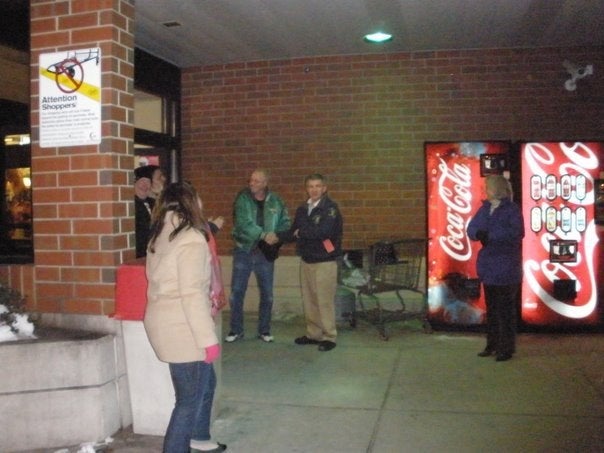 Joe came home from senior week in 1973 after graduating from North Catholic and went to work for Acme Markets. He started St. Joe's University that fall and worked at Acme. In 1975, he switched to La Salle and worked at Acme. He graduated from La Salle in 1977 and worked at Acme while waiting for a spot in the Philadelphia Probation Department.
He got married in December 1980 and worked at Acme. He ran for state representative twice and continued to work at Acme. He finally got that long-desired position with the Philadelphia Probation and Parole Department and continued to work at Acme. He went to St. Joe's for his Master's degree at night, and continued to work at Acme…
By day, Joe was a supervisor with the Probation and Parole Department. When his wife Maryellen was expecting their second child, Joe wanted his growing family to have a mom who was able to stay home. So the man who learned a strong work ethic from his own parents, Ed and Betty Glackin of Port Richmond, began 25 years of working two jobs.
As the kids grew, his wife often offered to go back to work so he wouldn't have to make the sacrifice of working long days plus long nights, but he always refused. Even when his wife did return to work when their youngest went to grade school, Joe always had an excuse for not quitting the Acme.
"Although I often teased him about the Acme being his 'social life,' on some level it really was," his wife Maryellen said. "After we moved to Bustleton, he continued to work at the Port Richmond Acme until it closed in 2005. It was a way for him to keep in touch with many old neighbors, family members and friends he had made over the years."
Though it was hard for Joe to change stores, he quickly realized how many people he actually knew in the Northeast when he began working at the Acme on Red Lion Road [near Bustleton Avenue]. "Joe would often come home and say, "I met a customer from my old store today," Maryellen recalled. "He was so happy to see people he hadn't seen in years."
With four children in six years, the Glackin household was a busy place, but the kids never suffered because of their father's work schedule. He would make the hour commute home each night from his day job so that the family could sit down together for dinner every night. Then, he'd jump in the car and drive half-way back to work in the Port Richmond store. Their school activities were always first, and he often switched schedules to attend a parent-teacher meeting or swim meet.
In a world where people change jobs as often as they change….well, you know the expression, Joe Glackin's loyalty is truly an inspiration.
Submitted by Brendan Glackin