8th District honors its fallen officers for Arbor Day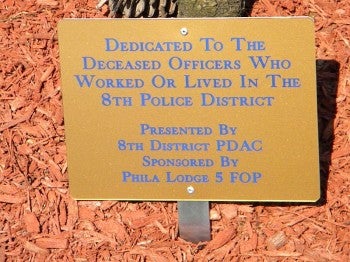 Members of the 8th PDAC sponsored an Arbor Day event on Friday at the district. The ceremony featured a tree dedication to remember and honor all deceased police officers who either lived or worked in the 8th Police District.
Remarks were made by our guest speakers: State Reps. Dennis O'Brien and Brendan Boyle, Fraternal Order of Police President John J. McNesby, 8th District Capt. Deborah Kelly PDAC Vice Chairman Harry Sonntag, Rev. Carl Graczyk of St Jerome parish and Congresswoman Allyson Schwartz. The Honor Guard was comprised of the Patriot Guard Riders (U.S. military veterans), a Philadelphia Police Honor Guard and a bugler, Cpl. John Halligan.
Elsie Stevens lives in Holme Circle and is a member of the 8th PDAC. You can read all her contributions to NEast Philly here.