Questlove woos Philly voters with pizza and beats
Questlove DJed an early morning set at City Hall to get out the vote, along with free pizza.
In an era of historic social polarization, is there anything that can mend a political divide on election day?
"What is nonpartisan and what do people absolutely love?" asked Amirah Noaman. "That's pizza."
Noaman is the executive director of Pizza to the Polls, a national effort to deliver pizza to people waiting in line to vote. The Oregon-based organization normally operates through an app, wherein people waiting in long lines can request a free pizza delivered from a local shop.
For the general election, Pizza to the Polls brought the big pizza guns to Philadelphia. It sent out a mobile food truck to circulate through polling places throughout the city, and partnered with another civic engagement organization, Joy to the Polls, to present a series of celebrity DJs on the back of a flatbed truck.
The lead ringer was native son Questlove, the co-founder and drummer of The Roots, who set up in front of the Octavius Catto statue on the south apron of City Hall at 8:30 a.m. for an early morning jam, spinning and remixing soul classics with contemporary dance and R&B into a seamless hour-long set.
All the while, Pizza to the Polls doled out free breakfast burritos and cans of cold brew coffee.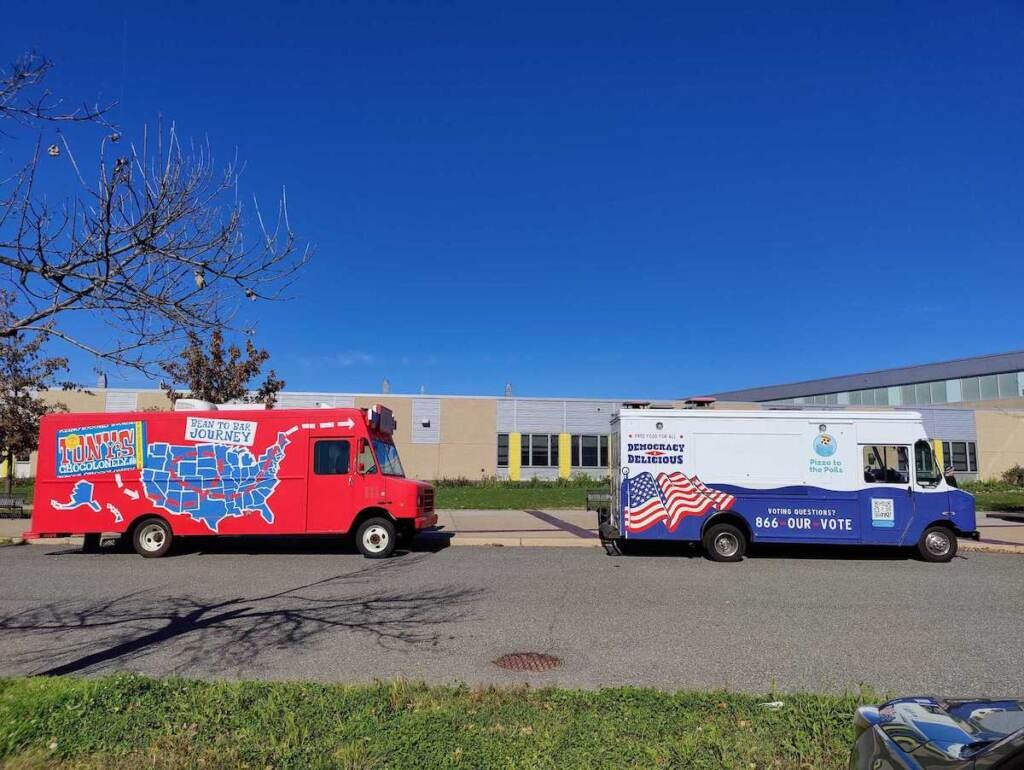 People bopped with their kids. District Attorney Larry Krasner lingered for the whole set. Councilmember Kendra Brooks danced "The Electric Slide."
"I think people forget how much fun voting is supposed to be," said Noaman. "It's a privilege. It's a right. But it's a celebration. This mundane task that we feel like we have to check off, and we're here to make sure nobody's leaving a polling place because they're hungry or they're bored."
After an hour, Questlove gave thanks to the crowd of a few dozen people, and the get-out-the-vote caravan rolled on to other polling places. The food truck pointed toward I-95 heading to Northeast Philly.
Pizza to the Polls began in 2016 when Noaman noticed long lines were discouraging people from voting. It was a phenomenon she saw around the country.
People using the Pizza to the Polls app take pictures of the voting line they are standing in and upload them. The Pizza to the Polls team does a little online investigation, cross-examining the request against Twitter activity and a reverse Google search. If the wait is indeed at least an hour long, or about the time it takes for a pizza to get there, an order goes to a locally owned shop in that area.
A long roster of partners supports the service, so neither the voter nor the restaurant has to pay for the pie. In 2020, when pandemic shutdowns cut deep into the restaurant sector, Pizza to the Polls pumped millions of dollars into local pizza economies.
Since then, it has expanded beyond election polling places into other forms of civic engagement, such as voter registration drives and various GOTV campaigns. To date it has delivered more than 85,000 pizzas and snacks, many of them sent to 4,000 polling places in 49 states.
The 50th outlier? Vermont. According to Pizza to the Polls data, Vermonters rarely wait long to vote.
On election days, the organization will sometimes rent food trucks to deliver pizzas personally. This year, Philadelphia was the only city to have a truck on hand.
When the truck left Center City, it went to Abraham Lincoln High School in the Mayfair neighborhood, whose gymnasium hosted polls for seven divisions. It was joined by a chocolate truck, toting extra-large bars of Tony's Chocolonely artisanal chocolate.
Lincoln High was recommended by the Committee of 70, a Philadelphia civic engagement and election watchdog group, because the school was to be tabled by PA Youth Vote, an organization encouraging under-aged young adults to become involved in the electoral process.
Ariana Freeman, a 15 year-old student at Lincoln, is not old enough to vote in this election, but the outcome will nevertheless have a direct impact on her future.
"It's important for the future because people in power make big decisions," she said. "We need to make sure those people are doing the right thing, and are doing what's best for the people."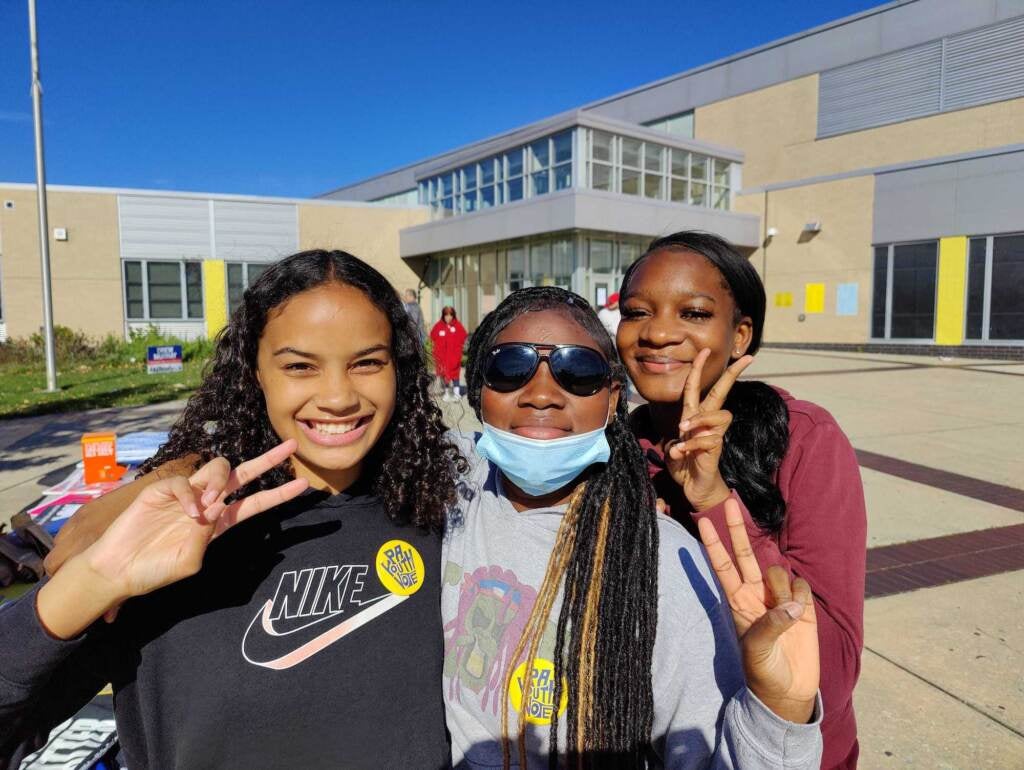 Freeman and her friends were not there to tell people how to vote, but to impress upon them the urgency to both take it seriously and have fun with it. Young volunteers with PA Youth Vote handed out T-shirts, chocolate, and luxurious bath bombs.
"I know voting doesn't really sound like the coolest thing, right?" said Destinie Mercier, 15. "I'm really saying, 'Hey, come get some bath bombs, come get this, come get that.' Just here to motivate people."
To some degree, it worked. Before the trucks came, voters drifted in and out of the Lincoln High gymnasium, briefly acknowledging the candidate advocates hanging around outside. But while the pizza and chocolate party was afoot, washed in cans of cold brew coffee, voters and poll workers mingled over slices and small talk. People of opposing parties joked how they canceled one another's vote. For about an hour, voting felt fun.
Then the party rolled on. The pizza truck left to reconnect with the DJ truck, ultimately culminating in an evening jam with DJ Jazzy Jeff spinning records outside West Philly High, a nod to the TV show that launched his fame, "The Fresh Prince of Bel Air."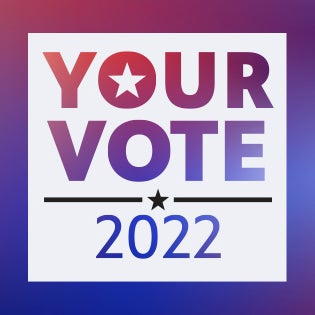 Your go-to election coverage
WHYY is your source for fact-based, in-depth journalism and information. As a nonprofit organization, we rely on financial support from readers like you. Please give today.