Q-n-A with some Bacon student competition winners
Competitors in the Bacon Award's student design competition examined how autonomous cars would shape the future of a city or regional site.
Their presentations had to address six areas of potential innovation: Transportation infrastructure, non-transportation-related built-environment, transportation-mode interchanges, highway vs. urban street design, vehicle storage, and fleet management.
The teams were allowed to focus on one of the following areas in the city or region: Center City Philadelphia, the Navy Yard in South Philadelphia, the Stadium District, the Germantown neighborhood, the borough of Narberth, or the King Of Prussia Mall.
PlanPhilly had an email conversation with two of the winning teams: First place winner IndePENNdence, from Cornell University, and best urban form winner Auto Civitas, from the University of Pennsylvania.
Here's a little bit about the teams, and the thoughts behind their entries.
Auto Civitas, Jury prize for Urban Form
School: The University of Pennsylvania
Team members, their area of study and hometown: Zhen Qin, Masters of City Planning, Guiyang, Guizhou Province, China; Ida Qu: Masters of City Planning, Vancouver, British Columbia.
Auto Civitas chose to answer all questions as a team.
The competition offered several study areas. Why did you select the Navy Yard?
This was perhaps the toughest part of the competition for us as we saw potential in each site. We selected the Navy Yard because of its proximity to Center City, to the adjacent developing job center, to the entertainment hub and its flexibility for redevelopment. We intended the Navy Yard to be an ideal site for the car sharing model as an experiment for implementation in the future on other sites. The Navy Yard is very isolated from the metro station and it is very costly to build a closer station. The car sharing idea allows for maximum car use and little storage as some users live on site and some off site.
Spending the afternoon walking the whole site assured us that the site has a lot of potential to encourage development. The experience felt very unique, as there are various ranges of building scale and historic vestiges yet abandoned as the result of deindustrialization.
Describe in a paragraph or two how the use of folding, driverless cars would change the Navy Yard. How would people get to and from the Navy Yard, and get around the Navy Yard once they got there? What would be the biggest changes they would see/experience when you compare the Navy Yard you've designed with the current Navy Yard? Do you see the number of people who live in the Navy Yard increasing significantly?
First, the driverless cars could create better accessibility and freedom to and from the site. The existing Navy Yard consists of inefficiency of land use designated for parking. With that in mind, foldable driverless cars will eliminate the amount of impervious space as well as the location of vehicle storage. There are multiple options for getting around. Those coming from far could be dropped off at stations on site or picked up from the metro station. Depending on the street hierarchy guideline people could easily walk to a station and access a vehicle to take them anywhere. The street hierarchy is decided based on vehicular movement throughout and immediate to the site. The greatest change for the Navy Yard is the increase in building density and green infrastructure because of our autonomous vehicle selection and the design of streets.
Definitely, there should be a dramatic increase in residents because of the adjacent office park and our proposed community center and service hub.
Folding cars are an interesting concept. Any ideas about how that would work? What they would be made out of? How they would be made safe?
The idea came from the MIT's city car because this allows for a great reduction in parking space. The folding works like convertible cars. We believe this is a safe action towards our pedestrian oriented design as the cars would be able to detect and prevent collision as pedestrians approach.
What is your favorite component of the plan your team designed? Why?
A: Our favorite component is the easy access to and from the site directly onto I95 with the car lift because from most areas within the site I95 is visible but one cannot easily be on it. This will turn I95 from the limiting factor that isolates the Navy Yard to a more convenient hub.
Our second favorite component is the reduction in impervious surface for better economic development and sustainable design that enlivens the site.
Do you see any elements of your design as feasible and beneficial for the Navy Yard even without driverless cars? If so, which ones and why?
The proposed residential area would be beneficial and in demand regardless of the driverless cars because of the adjacent Office Park. We also considered the building height variations from the waterfront towards the more inland areas. More so, the preservation of historically significant buildings that once represented the identity of Navy Yard should proceed.
What element do you think would be most difficult to implement? Why?
The two green belts would be the most difficult to implement because of their expense and maintenance in the long term.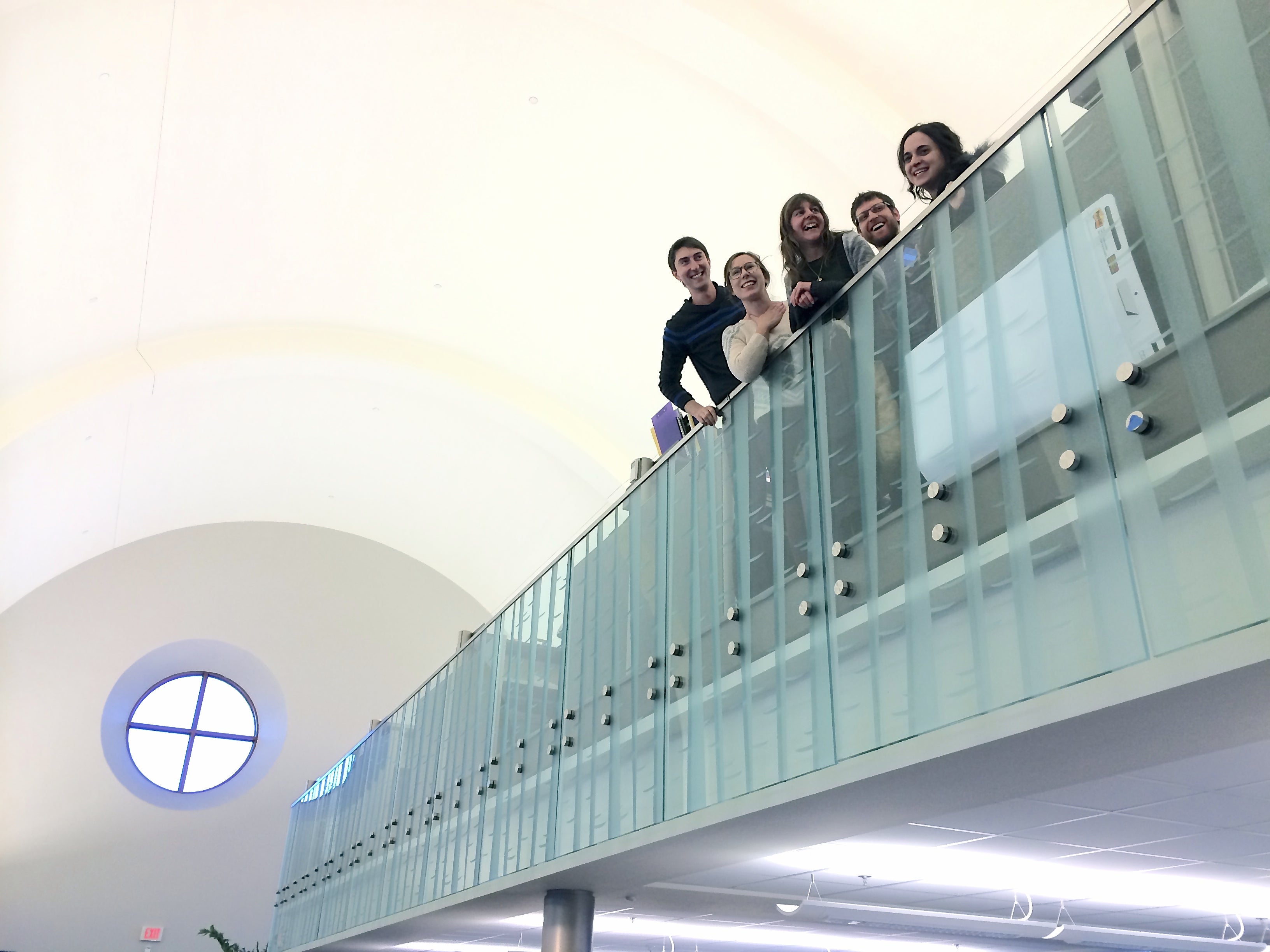 IndePENNdence
School: Cornell University
Team members and their area of study and hometown: Ashley Pelletier, Masters in Landscape Architecture, Smithfield, RI; Andrea Haynes, Masters in Landscape Architecture, Newark, DE; Scott Baker, Masters in Landscape Architecture, Bethlehem, PA; Kate Benisek, Masters in Landscape Architecture, Oak Park, IL; and Ruslan Filipau, Masters in Landscape Architecture and City & Regional Planning, Vitebsk, Belarus and San Francisco, CA.
The team chose to answer most questions as a group.
Q: The competition offered several study areas. Why did you pick the Vine Street corridor?
Our overall project philosophy was people and city first. We wanted to shift the paradigm from an emphasis on vehicles dictating urban form to planning what a more perfect city would look like, and how driverless car technology could make that happen.
It took a very long time and a lot of debate to choose a project focus area. All of the possible sites, selected by the Philadelphia Center for Architecture, had relevant and diverse issues. Center City presented positive urban trends like density and walkability, and challenges, like large-scale, car-oriented infrastructure. Center City offered a level diversity and complexity at which we wanted to work. We wanted to test the proposed new transit systems with respect to Philadelphia's historic urban pattern.
Moreover, we felt that changes in Center City, a major metropolitan hub, would trigger regional improvements in the greater Philadelphia metropolitan area. We decided that to best plan for Philadelphia's future, we had to find solutions amidst the most pertinent constraints. We also wanted to be able to address all of the competition's innovation categories in the most interesting and exciting ways. For example, Center City has many diverse street typologies, giving us an opportunity to directly address this complexity with a wide range of design solutions.
Our decision to redesign the Vine Street Corridor came from a desire to repair and rehabilitate Philadelphia's historic urban grid and improve existing community spaces, like Franklin Park, that we feel have been severely impacted by high-speed transportation infrastructure. There is a great deal of underutilized space, primarily surface parking, in the districts surrounding the Vine Street Expressway- something that is both immediately problematic and an obstacle for future growth. The Reading Viaduct will be a leading catalyst for neighborhood improvement and the emerging development of Callowhill and should happen at a neighborhood scale. Covering over the Vine Street Expressway allows for this development and creates a strong connection between the neighborhoods immediately to the north and south of 676. It also provides multi-modal transit corridor for bikers, pedestrians, and public transit while directly addressing and accommodating suburban commuter traffic.
Q: Describe in a paragraph or two how the combination of flexible streets and autonomous cars and other vehicles would transform Philadelphia. How would the city function differently? How would it look different? What groups of people would benefit from the changes? Are there any people or entities – a type of business, for example – that would be harmed, or would have to relocate?
Transportation access and efficiency would increase for all citizens, and would become more predictable, reliable, legible, and simpler for anyone to use. Diverse transportation needs could merge, allowing for safe, multi-modal use on the same streets or, in the case of the Vine Street Corridor, a clear separation of transportation types allowing for layered land uses in the same place.
There are numerous social and physical benefits that result from giving streets back to the people, so to speak. People would be able to occupy streets safely, allowing for more street festivals, events, and social activities. Streets would, once again, begin to feel more like lifelines of neighborhoods, where the 'urban spectacle' happens, to borrow Jane Jacob's famous metaphor. Daylife and nightlife would become more vibrant. Center City would be more of a magnet for people not just during the workday but after hours as well. One of the interesting challenges of this competition was that so much of the new infrastructure would become invisible, so much of the existing signage and signalling infrastructure would disappear as unnecessary, and the city would look different in that a lot of visual noise would be gone, we could all enjoy the architecture, art, the greenery, and people watching that much more. We wanted to represent visually a system that cannot be seen on the surface, and which presence can only be peered through the elements that are not there.
There would be a greater variety and flexibility of street forms. Some streets won't need sidewalks at all, and the streetscape could expand to make linear plazas. Stronger, unique neighborhood identities could emerge as a result, all equally accessible and safe. The city would shed a lot of unnecessary clutter, including the excessive street parking, and give a way to attractive drop off and pick up zones that would support an increase in activity, while improving efficiency at the same time.
People and their needs are our focus. We think many people would directly benefit: older people who can't drive, and teenagers who can't drive yet, urban dwellers that do not care to own a car or cannot afford to own one, workers, existing and new street vendors, commuters. First floor businesses at "Drop Blocks", our street-side hubs, would see an increase in sales. Pedestrians would benefit from increased street safety, commuters would save time, and the City government could shift its focus from traffic management on other areas of service for its citizens.
Infill development and real estate opportunities would increase. On-street and other surface parking area that are no longer needed could be converted to stormwater treatment, parklettes, pocket parks, and other cultural and public recreational uses.
What is your favorite component of the plan your team designed? Why?
Andrea Haynes: The surface rail proposed that would connect the Art Museum to Old City. I think traveling through green space, traversing Philadelphia from end to end would be a great way to experience the city, would provide visitors with convenient access to major attractions and become a favorite mode for locals and commuters.
Ashley Pelletier: Our surface parking analysis revealed a huge amount of underutilized land to the north of the Vine Street Expressway. Our hope in implementing "The Vine" is that it would not only serve as a transit and green corridor, but reconnect Center City, allowing for development to accommodate Philadelphia's growing population.
Kate Benisek: Designing physical improvements at both an urban and human scale that will work with largely invisible driverless car technology was a challenging and intricate process. My favorite component of the plan was our focus on the multi-modal transportation needs of people in an urban environment- commuters, families, individuals and communities.
Scott Baker: Modifying the network of roads that surround Franklin Park and proposing new buildings that frame the park, create a condition where the park can return to its intended function and stature for the City of Philadelphia and its citizens.
Ruslan Filipau: I thoroughly enjoyed thinking about Philly in terms of systems and infrastructure, with people as a main focus. This human-centric design approach made the difference in my reformulation of the main problem and the premise of the competition. I tried to understand the user experience of this new, largely invisible infrastructure of vehicles using streets re-designed for people. I liked thinking strategically at different periods of time leading up to 2076, while representing links between changes in technology, the urban environment, and lifestyles.
Do you see any elements of your design as feasible and beneficial for the city even without driverless cars? Which ones and why?
We feel that urban form should be driven by the needs of people, and that the car should not define one's lifestyle, or negatively impact the experience of living, working in, or visiting a city. It is entirely feasible for policy makers and designers to take this as their starting point.
The Vine Street Expressway could realistically be covered and become a linear park without driverless cars, improving city-wide access and providing a safe and visually appealing cross-town route for bikers and pedestrians. It would be expensive but could bring to life a large part of the city.
Congestion pricing is a feasible policy, can reduce the need for surface parking and allow for more infill development within Center City.
Timed street closings allow for a safe and energetic street culture, making even downtown streets feel like a neighborhood during lunch hour or in the evening. Establishing a congestion zone in the most dense and active areas in cities is already a reality, and may benefit Philadelphia as well.
Adding more green infrastructure in the form of trees and street-side stormwater treatment is definitely feasible and has numerous environmental and social benefits.
What element do you think would be most difficult to implement? Why?
While building the physical infrastructure to cover the Vine St Expressway would be quite expensive, we actually think that cultural changes are more difficult to realize. Significant cultural shifts would have to take place for people to give up personal car ownership. Although personal cars are part of our design, we see a system with a larger share of shared private and municipal vehicles. Fortunately the trend among younger generations of city dwellers is away from personal car ownership. It will also take some time for everyone to feel safe with driverless technology and would require extensive public outreach. Merchants might resist giving up parking adjacent to their stores until they see a proof that losing parking does not equal losing profits. We also see a challenge in the city government's ability to give up a culture of enforcing parking regulations, which is a major source of money for the city budget.