Praxis Dialogues: Does Philadelphia need a Culture Plan?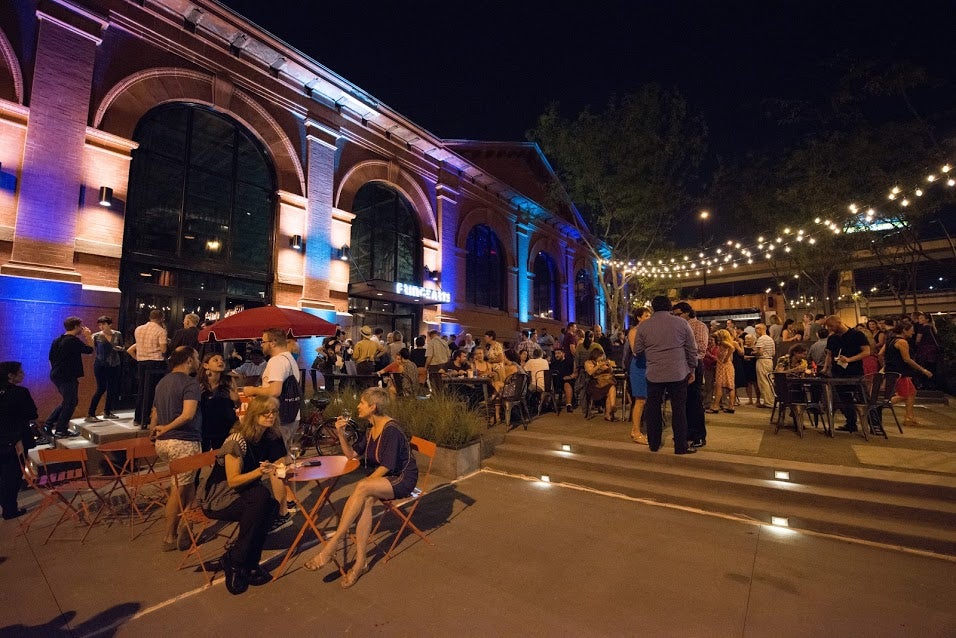 On April 11, PennPraxis and PlanPhilly will present Praxis Dialogues, a conversation about what the notion of "public good" means in terms of public arts and culture. We're sharing commentaries from the panelists in advance. So far we've heard from Ken Lum on public art's health, Paul Farber on the obligations and opportunities of public art in Philadelphia, and Nancy Chen on Asian Arts Initiative's social practice art. Today FringeArts' Nick Stuccio wonders if Philadelphia needs to think more deliberately about making space for arts and culture as the city grows?
Nothing contributes to the character of a city quite like its arts and culture sector. At FringeArts, we feel a deep responsibility to reflect the culture of Philadelphia and to prod it forward. For many years, arts and culture in Philadelphia were largely expressed in interstitial places – murals, performances, installations, and sculpture found in the most unexpected of locations, being the glue holding the city together. So what happens when those interstitial spaces begin to disappear? How can we plan for the reflective growth of an arts and culture sector that is responding to the rapid development of this city?
Our city is booming, there is no denying it. There continues to be unprecedented development by every measure, including spectacular projects underway on East Market Street, in University City, and on the Delaware River waterfront, just to name a few. Every small lot is a target for a townhouse or condominiums. With swelling numbers of people moving into the Philadelphia, primarily young people, the role of culture in this narrative is becoming increasingly unclear. Are we forsaking culture when envisioning the future of our city?
When we dreamed of the future of FringeArts, we saw an arts center that was a hyper-social context for bold new art experiments. We wanted to not just be a performance venue, but a place where citizens could build community with art at its core. We found a former city building—an old pumping house for the Philadelphia Fire Department—and transformed it into an arts center that works in tandem with a bar, restaurant, and beer garden. Our decision to partner with a for-profit restaurant was our attempt to embed our work as an arts presenter within the fabric of the city's nightlife. We were able to make our vision a reality through the concerted efforts of a core group of board members who believed in our future and worked tirelessly alongside our staff to make it happen. But we are in our new space by a stroke of luck. There was no development pressure on this slice of real estate, so we took advantage of the opportunity to swoop in and transform it.
Our use of this site was hoped for, but not planned. After producing 17 Fringe Festivals since 1997, we wanted FringeArts to be more, to have a physical homebase and serve audiences beyond our annual festival. An ad hoc, natural selection process is at work in the culture sector of our city. My fear is that unless space is thoughtfully created for it in the rapid development of Philadelphia, the arts and culture sector will be left in the dust.
Since the birth of our nation, Philadelphia has been an incubator for radical ideas and progressive experimentation. Today, as it experiences the greatest era of growth and development in generations, Philadelphia could seize the opportunity to be a leader among American metropolises in our integration of arts and culture in urban development. Is there an effective, efficient means to serve the growth of the culture sector? Do we need a culture plan?
In isolation, the arts and culture sector is perceived as financially challenged and under-resourced. However, if it is woven into the fabric of our city, prioritized alongside businesses and community programs, it regains its sense of balance.
There are numerous arts organizations—Ballet X, Philadelphia Circus School, and the Clay Studio among them—that are experiencing urgent space needs. There is an opportunity to enable organizations that lift the culture of the city to connect to the complex matrix of government, community institutions, and local businesses. What would happen if the next major development in our city had the arts at its center? Imagine what would have happened if PECO's former power generating plant Delaware Station had been earmarked as a cultural hub, a massive exhibition space surrounded by residential and commercial development. It could have been an economic juggernaut for the region. Developers court retailers and restaurants for commercial space—why not court art makers who will increase traffic, revenue, and become icons of Philadelphia's cultural identity?
Our city has a rich cultural heritage and a vibrant arts scene. But it is fragile. As our city grows, so will the demand for cultural experiences. An intentional planning effort will facilitate growth that can meet this demand. In order for Philadelphia to maintain its identity as a thriving cultural center, we need to open our arms for a systematic embrace of the arts from all sectors, public and private.
The public conversation Praxis Dialogues: Arts and Culture will take place on April 11, from 6:30-8pm at Fringe Arts, 140 N Christopher Columbus Blvd. The event is free and open to the public. Advance registration is requested, as space is limited.