Kensington vandalism aimed at Feibush project under investigation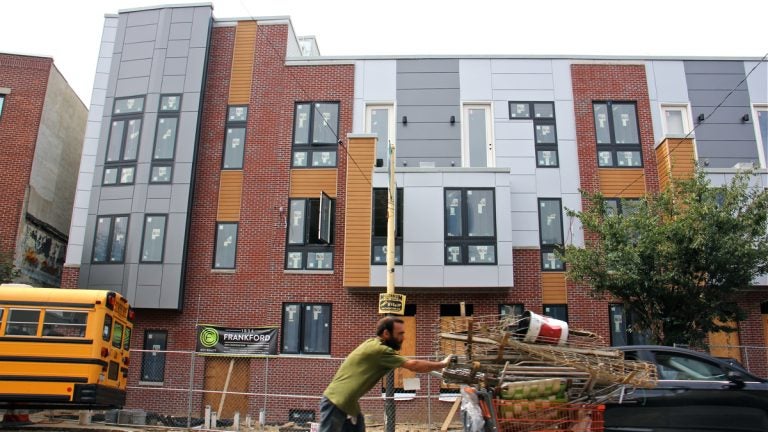 Police are still searching for the person who tried to set fire to a condo building under construction in Philadelphia's gentrifying Kensington section.
It is the second time in four months that arsonists have targeted a redevelopment project of Ori Feibush. His company's work in the blighted Point Breeze neighborhood has become a flashpoint in the city's debate about how best to manage growth in Kensington and Point Breeze as they become increasingly popular with newcomers.
In May, Feibush's upscale condo project in Point Breeze was hit by vandals, who set half of the building ablaze, causing what he said was millions of dollars in damage.
No one in that arson has been arrested.
Feibush is offering $90,000 to anyone who provides information leading to the arrest and conviction of those May arsonists, and federal investigators and Councilman Kenyatta Johnson have kicked in an additional $12,500 for a tip leading to their apprehension.
In an interview after the incident, Feibush said he's confident neighborhood residents are not to blame.
"I believe that the parties responsible are upwardly mobile white folks who grew up outside of the city," he said. "Suburban individuals. Individuals that came from good homes who believe that their way to promote their political persuasion is to stomp their feet and break things."
The Aug. 29 arson attempt left little damage to another one of Feibush's construction sites, in the 1800 block of Frankford Avenue, authorities said.
"The investigation is ongoing with the Bureau of Alcohol, Tobacco, Firearms and Explosives," a police spokesman said.
Feibush, however, said suspects have been identified.
"The incident was caught on camera, and U.S. marshals and Philadelphia police have identified the arsonists. I am hopeful that these reckless individuals are brought in quickly," Feibush stated on Facebook.
Mayor Jim Kenney said the perpetrators will be caught and prosecuted.
"Hopefully they got a good picture of the criminal, and we can lock them up, because that's where he or she belongs," Kenney said. "Gentrification is one thing. It's very stressful. And I understand that. But there are ways to address it without setting buildings on fire and putting people at risk."
The two recent arson attacks are not the first time Feibush has had a brush with adversaries.
Last year, one of his offices in South Philadelphia was vandalized. In 2013, video cameras recorded someone tossing a brick through the windows of OCF Coffee Shop, which his development company runs. A vandal also slashed Feibush's car tires that year.
And before Feibush unsuccessfully ran for a City Council seat that includes Point Breeze in 2015, he said a dead dog was left on his doorstop.
In spite of the latest incidents, Feibush said he is in "great spirits" and excited to "continue developing amazing projects" throughout the city.