Planning Commission's sign task force holds community meetings across the city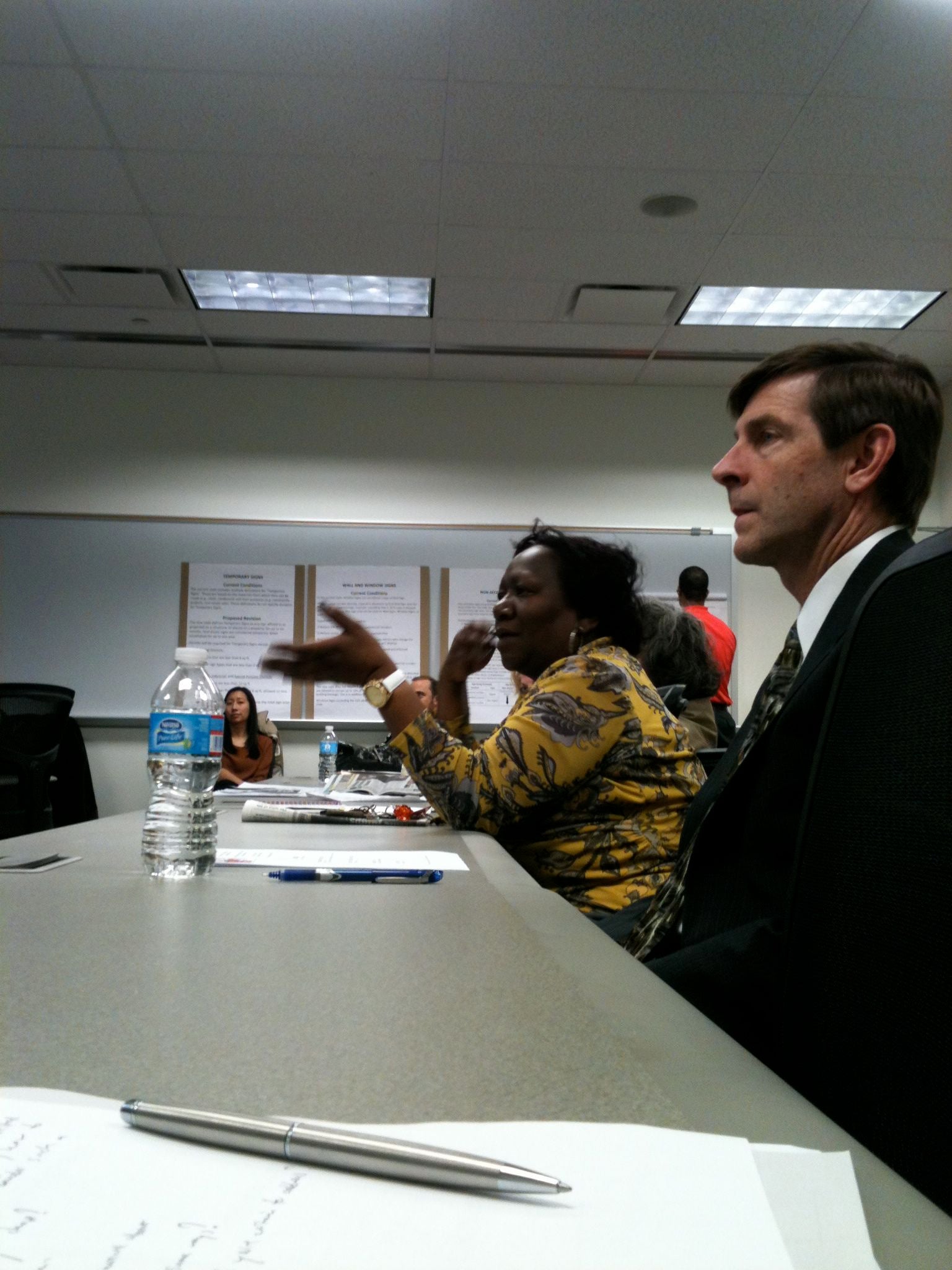 The City Planning Commission's sign control working group has nearly completed its second round of civic engagement on sign-regulation reform, and relatively few members of the public have shown up to its series of community meetings to give input.
A meeting in South Philadelphia on Tuesday evening drew around ten participants. A meeting in North Philadelphia on Wednesday brought four. Eva Gladstein, deputy director of the Planning Commission, said that two earlier meetings also drew light attendance.
"I think it's a combination of the weather," said Gladstein, who has been leading the meetings, " … and a few people have told me they've invested so much time in the rest of the zoning code that this pales a little bit by comparison."
Gladstein emphasized that the group has received significant feedback through venues other than the meetings, including an online survey on sign preferences, which she said around five hundred people have completed.
The meetings have been structured similarly to those held during the first round of civic engagement, when Commission members met with five different constituent groups, including Community Development Corporations, sign manufacturers, and civic associations. Gladstein—along with former ZCC staffer Natalie Shieh and members of Portfolio Associates, a group that aided the Zoning Code Commission's civic engagement efforts—presents attendees with background on zoning reform and some of the changes contained in the draft of the sign control chapter of the new code.
Participants are then asked to weigh in on three overarching topics: wall and window signs, temporary signs, and non-accessory signs.
The draft chapter on sign controls contains a number of new regulations relating to those topics. For example, wall signs and window signs are treated separately in the draft, though they are considered together in the current code.
In general, the reformed sign chapter decreases the total amount of permitted sign area. In a CMX-2 district, for example, the draft permits 3 square feet of signage per linear foot of store frontage, while the current code allows twice that amount. It also limits the amount of window signage to 15 percent of the total transparent window area. Many participants in the working group's meetings have said it's important to be able to see inside stores. At the meetings in South and North Philadelphia, participants tended to be supportive of the sign-area provisions of the draft.
The current code contains multiple definitions for temporary signs, partially related to the materials the signs are made of. The reformed chapter makes the definition of those signs actually temporal: it defines a temporary sign as one which is displayed for up to 6 months, or up to 12 months for real estate signs. Participants did not generally object to this new definition, though several raised the question of how able L&I would be to enforce it. Gladstein said that, assuming sign users follow the law, the permitting process would create a record of when a sign went up for occasions when L&I receives complaints.
Finally, the participants at the meetings were asked their opinions about new provisions related to non-accessory signs. Currently in place is a cap on the amount of billboards and other such signs in the city through a 1-to-1 replacement ratio. If you want to put up 200 square feet of non-accessory signage, you've got to take down 200 square feet of non-accessory signage. The new draft takes this a bit further, by alternating that ratio from 1-to-1 up to 4-to-1 in some areas. Essentially it creates an incentive to remove billboards in some sections of the City, such as neighborhood commercial corridors.
One participant at Wednesday's meeting, who represents the billboard advertising industry, pointed out that the incentive isn't triggered until a company decides to build a new sign. Gladstein said the working group was considering ways to encourage sign removal in some areas, possibly by improving Sign Removal Credits provision by which advertisers gather credit toward future square footage for sign building.
It has also become clear at the meetings how much of the signage covering our city is actually outside the purview of zoning. Participants have asked about what limits are being put on sidewalk signs and signs that drive up and down the street, but those types of advertisements, generally being outside the parcel line, are not regulated by the zoning code. The municipal-property advertising legislation introduced by Darrell Clarke earlier this year would also require its own set of regulations aside from the new sign control chapter.
The last of five community meetings will be held Thursday, April 5, from 6 to 8 p.m., at the American Heritage Federal Credit Union at 2060 Red Lion Road in Northeast Philadelphia.
The working group plans to present a second draft of the sign-controls chapter to the Planning Commission at its meeting on April 17, and to send a finished draft to City Council in May.
Contact the reporter at jaredbrey@gmail.com and follow him on Twitter @jaredbrey
WHYY is your source for fact-based, in-depth journalism and information. As a nonprofit organization, we rely on financial support from readers like you. Please give today.