Planners prescribe road diet for Race Street
When your midsection grows a bit too wide, it puts your health at risk: Time for a diet.
When the midsection of a street grows a bit too wide, it also puts your health at risk: Time for a "road diet", or the purposeful removal of some travel lanes designed to slow down traffic and make the road safer for all users.
The Delaware Valley Regional Planning Commission (DVRPC) recently released a mobility analysis calling for a road diet on a two-block stretch of Race Street between Chinatown and Old City.
The proposal looks just at the segment between 6th and 8th Streets. Unlike the rest of Race Street, which is two lanes, this portion widens to 4 lanes between 8th and 7th Streets, and then 5 lanes between 7th and 6th Streets.
A bunch of wide lanes encourages traffic to speed up, creating a fast-moving river of rubber and steel on Race that turns Franklin Square into an island surrounded by a sea of asphalt. The road diet would help turn Franklin Square into a peninsula once again connected to Old City. The two wider blocks also form a gap in what is otherwise a fairly bike-friendly Race Street. Not coincidentally, car crashes are far more prevalent there than on the narrower sections.
(DVRPC)

(DVRPC)

(DVRPC Mobility Analysis)
According to the report: "The reason for the wide width of this section is that prior to the completion of the Vine Street Expressway, this section of Race Street was the main access point to the Benjamin Franklin Bridge."
Then, in the trademark deadpan of government reports everywhere, it adds: "This creates several problems in regard to accessibility, safety, and aesthetics."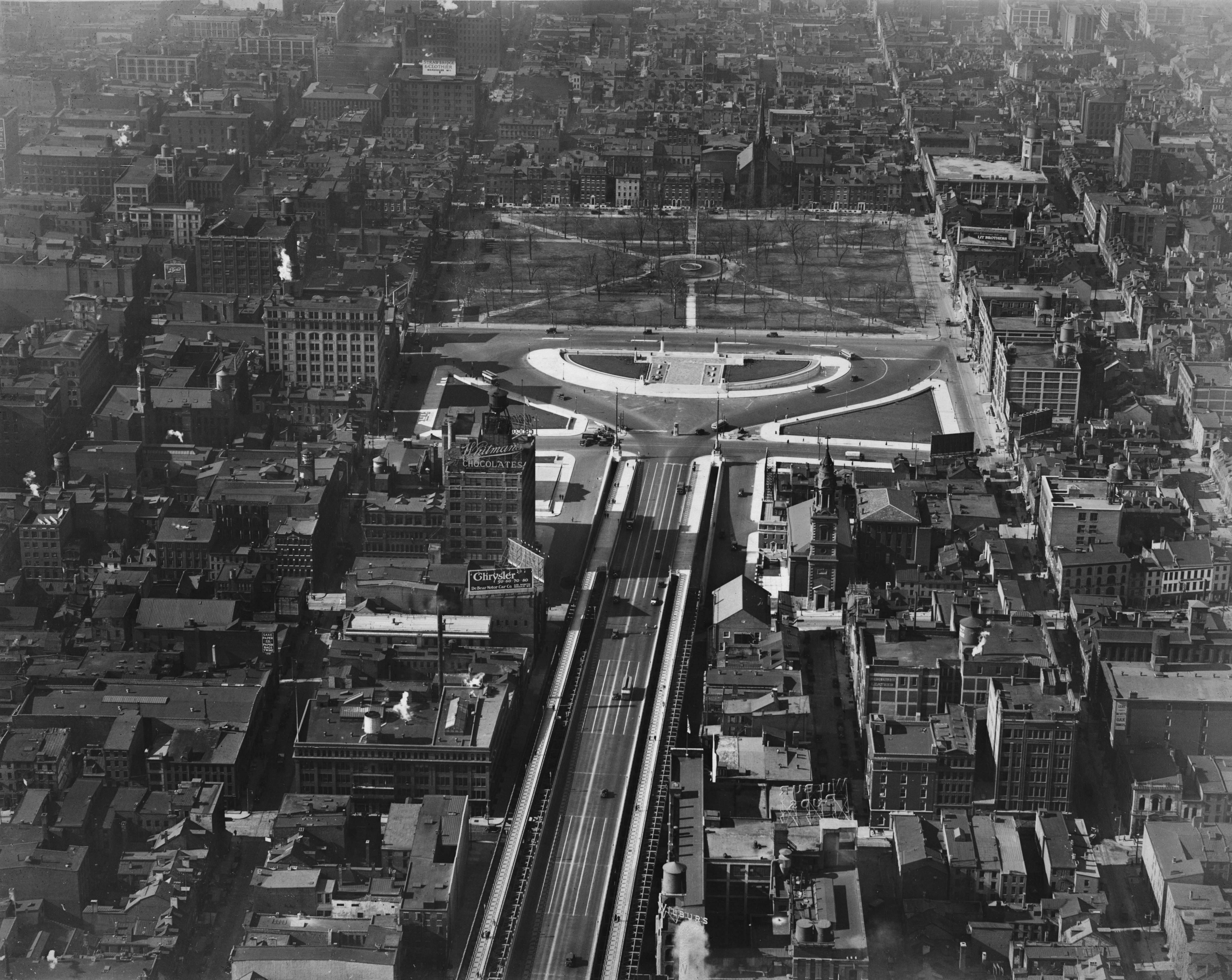 In case you missed it, we finished building the Vine Street Expressway. In 1991. So the bulge along this leg of Race Street is more out-of-fashion than jeans with bell-bottom flares.
The DVRPC's proposal was designed to compliment another idea for improving this area: the Pennsylvania Horticultural Society's plans to build new eastbound lanes onto the Ben Franklin Bridge and close the current lanes that force cars to wrap around Monument Plaza, where the famous "Bolt of Lightning" sculpture sits. That proposal would also reduce the number of lanes on 5th Street between Race and Wood from 6 to 4, making for a less-harrowing walk to Monument Plaza.
The DVRPC recommends keeping the two lanes that allow drivers on Race Street direct access onto the Ben Franklin. The original PHS proposal suggested removing those lanes as well, leaving additional access for drivers on Race to turn left on 5th Street.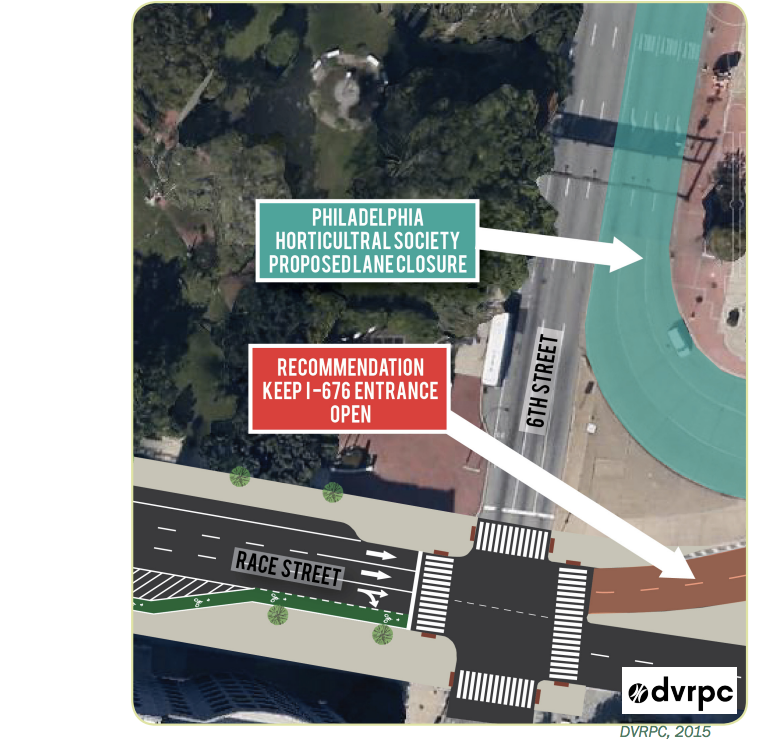 The mobility analysis provides for a few alternative designs for the road diet. According to project manager Scott Johnson at the DVRPC, the Mayor's Office of Transportation and Utilities has already applied for grants from the Pennsylvania Department of Community and Economic Development's Multimodal Transportation Fund to pay for the faster "temporary" fix: restriping the road to remove car travel lanes, paint green bike lanes and include some concrete planters to provide a buffer between the two. A more permanent solution would widen sidewalks and bump out intersection curbs, which makes crossing the street that much easier. It would also replace concrete planters with permanent median landscaping along the protected bike lane, an amenity that Philly's cycling community has long pined for.
While the more permanent improvements would likely cost a few million dollars, the temporary upgrades would cost fairly little: paint and planters are relatively cheap and easy to implement.
(DVRPC Mobility Analysis)

(DVRPC Mobility Analysis)

(DVRPC Mobility Analysis)

(DVRPC Mobility Analysis)

(DVRPC Mobility Analysis)
The two-block section of Race Street in question is actually owned by PennDOT, which collaborated on the report. The rest of Race Street is controlled by the City of Philadelphia. But, according to the DVRPC's Johnson, PennDOT has signed off on the traffic impact. The Chinatown Development Corporation and Old City District also both support putting Race Street on a diet.
The Philadelphia Water Department has also expressed interest in the proposal, which includes stormwater management upgrades: new planters and trees that will make the area both more pleasant and soak up rain.