Philly renters guaranteed lawyers in eviction court under new City Council bill
Gym introduced a bill on Thursday that would guarantee free legal representation for renters under 200 percent of federal poverty guideline, or $33,820 for a household of two.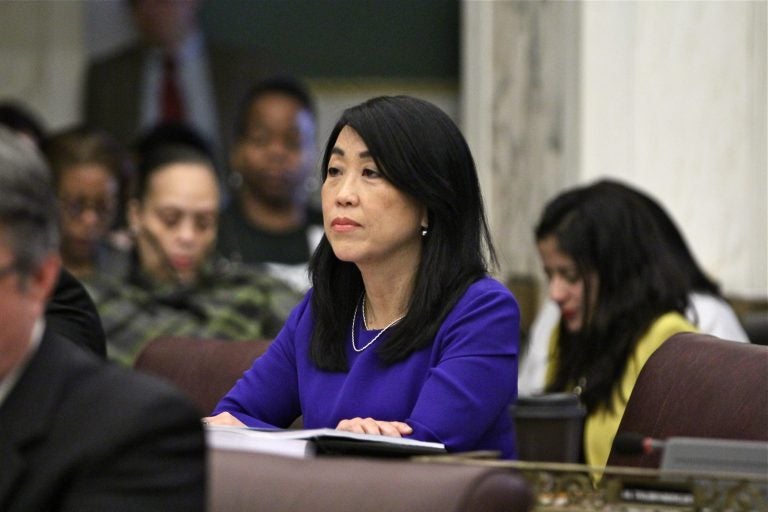 This article originally appeared on PlanPhilly.
—
If Philadelphia Councilwoman Helen Gym has her way, many more renters facing eviction will be represented by a lawyer when they have their day in court.
Gym introduced a bill Thursday that would guarantee free legal representation for renters under 200% of the federal poverty guideline, or $33,820 for a household of two.
"We are proud to introduce a bill that will move this city into a new era of guaranteed equal representation in landlord-tenant court," said Gym, flanked by City Council President Darrell Clarke,Councilman Bill Greenlee, and a host of tenant advocates and legal aid lawyers.
The issue of eviction has received increasing attention in recent years, as stagnant incomes and spiking housing costs have created a crisis for families across the country. Federal subsidies for housing, meanwhile, have also stagnated. Only 25% of Americans who are eligible for housing assistance receive it.
Unlike in criminal court, those who face eviction are not guaranteed representation. As a result, the overwhelming majority of tenants — most of whom have low incomes — do not have legal representation while the great majority of landlords do.
"When you first walk into the door, you see a line of lawyers who are not there for the tenants, so you mentally walk in with anxiety and fear," said Gerrell Sampson, a tenant whose landlord filed two eviction notices against her. She had legal support from the Public Interest Law Center.
"Sometimes, when you go into a fight that you think you've already lost, you just brace yourself for impact," Sampson said.
In Philadelphia, Gym has made landlord-tenant court reform a central part of her policy platform. Two years ago, she secured $500,000 for renter assistance in court, which she framed as a step toward the right to counsel. Last year, she won an increase to $850,000. In the current budget negotiations, the Kenney administration recommended reducing it to $500,000.
The Philadelphia Bar Association recently released a study showing that it would cost $3.5 million annually to provide legal aid to all tenants in eviction cases. But their estimates were based on a lower threshold, so Gym's more generous bill would likely require between $4 million and $5 million.
Much of the current funding Gym has secured is used to fund non-lawyer tenant assistance, including a staffed hotline for renters and a help desk to aid those seeking to navigate the courtroom. That means more than $5 million annually would be required, in future, to fully fund the suite of eviction assistance services.
Gym's office is seeking a $1.5 million allocation in this year's budget.
"We are looking to grow the legal defense work slowly but steadily," she said. "[The funding] doesn't all have to come from the city. Certainly our hope is that some of the foundation and institutional actors who recognize that housing is closely correlated with health will be interested in supporting this work."
Gym's bill specifies that right to counsel would be effective only when the city's managing director's office "is prepared to spend appropriations to fund such legal representation."
If the need for lawyers outstrips the program's ability to supply them, renters would be prioritized by income level.
The bill is co-sponsored by Clarke, Greenlee and Council members Cherelle Parker, Curtis Jones, Bobby Henon, and Kenyatta Johnson.
If successfully passed and funded, the bill would make Philadelphia the second largest American city to guarantee a "right to counsel" for low-income tenants. New York City is in the process of rolling out its program, estimated to cost as much as $200 million.
Landlord groups are wary of Gym's effort. They argue that the city already makes life difficult for property owners, and that the situation is growing worse because of tenant-friendly efforts such as "good cause" eviction legislation and new lead regulations for rental properties.
"What they are doing is encouraging people, if they don't pay their rent, that they will get free legal representation, said Harvey Spear, president of the Homeowners Association of Philadelphia, or HAPCO, a landlord advocacy group. "Why can't we give free legal advice and representation to landlords who have mortgages and other expenses? It's just going to create more and more problems."
Advocates of right-to-counsel argue that legal representation is meant to prevent tenants from being "disruptively displaced," meaning they are forced to move quickly and under circumstances that could leave their records marred (making it harder to rent in the future).
Under current circumstances without legal representation, tenants are often convinced to sign unfavorable agreements with their landlord's lawyers. When tenants have lawyers of their own, they often have more time to find a new apartment, fewer punitive penalties, and a greater likelihood of being able to remain in their home (especially if a landlord does not, say, have a rental license).
"The impact is clearly on renters," Gym said when told of HAPCO's objection. "We see overwhelmingly that landlords have legal representation in court. It's not an urgent, needs-based issue, whereas tenants do not have assistance."
WHYY is your source for fact-based, in-depth journalism and information. As a nonprofit organization, we rely on financial support from readers like you. Please give today.