Philly officials want you to get tested for COVID. Those who have tried say it's not that easy
Coronavirus testing capacity has increased, and eligibility has expanded. But getting tested through the city can still be confusing and time-consuming.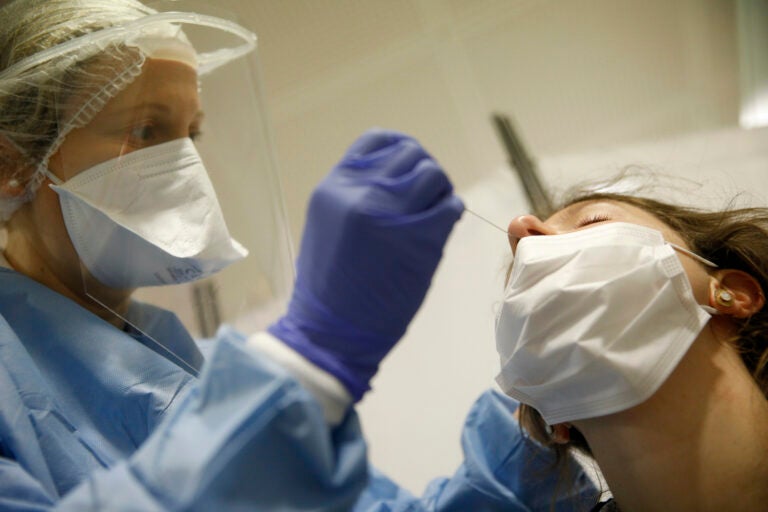 Are you on the front lines of the coronavirus? Help us report on the pandemic.
Michelle Adyniec regrets getting tested for COVID-19.
A nurse who lives in Philadelphia and works in Camden with people experiencing homelessness, Adyniec wanted to get tested before visiting her family. She had heard that as a health care worker she was eligible, but was unclear whether she needed to have symptoms. Worried her primary care doctor would deny her since she was not feeling sick, she looked to the Philadelphia Health Department.
After being ping-ponged around among a few different phone numbers, Adyniec confirmed she was eligible. She was connected to one of the city's health centers, and did a long intake interview over the phone with a nurse before showing up at the clinic.
"I was like, great, I'll be in and out, this'll be good," she said.
But when she got there, Adyniec took a seat in a waiting room next to a half-dozen other people. During that time, she redid the questionnaire she'd done over the phone — this time, on a paper form, a process whose efficiency and reliability she doubted as a health care worker. The whole experience was disheartening.
"I actually felt I was more at risk of contracting it while I was there waiting for a half-hour with six other people that also thought that they might have COVID," she said. "I didn't like that, that really made me uncomfortable."
Despite an increase in testing capacity and expanded eligibility guidelines, arranging a coronavirus test through the city's Health Department can still be complicated and time-consuming. For patients, the process can feel discouraging, and like a vestige of an outdated public message: Don't get tested unless you have to.
After the test, a nurse told Adyniec that if her results were negative, she would get a text in the next three to five days telling her so. If they were positive, she'd get a phone call from an unknown number, which would not leave a message and would only call once. Adyniec was worried about going to work as a nurse without knowing her COVID status, and paranoid that she would miss the critical call. So, starting after Day 3, she called the health center daily to try to track down her test results.
"Every time I called, they said something different," Adyniec said. She would ask if she should go to work in the meantime, and the Health Department told her to go ahead.
On Day 6, she reached someone who was able to find her results — they were negative. A few days later – nine days after she got tested — Adyniec received a text confirming what she had been told over the phone.
In an effort to streamline the disorganized process Adyniec experienced in mid-May, the city has since set up a centralized COVID-19 hotline for people to call to schedule testing. But its rollout has been rocky, and has sent mixed messages to health care workers and patients alike. That's been especially true as more protesters are seeking testing — as the city has recommended they do — after attending crowded demonstrations against racism and police brutality.
Scott Gross was one of those protesters. The 38-year-old University City resident was laid off from his service-industry job and did not have insurance or a car. He called the city hotline, where he said a very nice person asked for his ZIP code, then directed him to his neighborhood city-run health clinic. When he called there, he was told that the health center was not testing his ZIP code. He was given a different number to call —   which led him back to the hotline.
"I kind of gave up on the city route," said Gross.
After trying various other providers, he ended up at Jefferson, which offered walk-up testing and, he hopes, without a copay. He said he is still unsure if he will be billed.
A nurse at a federally qualified health center, who asked to remain anonymous because she was not authorized to speak publicly, said that multiple members of her team have fielded calls from people wanting to get tested after being at protests. The nurses referred those people to the city health centers nearest their homes. But the people called back saying they were denied, she said — also because of their ZIP codes. One went to Health Center #2, in South Philadelphia, and was denied in person.
Health Department spokesman James Garrow said the confusion is a result of the new citywide dispatch system. Usually, the individual health centers all schedule their own appointments. But for COVID-19, the city set up dedicated testing sites: one in West Philly, one in North Philly, one in Center City (which takes South Philly residents too), and a fourth at Third Street and Girard Avenue. When someone calls the hotline, they are to be directed to one of those sites.
It's possible the operator may be directing patients to the city health center closest to them, but if that clinic is not a designated testing site, people could be told their ZIP codes are not eligible and be sent back to the main dispatch.
"We've heard that some people have gotten conflicting information from either the [central testing number] or the individual Health Centers and [we] have reiterated the testing recommendations to frontline staff," Garrow wrote in an email. "We are hopeful that the public will have a more consistent experience with them moving forward."
WHYY is your source for fact-based, in-depth journalism and information. As a nonprofit organization, we rely on financial support from readers like you. Please give today.