Philly Mural Arts shows off new works near Suburban Station as part of Color Me Back program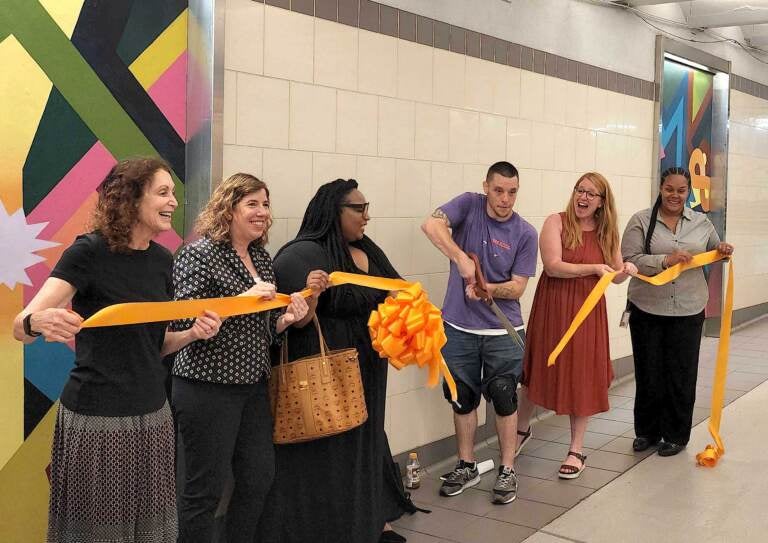 A program that has helped the lives of truly starving artists is showing off its latest work in Philadelphia.
The Color Me Back program held its latest ribbon-cutting in the concourse between City Hall and SEPTA's Suburban Station, where a new series of murals adorn the walls.
Color Me Back is a same-day work and pay program that takes artists suffering from economic insecurity and connects them to social services to help them creatively and in other ways.
Nicole Connell of the Philadelphia Department of Behavioral Health said the program takes the artists and gives them the ability to restart their lives.
"We strive to connect and engage in order to help people with substance abuse, mental health issues, intellectual disabilities, and more. We know this is best accomplished by leveraging the ability of communities to heal."
Connell believes the program helps show off the abilities of people while giving them the help they need.
"This is our work coming to life on the walls, in the hallways of Suburban Station," Connell said. "We are incredibly proud to see that individuals with lived experience are contributing to the beautiful works here in Suburban Station, but more importantly, overcoming trauma, mental health challenges, substance use challenges to now be contributors to this great city of Philadelphia."
One of those contributors is Vincent Lopez. A self-described graffiti artist, Lopez said it's more than work, it's a way to improve the community where the transit agency operates.
"I was able to link up with people, DBH, and the services they provided, getting my Social Security Card, identification, and help with welfare and housing which was great for me and friends like mine that have been homeless and in predicaments like that."
Lopez said his art education came from PBS and Bob Ross. He believes he and others have a gift and this program gives them a canvas to do their artwork. He wants to get more of his colleagues in the program.
"Let us continue to make our city look beautiful with all the colors of the paintings, the murals that we continue to put out throughout the city of Philadelphia," Lopez said.
Dr. Samantha Martin of the Scattergood Foundation, which helps underwrite the project, said this is a demonstration that those with challenges can produce a good work product.
"Even when people are experiencing homelessness, living on the street, they can get to work on time and ready to start the day. And that's what is being shown here. However, we have to change our understanding and model of what it means to work. We cannot expect people to just come and be ready without our support and belief in them."
All involved with the effort believe the program should be expanded locally and used as a national model for growth.
—
Editor's note: The Scattergood Foundation is a supporter of behavioral health reporting on WHYY. 

WHYY is one of over 20 news organizations producing Broke in Philly, a collaborative reporting project on solutions to poverty and the city's push towards economic justice. Follow us at @BrokeInPhilly.