Philly Haitians, members of City Council slam Biden's border policies
"What we saw was against humanity," said Numa St. Louis, a Haitian-American Philadelphia resident, of the scene in Del Rio, Texas.
More than 50 people protested outside of Philadelphia City Hall on Tuesday, decrying the treatment of Haitians at the U.S. southern border under the administration of President Joe Biden.
The rally comes after immigration enforcement held thousands of Haitians under a bridge at the southern border, then deported or turned back the majority without allowing them the opportunity to claim asylum. Photos emerged showing Border Patrol agents on horseback charging at Haitian refugees and forcing them into the Rio Grande River, sparking condemnation.
"Biden is using the same racist playbook" as President Donald Trump and many previous administrations, said Steve Paul, who was born in the Haitian capital of Port-au-Prince and is the Pennsylvania director of State Innovation Exchange (SiX).
"What we saw was against humanity," said Numa St. Louis, another Haitian-American, of the scene in Del Rio, Texas
Biden has since condemned the action of Border Patrol in the photo, calling it "outrageous" while vowing that the agents will face consequences for their actions. The administration suspended the use of agents on horseback and agents involved are on administrative leave pending an investigation. However, his administration has not changed its stance following criticism that the deportations violated both U.S. and international asylum law.
That response was seen as inadequate, and immoral, by the crowd that gathered in Philadelphia Tuesday. Amid drumming and chants of "Reparations not Deportations," the group called on the federal government to change current policy, which expels Haitians at the southern border without providing a legal process to enter the United States.
They also wove in history, from the previous presidential administration all the way back to the Haitian revolution, to point out all of the times Haitians have faced violent expulsion when trying to seek refuge in this country. In the 1970s, the U.S. refused to grant political asylum to Haitians seeking refuge during the dictatorship of Jean-Claude "Baby Doc" Duvalier. In the 1980s, U.S. immigrant enforcement began intercepting boats of Haitians coming to the U.S. and turning them back. In the 1990s, American officials imprisoned 12,000 Haitians at Guantanamo Bay.
Advocates said Biden's actions have especially stung because the president had campaigned on repealing Trump's border policies.
"It feels like a betrayal to have President Biden stand up these policies," said council member Jamie Gauthier, who highlighted her own Caribbean immigrant heritage. Her mother is from St. Vincent and the Grenadines.
"We did not fight like hell under the last administration just to see another Democratic administration continue these same cruel and inhuman practices," said council member Helen Gym. A resolution will be introduced in council on Thursday condemning the President's actions, she said.
Philadelphia is home to about 8,800 people who were born in Haiti, according to Pew's Philadelphia Research and Policy Initiative, with that number growing significantly since 2000.
All of the speakers demanded that Biden roll back a policy known as Title 42, which was enacted by President Trump at the start of the coronavirus pandemic. Named for a section of the 1944 Public Health Safety Act, it allows Border Patrol to turn away "certain persons who potentially pose a health risk" during a public health emergency.
Based on this policy, U.S. immigration enforcement has expelled more than 750,000 people from the southern border since January, according to the U.S. Department of Homeland Security. This enforcement has undercut the U.S. asylum process, and applicants must be physically within the country to quality and begin the process.
A combination of crises has put many Haitians among the number seeking refuge. Many fled Haiti more than a decade ago, after a 7.0 magnitude earthquake rocked the county in 2010, and moved to South American countries such as Brazil and Chile. There, they helped build stadiums for the 2014 World Cup in Sao Paulo.
Coronavirus-fueled economic turmoil – and anti-immigrant sentiment – eventually pushed tens of thousands away.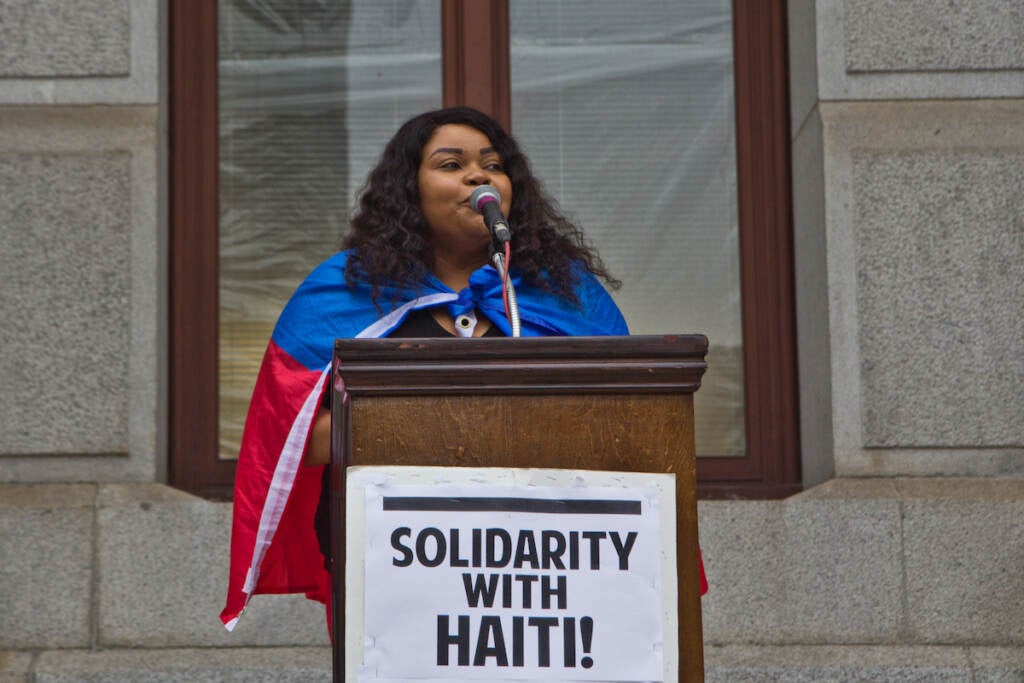 Hoping to be let into the U.S., they traversed the deadly Darién Gap, a jungle spanning Panama and Colombia, and made their way through Central America and Mexico.
In Del Rio, they lived under a bridge without adequate food or access to sanitation. Immigration enforcement eventually deported nearly 4,000 people from the encampment, more than half women and children, according to CBS News.
Returning to Haiti, they face political chaos and destroyed infrastructure. Earlier this year, a cohort of foreign mercenaries assassinated Haiti's president, and then the country suffered another earthquake, this one with a magnitude of 7.2.
Some Haitians from Del Rio were allowed into the U.S., and a few families who were there are now with family in Philadelphia, said event speaker Mercedes Piquion.
In addition to countrymen trapped outside this country, speakers also made a plea to give more security to Haitians in the U.S. who have Temporary Protected Status, which allows them to work, but bars them from citizenship. An immigration reform bill being championed by Congressional Democrats would give people with that status citizenship, but its chances of passage have dimmed in the U.S. Senate.
St. Louis drew comparisons to the welcome mat American officials placed out for Afghan refugees.
"We know they have the capacity to host us," he said.
Get more Pennsylvania stories that matter
WHYY is your source for fact-based, in-depth journalism and information. As a nonprofit organization, we rely on financial support from readers like you. Please give today.