Philly DA announces changes to 'end mass incarceration' through lighter sentences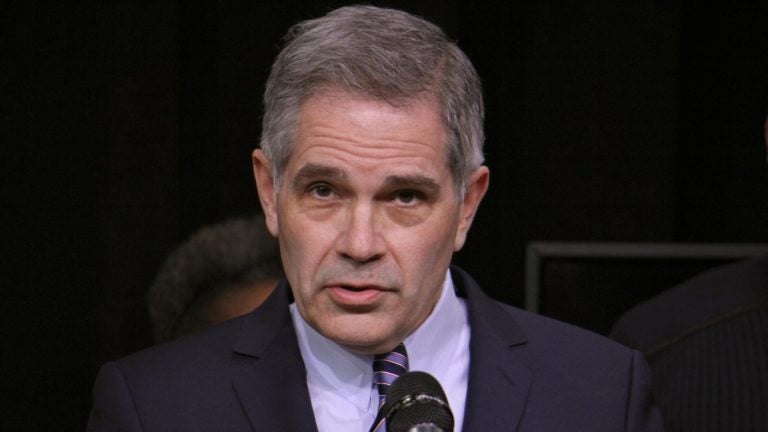 On the same day news broke of White House plans to pursue the most severe punishments against opioid drug dealers — the death penalty — Philadelphia District Attorney Larry Krasner announced new policies aimed at reducing the severity of sentences and ultimately driving down the city's prison population.
Krasner will now require prosecutors in his office to state on the record the costs and benefits of the sentences they recommend to the judge after securing a conviction.
"A dollar spent on incarceration should be worth it," said Krasner. "Otherwise that dollar may be better spent on addiction treatment, on public education, on policing, and on other types of activity that make us all safer."
The directive broadens the traditional scope of interests considered at sentencing from the mostly direct impact on criminals and their victims to include the effect on taxpayers.
Flanked at the lectern by his two first assistants, Robert Listenbee Jr. and Carolyn Engel Temin, Krasner couched the change as adding just one more factor to the many already considered by prosecutors requesting sentences.
Assistant district attorneys "must consider all the factors they have always considered — and articulate them — around public safety, impact on victims, and other traditional bases like deterrence, incapacitation, for sentencing requests," said Krasner. "But what they must also do is use this number, $42,000 per year, to explain why they believe a particular sentence is appropriate."
That figure comes from a 2017 Vera Institute of Justice report, which found it costs $42,000 to imprison a person for one year. Krasner said at sentencing, Philadelphia ADAs should explain why they believe that cost is justified and, when they are recommending probation, compare the cost of incarceration to the cost of probation, emphasizing the "positive rehabilitative factors … such as permitting the defendant to continue working and paying taxes, permitting the continuation of family life, education, and community inclusion."
While prosecutors do traditionally present a number of factors at sentencing, they are generally categorized as either "mitigating" or "aggravating" factors for the judge to consider when deciding on the severity of a sentence. But when asked whether the introduction of cost-benefit analyses was designed to reduce sentence length recommendations, Krasner demurred.
"It is our feeling that assistant district attorneys will be more careful with what they recommend," said Krasner. "Ultimately, if you are a professional, and if you have power, and district attorneys have a lot of power, and if, as part of your job, you're required to use your discretion, some will use it better than others. That's just a reality."
Considering the costs
Krasner compared the $42,000 annual incarceration cost to the salaries of a first-year teacher ($45,360), police officer ($49,477), firefighter ($49,477), social worker ($42,446), and addiction counselor ($44,160), implying that instead of locking up a criminal for another year, the city could expand services.
Krasner described the cost-benefit analysis as just "one of a number of new policies in this office that are designed to end mass incarceration and bring some balance back to sentencing."
On Tuesday, Krasner distributed a memo guiding ADAs to decline all charges for marijuana possession, regardless of weight, as well as prostitution charges against sex workers with fewer than three prior convictions. The memo also advises ADAs to reduce the severity of charges for retail theft under $500 to a summary offense (carrying a maximum penalty of 90 days incarceration, $250 fine, and paying for the stolen items) from a misdemeanor. The memo, which calls the new policies "presumptive, not mandatory requirements," also directs ADAs to start plea offers at the lower end of sentencing guidelines.
Krasner dismissed concerns that shorter sentences and lessened charges might embolden Philadelphia's would-be criminals.
"There's kind of this old talk about how, if policies are extreme and draconian, that stops crime," said Krasner. "Anybody who has worked in this field is well aware that there are limits to this kind of deterrence theory when you are dealing with people whose judgment is poor, whose judgment may be impaired, whose judgment is impaired among other things by youth.
"So, obviously we need to be cognizant of these things, but this really kind of takes us back to the whole theory behind the death penalty, that it stops murders," Krasner added. "Well, it doesn't. It just doesn't.
"So no, we are not concerned that this will produce a zombie invasion of crime."
WHYY is your source for fact-based, in-depth journalism and information. As a nonprofit organization, we rely on financial support from readers like you. Please give today.