Philly Council candidates talk plastic bag bans, zero-emissions public transit at forum
Potential voters listen to candiates for Philadelphia CIty Council discuss environmental issues at the Academy of Natural Sciences Wednesday evening. (Brad Larrison for WHYY)

Beth Finn, a democratic candidate for Philadelphia City Council At-Large, speaks on environmental issues at the Academy of Natural Sciences Wednesday evening. (Brad Larrison for WHYY)

Drew Murray, a Republican candidate for Philadelphia City Council At-Large, speaks on environmental issues at the Academy of Natural Sciences Wednesday evening. (Brad Larrison for WHYY)

Susan Phillips of WHYY/StateImpact moderated the forum on environmental issues with candidates for Philadelphia City Council At-Large Wednesday evening. (Brad Larrison for WHYY)

Drew Murray, a Republican candidate for Philadelphia City Council At-Large, speaks on environmental issues at the Academy of Natural Sciences Wednesday evening. (Brad Larrison for WHYY)

Joe Cox, an Independent candidate for Philadelphia City Council At-Large partcipated in a forum on the environment at the Academy of Natural Sciences Wednesday evening. (Brad Larrison for WHYY)

Susan Phillips of WHYY/StateImpact moderated the forum on environmental issues with candidates for Philadelphia City Council At-Large Wednesday evening. (Brad Larrison for WHYY)

Justin DiBerardinis, a democratic candidate for Philadelphia City Council At-Large, speaks on environmental issues at the Academy of Natural Sciences Wednesday evening. (Brad Larrison for WHYY)

Potential voters listen to candiates for Philadelphia CIty Council discuss environmental issues at the Academy of Natural Sciences Wednesday evening. (Brad Larrison for WHYY)

Ogbonna Hagins, a democratic candidate for Philadelphia City Council At-Large, speaks on environmental issues at the Academy of Natural Sciences Wednesday evening. (Brad Larrison for WHYY)
A ban on single-use plastics and Styrofoam. More funding to plant trees along city sidewalks and create protected bike lanes.
These ideas got thumbs-up from six candidates running for Philadelphia City Council at-large seats  who participated in an environmental forum hosted by PennFuture and the Clean Air Council Wednesday night at the Academy of Natural Sciences.
Environmental groups, including young activists involved in the Sunrise Movement, have been urging candidates in Philadelphia's 2019 municipal races to take on climate change amid a lack of action on the federal level.
"It's extremely rare that people vote for the environment," said Clean Air Council president Joseph Minott. "That's unacceptable, and we're here to change that at the local level."
Of the nearly three-dozen candidates vying for seven at-large Council seats, six candidates attended the forum including Democrats Justin DiBerardinis, Ogbonna Paul Hagins, Adrian Rivera-Reyes, and Beth Finn, as well as independent Joe Cox and Republican Drew Murray.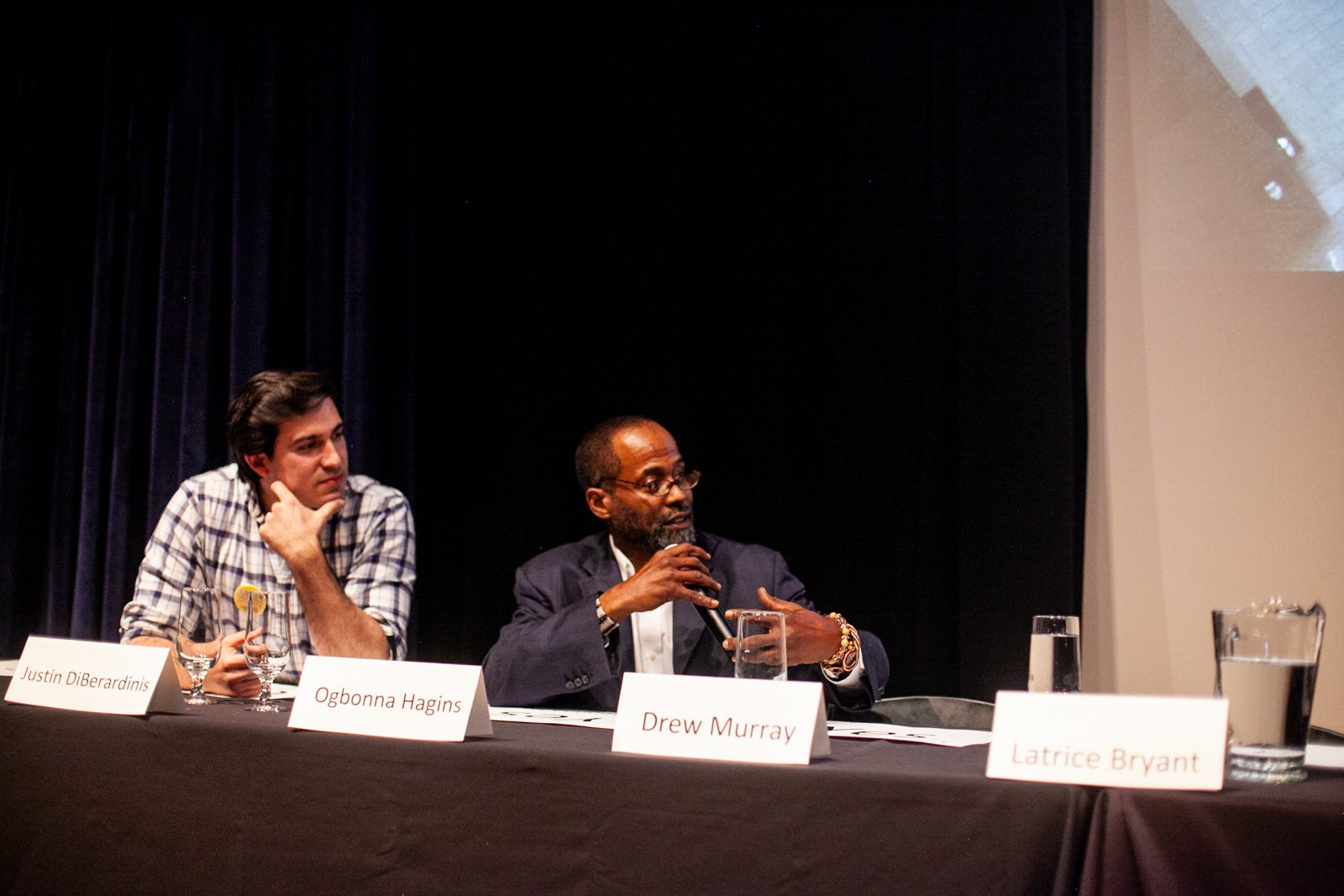 While the Democrats and Cox have included environmental issues in their campaign platforms from the beginning, Murray said he has adapted to voters' concerns.
"When I started this campaign, the environment wasn't as much of an issue, but as it's progressed, it's become more important to people," said Murray.
Cutting emissions from buildings, public transit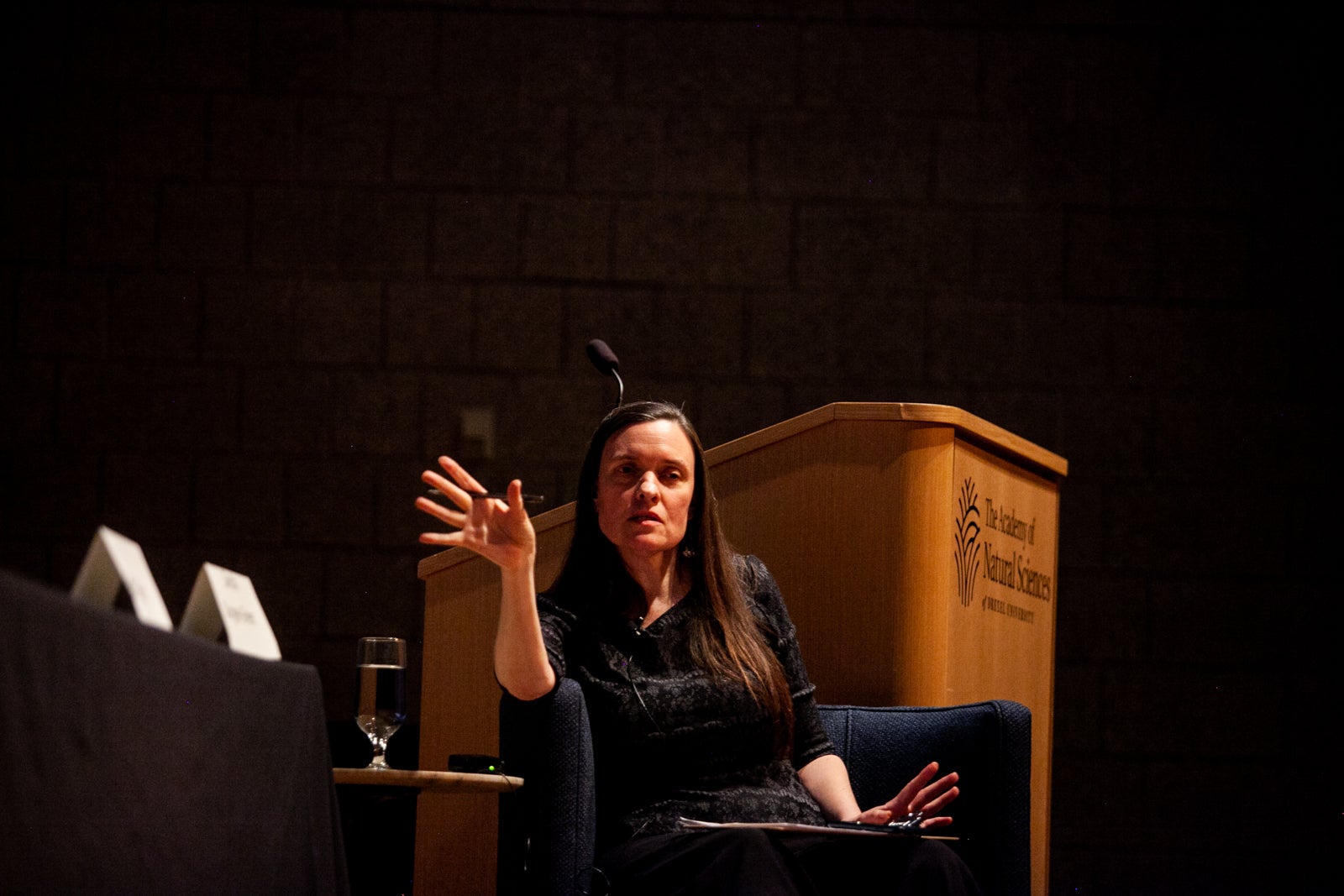 Throughout the panel discussion, moderated by WHYY's StateImpact Pennsylvania reporter Susan Phillips, the candidates shared much common ground. All said they support the city's Vision Zero initiative to eliminate traffic fatalities and make the city more friendly to pedestrians and cyclists, as well as a complete transition to renewable electricity by 2030.
Candidates also agreed that the city should fund more trash cans and street-sweeping initiatives, especially in lower-income neighborhoods.
For Rivera-Reyes, a scientist at the University of Pennsylvania, one priority is emissions-free public transportation.
"Updating SEPTA and increasing infrastructure is important because it will increase jobs and reduce pollution in poor communities who suffer the most from asthma and air pollution," he said.
Finn, a founder of the Women's March Philadelphia, said she would prioritize environmentally conscious building codes "because a building, it lasts for a long time, and there's a lot of construction going on in Philadelphia right now."
Cox, a bike messenger and transportation activist, also wants to see fewer cars and trucks on the road.
"I bike behind the exhaust coming out of trucks every day," he said. "But, really, this is about the kids and their health."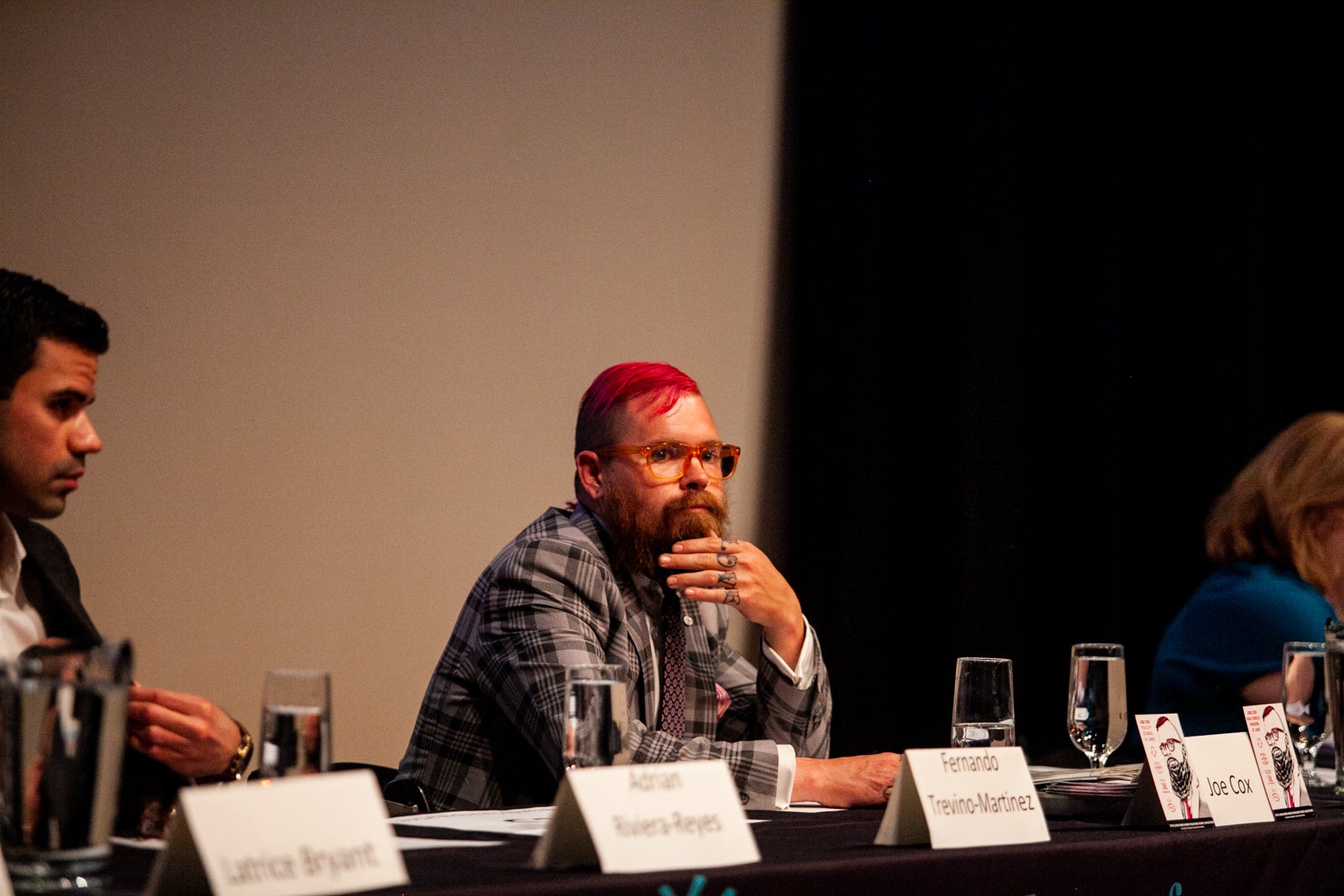 Murray said he would support greener building codes, but he sees a conflict between net-zero construction practices and affordable housing.
"Buildings are something we can tackle right now, but being LEED certified is expensive," he said.
A greener city
On the subjects of infrastructure and the city's finances, candidates diverged.
DiBerardinis, director of programming for Bartram's Garden, said that while he supports the Philadelphia Water Department's green infrastructure program, he opposes the city's plan to build a liquified natural gas plant in Southwest Philadelphia.
"It's like taking one step forward and five giant steps back," said DiBerardinis, who said he opposes all new investments in fossil fuels.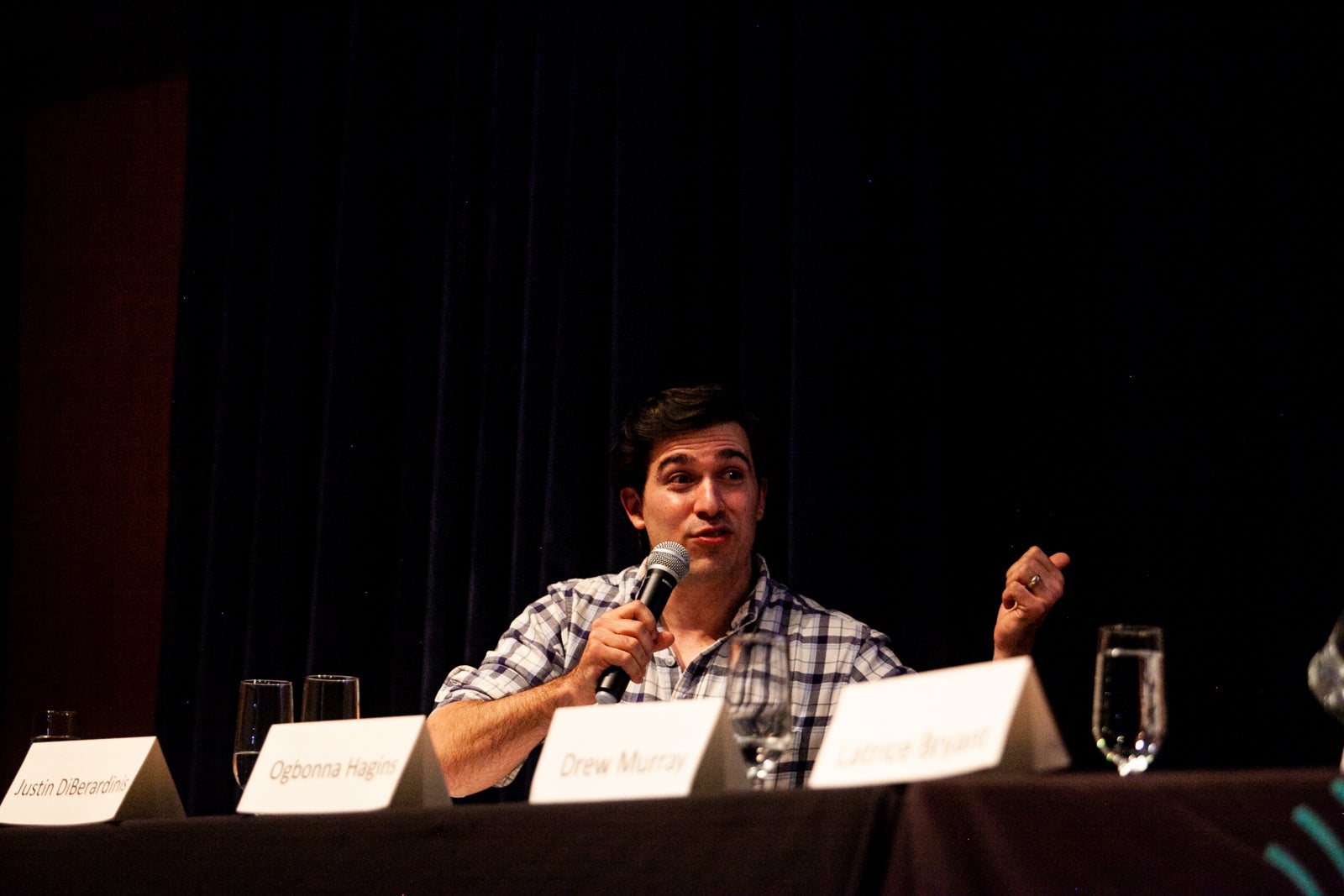 Finn took the opportunity to talk about a cornerstone of her campaign: creating a public bank to manage Philadelphia's finances.
By "having the city's budget stay in the city, and out of Wall Street banks, we can have the money to pay for the things we want," said Finn.
Rivera-Reyes wants to see utilities PECO and Philadelphia Gas Works actively transition to renewable energy or face sanctions from City Council.
"We won't get rid of gas overnight, but we can be bold," said Rivera-Reyes. "Gas is not the future."
Cox, who wants more public bathrooms, also supports initiatives for bottle depository programs and more trash cans.
"These things would improve the quality of life for everyone, especially our street citizens, some of the most vulnerable people in the city," he said.
Hagins supports more city service centers as a solution to the city's illegal dumping.
"Fines can only go so far, you need to give people options," he said.
A city-owned recycling plant, more charging stations for electric cars, and rooftop gardens with beehives were among the candidates' wide-ranging ideas for a greener Philadelphia.
Still, many found inspiration from existing infrastructure.
"The Green New Deal looks like Bartram's Garden," said DiBerardinis referencing the park's 50-acre organic farm and youth employment program. "It looks like a public park connecting the community to the river, and these programs could work in all 2,000 acres of Fairmount Park."
It also includes better education around recycling, he said, and integrating it into the public school curriculum, an idea supported by all candidates.
"This is the moment to double down on environmental issues," said Rivera-Reyes. "We can't wait for the federal government, and right now there isn't the vision in Council."
WHYY is your source for fact-based, in-depth journalism and information. As a nonprofit organization, we rely on financial support from readers like you. Please give today.