Kenney: Philly streets 'suck' but city making progress
The city plans to speed up construction of the greatly expanded network of protected bike lanes that Mayor Jim Kenney promised during his 2015 campaign.
This story originally appeared on PlanPhilly.
—
"Suck" isn't the usual verb mayors use to describe key elements of the city they govern. But that is exactly the word Philadelphia Mayor Jim Kenney recently chose when describing the conditions of city streets.
"It's no surprise that I hear many complaints about the conditions of our streets because they suck. I'm sorry," Kenney said at a traffic safety conference held at Temple University on Saturday.
The apology earned laughs from the crowd gathered at the Bicycle Coalition of Greater Philadelphia's Vision Zero Conference. The bigger news, however, is the city's plan to speed up construction of the greatly expanded network of protected bike lanes Kenney promised during his 2015 campaign.
By the end of 2020, Philadelphia will have 20 miles of bike lanes separated from traffic by flexible posts, a row of parked cars, or some other barrier — a major boost from the current four-mile network, city officials said. By 2025, the city will have 40 miles installed, the mayor said.
"I understand your impatience. I really do. I don't think your impatience is without merit," Kenney said. "We need to move faster to do the things we need to do, to make everyone safer and to make the people who choose to live in our city are happier with the results."
"We have heard your calls"
Bicycling advocates have criticized the mayor for making slow progress on the campaign promise to build 30 miles of protected lanes. But officials from the city's Office of Transportation and Information Systems (OTIS) said funding is in place for the projects, and most of the work should be done by the end of next year.
"We have heard your calls for more bike lanes. Our city has the highest percentage of people who commute by bicycle of any large city in the United States, and we are committed to keeping it that way," Kenney said.
The progress comes with pushback, the mayor said. The self-described former "car guy" noted neighborhood challengers who object to the new lanes because of the resulting changes to parking and loading zones or traffic patterns. He also said some residents oppose them on the basis of "perceived changes to neighborhood character."
For all these reasons, neighborhood groups and registered community organizations (RCOs) must be part of bike lane planning, he said.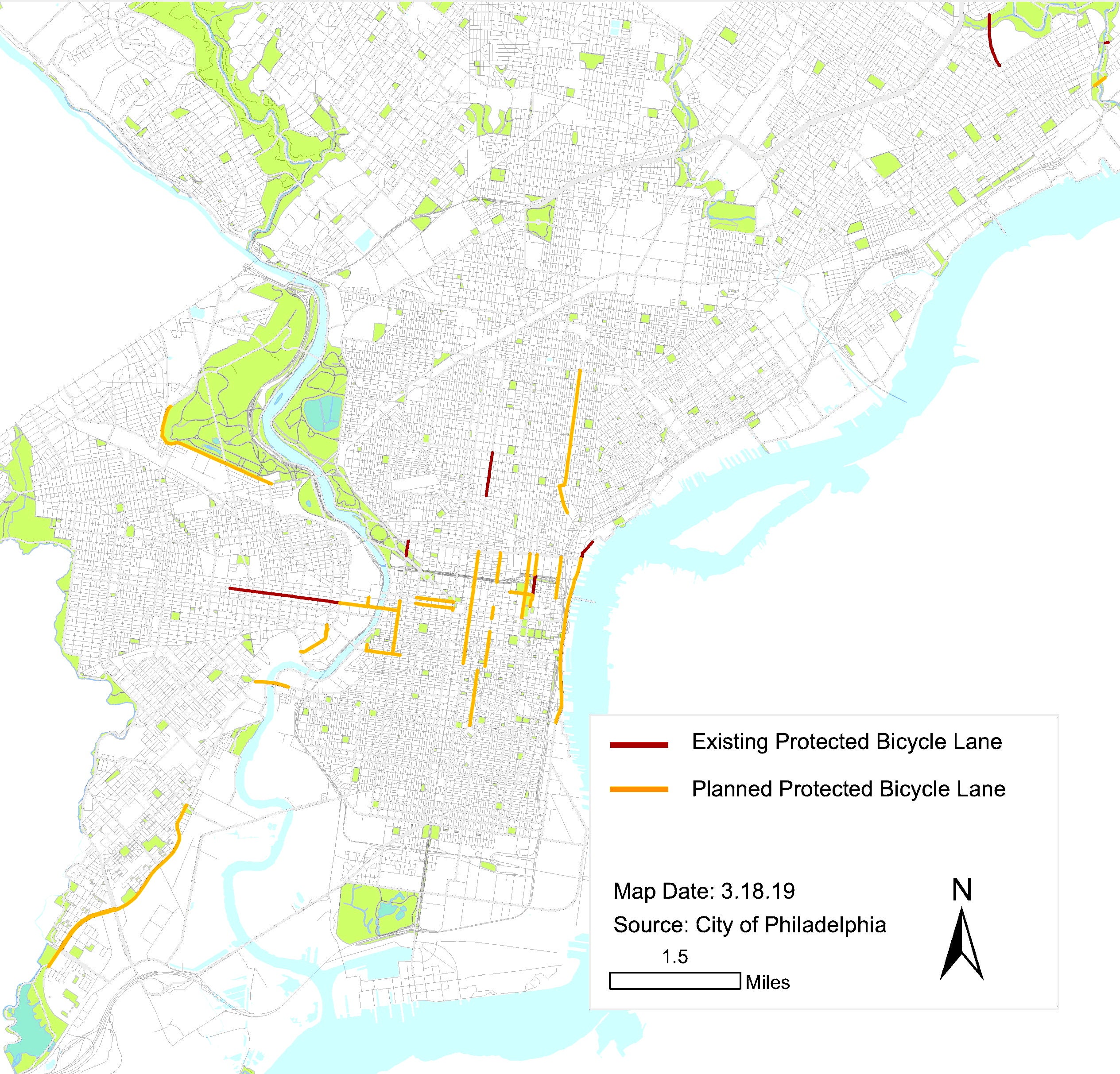 OTIS officials said they will be holding community meetings to finalize bike lane designs and working their way through a cumbersome implementation process. The next public meeting will be held tonight at Greenfield Elementary School, 2200 Chestnut St. The focus will be a proposed bike lane project on 22nd Street between Market and South streets.
"There are still some community conversations and there's still some City Council action that needs to get through to make some of this happen," said Jeannette Brugger, the city's pedestrian and bicycle coordinator, referring to all the projects planned for the next two years. "It takes a long time to get things done. We work really hard to get the designs together, and the city procurement process is a bear."
The protected bike lane projects in the works for 2020 include sections of 2nd, 5th, and 6th streets in the north part of Center City; 10th and 13th from South to Spring Garden; South from 21st to 27th, and a block of 27th; 11th from Bainbridge to Reed; Chestnut Street from 33rd to 23rd; Parkside Avenue from Girard to Bryn Mawr; Germantown Avenue from Master to 2nd; and the lane on 22nd from South to Market.
Brugger said new protected lanes or paths are also planned for the Grays Ferry Avenue Bridge and sections of American Street, Civic Center Boulevard, Columbus Boulevard, Island Avenue, Lindbergh Boulevard and Torresdale Avenue. In addition, under legislation that Council President Darrell Clarke introduced last week, a protected bike lane pilot project on Market Street and JFK Boulevard would be made permanent.
Looking further out, OTIS is studying potential protected lanes on a stretch of Lindbergh Avenue leading to Bartram's Garden, on Washington Avenue, Grays Ferry Avenue, Spring Garden Street and other roads, Brugger said.
In addition to protected bike lanes, Philadelphia has 18 miles of bike lanes with painted buffers, 230 miles of conventional bike lanes with a painted line, and 36 miles of sharrows, where markings indicate that bikes and cars share the lane, OTIS said.
Shifting gears in an election year
The Vision Zero Conference took place against the backdrop of a mayoral and council election season that is heating up ahead of the May 21 Democratic primary. City Councilwoman Cherelle Parker introduced the mayor with an outright endorsement, saying that he has "earned the right" to be reelected. Council President Darrell Clarke began his speech noting that he had to leave early to attend an event announcing his bid for another term.
Both Clarke and Kenney recounted their evolution from bike lane doubters to supporters. "I got annoyed because, what are these people doing in the street, on Spruce Street? Why do I have to back up for three blocks on one lane?" Kenney said. "You get used to it, because that's what people want."
Clarke recalled that he didn't understand the concept of a protected bike lane when the JFK-Market pilot was originally proposed, and was "more than a little skeptical."
"I'm looking at traffic jams, I'm saying, you mean we're going to take away a lane? I don't quite understand that," he said.
Clarke said that he eventually understood that the protected lanes make streets safer not only for bikers but also for pedestrians and motorists. A major impetus for the project was the death of transportation advocate Peter Javsicas, who was struck by an out-of-control driver on the sidewalk at 16th and JFK in 2017.
Years of input from constituents have given councilmembers a better understanding of the need for protected bike lanes and other safety improvements, and heavy community outreach during project planning has prevented significant backlash to new lanes, Bicycle Coalition director Sarah Clark Stuart said.
Still, council continues to slow bike lane construction by maintaining veto power over some projects, she said. A 2012 law requires council approval over any new bike lane that would require removing a parking or car travel lane.
"I don't think ordinances should be required. That's an extra level of difficulty and an extra hurdle," Stuart said. "It really slows down the gears to where it's hard to even know that progress is being made."
For more about sharing the road safety listen to the March 14 episode of WHYY's podcast, The Why.
WHYY is your source for fact-based, in-depth journalism and information. As a nonprofit organization, we rely on financial support from readers like you. Please give today.