Philly City Council asks: With schools deficit further away, why pay?
At a Wednesday hearing, Council members pondered why they should approve a proposed property tax hike to help fund Philly schools.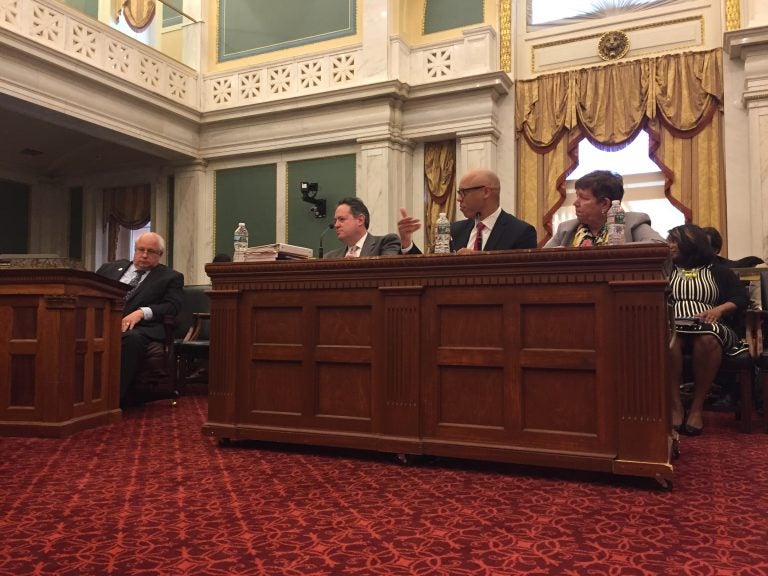 City Council members grilled Superintendent William Hite and other School District of Philadelphia officials Wednesday, asking in a variety of ways the same question: How do we know if you are spending money wisely, and why do you need a tax increase now if you don't expect to run a deficit for another two years?
"If we have two more years of not going negative, why are we dealing with this now?" said Councilman Allan Domb, lodging a question that characterized the tone of the district's annual budget hearing.
In more than four hours of back and forth, council members touched on myriad topics, from the conditions of school facilities to language translation services to the recruitment of black male teachers to efforts to combat truancy. First on the list for Council President Darrell Clarke was an energy- and money-saving initiative in several of the district's buildings, which he would like to see scaled.
But most of the questions circled back to the essential one: If I am going to risk voting in favor of raising property taxes — Mayor Kenney is asking for a 4.1 percent hike to ship more money to the schools — tell me where the money will be going.
"If there's one part of your portfolio where you think there's still efficiencies and what you would identify those to be," Councilwoman Maria Quiñones-Sánchez asked Uri Monson, the district's chief financial officer.
Monson replied that the district wants to incorporate more principles of "zero-based" budgeting and get away from a mentality of "it's in the budget, so you just keep doing it."
Councilwoman Cindy Bass wondered if, after the tax hike, she could tell her constituents that the district would be "competitive" with places such as Lower Merion and Cheltenham. If she could give such assurances, her voters would be "all in" on the tax hike, she said.
"Not yet, but it's a step," replied Hite. Monson pointed out that Lower Merion spends more than twice as much per student as Philadelphia, and the proposed increase would not bring the city's per-pupil expenditure anywhere near Lower Merion's.
Bass said voters in her district, which covers parts of North and Northwest Philadelphia, are struggling to stay afloat financially and won't be happy about plugging a budget deficit that's yet to materialize.
"We want our schools to be good and to be strong, but at the same time the deficit is a minute away, and folks are paying bills to keep their households going right now," Bass said.
Addressing 'structural deficit'
Replying to those inquiries, Monson returned to the same theme: Even though the district has managed to eke out small budget surpluses for several years, its financial posture remains precarious because it has a "structural deficit," meaning that its expenditures continue to outpace its recurring revenues.
Councilwoman Helen Gym also sought to focus on the bigger picture, citing calculations that she said determined that Philadelphia was due another $1 billion annually at least to assure that all its children — most of them living in poverty, many speaking other languages — receive a high-quality education. Pennsylvania has one of the widest spending gaps between wealthy and poor districts in the country, according to some researchers.
"This is a massive civil rights violation," she said, adding that while council should push that issue whenever possible it should also "do what we can" to help the schools.
When Kenney spearheaded an effort to reassert local control over the city's public schools after nearly two decades under a state-controlled board, he promised the move would come with new city money. Kenney has repeatedly argued the city must steer the destiny of its school system and not wait for more dollars from Harrisburg, where the Legislature is controlled by spending-shy — and Philadelphia-averse — Republicans.
Kenney first proposed a property tax hike in March, when the district's financial situation was considerably shakier. Starting in fiscal year 2019, Monson projected, the district would run a deficit that would balloon to nearly a billion dollars by fiscal year 2023.
The math later changed when the city revealed its latest round of property reassessments, which unlocked hundreds of millions more dollars for local schools. Projections released in late March show the district won't sink into the red until fiscal year 2020, and that the five-year deficit, without any new city investment, would reach $660 million.
In light of the new numbers, Kenney revised his ask, lowering the property tax bump to 4.1 percent from 4.6 percent. He also called for an increase in the homestead exemption, which allows homeowners to lower their property tax assessments.
Striving for stability
Clearly, though, some council members see the revised calculus as cause for restraint, especially since the tax rate increase on top of the reassessments would be a double whammy for many homeowners.
Clarke, for instance, started the hearing by asking about the percent of revenue provided to the district by the state and the percent provided by the city, inferring the state should carry a larger load. The current district budget calls for the state to provide about $1.62 billion and the city to provide about $1.56 billion.
District officials implied they were agnostic about where the money comes from, so long as they can ensure long-term stability.
"What we're trying to focus on is the revenue we need to provide children with an adequate education," said Hite.
He later added, "What we're asking for now is to maintain the stability that we fought so hard to get to."
Before that stability, the district lurched from fiscal crisis to fiscal crisis, firing thousands and closing two dozen schools along the way. The worst period started in 2011 when then-Gov. Tom Corbett severely reduced state and federal aid to Philadelphia and other school districts. Among other austerity moves, the district laid off all its counselors and nurses.
Even now, falling enrollment has left many school district buildings half empty.
Domb wanted to know about utilization of school buildings, asking at one point, "What is the perfect size high school?" His question did elicit some interesting information: District facilities manager Danielle Floyd revealed that 31 district schools are operating at less than 50 percent capacity.
But closing schools is a touchy and complicated matter, since they serve as an anchor and, in some cases, the last vestige of institutional stability in many city neighborhoods.
Hite and Floyd did say that the district does ongoing evaluations of building utilization as well as prioritizing maintenance. It has $5 billion in unmet facilities needs, recently explored in a series of Philadelphia Inquirer stories on environmental dangers in school buildings and covered over the past year in the Public School Notebook.
WHYY is your source for fact-based, in-depth journalism and information. As a nonprofit organization, we rely on financial support from readers like you. Please give today.