Kenney makes school-funding plea, council reacts
Kenney says funding the school district is critical, but council members aren't thrilled about his plan to hike property taxes.
Listen
4:12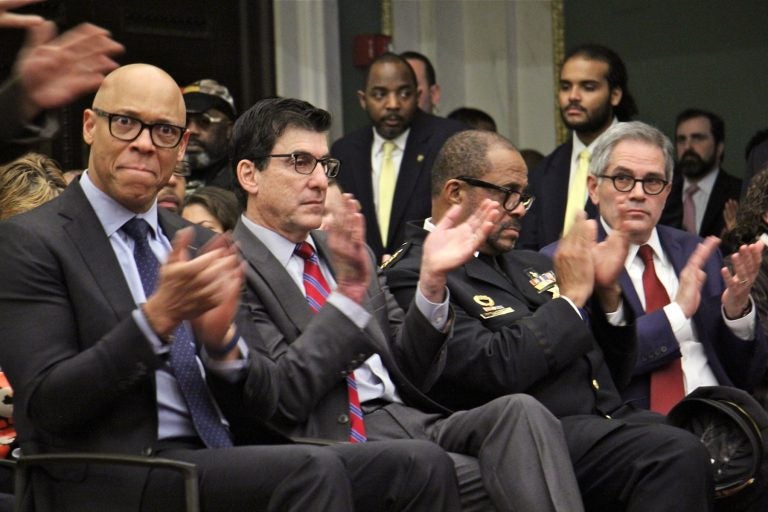 The day his budget proposal went public, Philadelphia Mayor Jim Kenney made an impassioned plea for $980 million in new school funding over the next five years.
The mayor's annual budget address before City Council crescendoed with a ten-minute riff — much of it unscripted — on the critical need to cover the school district's impending deficit and set it on a course to long-term financial stability.
"These are our kids," Kenney said. "They're no one else's kids. And no one else is coming to their rescue."
What's the mayor's case for a tax hike?
When Kenney called for dissolving  the state-controlled School Reform Commission and the restitution of a locally-appointed school board last fall, he also called on the city to make a big investment in public schools.
No one knew exactly how big until Thursday, when the mayor asked for $980 million over the next five years.
Much of that money would come from a six percent bump in the city's real estate tax rate. Kenney also wants the city to increase the real estate transfer tax, scale back planned reductions in the city's wage tax, and increase the city's regular contributions to its public schools.
Those are the details, though.
What Kenney did in his Thursday speech was make a moral and civic argument about the importance of the city's school system, which has flirted with fiscal disaster, on and off, for decades.
Without committing to education, Kenney said, the city's high poverty rate will remain high and its social safety net will remain costly.
"We need to pay for our kids' future," he said while pounding his fist on the podium. "Because in the end, the 26 percent poverty rate that we have as a city will only be reduced through education."
Kenney believes the school district's stability will be more than just a growth proposition, though. He believes it will deliver a psychic boost to a city of students, many of whom have grown accustomed to crises and austerity.
"They're hungry for one thing that students and families in other parts of this state take for granted: hope," Kenney said.
Haven't we been here before?
If some of this seems familiar, that's probably because it should.
This is hardly the first time in recent memory the school district has asked city officials for more money. Four times during the Michael Nutter administration, City Council approved real estate tax hikes. Three were smaller than the one Kenney is requesting, but one hike was significantly larger.
| | |
| --- | --- |
| FISCAL YEAR | TAX INCREASE APPROVED |
| 2011 | 9.89% |
| 2012 | 3.85% |
| 2013 | 3.59% |
| 2016 | 4.46% |
City Council also recently approved a tax on cigarettes to generate more dollars for the public schools.
Some of the hikes followed cuts in state aid. Other came in the wake of a recession that left many government agencies reeling.
But the economy has recovered significantly and state aid has started to increase again under Gov. Tom Wolf. So why does the district still project a $900 million deficit over the next five years?
District officials say the problem is structural. Expenses are simply rising faster than revenues.
The two main drivers of this imbalance are teacher pensions and charter costs. Both are fixed obligations tied to state law and policy.
Pension costs are climbing because the state is trying to dig out of an underfunding hole created by past fiscal decisions. Meanwhile, the district must pay out more and more money to charter schools to keep pace with the growing number of city students who choose them.
After Thursday's speech, many council members lauded the mayor's ambition and general aim.
"Mayor Kenney's proposed budget is a crucial investment into our public schools, ensuring a long-term commitment toward financial stability for Philadelphia school children," said Councilwoman Helen Gym.
But when it came to his specific proposal, there was significant pushback.
Council members' concerns fell into four major buckets.
Council Concern #1: Tax phobia
As veteran lawmaker Jannie Blackwell put it, council members aren't typically fond of raising taxes.
"I never agree to taxes up front," she said. "I never want taxes. People can't afford taxes. And people will complain about taxes."
In his first budget cycle as mayor, Kenney convinced council to approve a sweetened beverage tax that continues to rankle some residents and business owners. Two years later, he's asking those same city council members to approve another resident-facing tax hike.
"I do hear a lot of individuals very concerned that we're looking at raising taxes after we also just enacted a beverage tax," said Councilman Kenyatta Johnson.
Council president Darrell Clarke called Kenney's plan "aggressive" and said he worried about "continuing to go back to the well, to the taxpayers."
Clearly, council members worry their constituents won't abide another tax hike or be able to afford one.
"We don't want people to make a decision on, should they receive their prescription drugs or groceries or pay their tax bills," said Johnson.
Council Concern #2: What about the state?
On Thursday, Kenney repeated a claim he's made for months now, that financial help is not coming from the state or federal governments. Kenney couches his claim as a pragmatic one, but not everyone on council agrees. Some seemed to believe the mayor is letting the state off easy by pushing a plan that covers all the district's financial needs for the next five years.
"We love our kids, but they're the state's kids, too," said Clarke. "Philadelphia's not some island somewhere where they don't have responsibility."
All in city government agree state leaders should do more. Kenney seems to think they won't, while some on council aren't ready to make that concession.
Council Concern #3: Focus on efficiencies
The school district projects a $700 million deficit by fiscal year 2022, and that deficit will likely grow north of $900 million by 2023.
Again, that's according to the district's math.
Now that they're being asked to raise taxes, council members will likely take a much closer look at why the district's shortfall exists and if school officials can do more to address it.
Rising charter school costs are one of the main structural problems facing the district.
When a student leaves for a charter, the district must pass along a per-pupil payment for his or her education. Still, the district must continue to pay teachers, staff its central office, and maintain buildings. As large chunks of students leave, the district can consolidate and reduce some of these so-called "stranded costs." But that involves making difficult and politically unpopular decisions, such as closing underused schools.
Darrell Clarke hinted at the inefficiencies created by charter expansion in remarks Thursday.
"You can't have two school systems within the same public school system," Clarke said. "That's a problem. And at some point, based on our local control, we'll be able to address that."
Clarke didn't elaborate on what he meant when he said "we'll be able to address that."
Should the district close more schools? Should the new, local school board slow charter expansion?
Those are unknowns, but council clearly wants to scrutinize the district's operations and look for efficiencies.
Councilman Allan Domb also wants to seek efficiencies, although he's looking more at city government.
He wants the city to do a better job collecting delinquent taxes, which he says could result in another $400 million over the next five years. He also thinks the city can cut its own fat by reducing the size of each department by one percent and spending significantly less on corrections as the prison population falls
After all that, "if we need to raise real estate taxes we should raise them just three percent," he said.
Council Concern #4: What about other taxes?
After Thursday's speech, several council members highlighted the tax proposals Kenney didn't make.
He did not mention the city's ten-year tax abatement on new and renovated properties, which some see as a give-away to developers and gentrifiers.
Others, like Councilwoman Maria Quinones-Sanchez, said Kenney's proposal asked too much of homeowners and not enough of business owners. Kenney wants council to scale back scheduled reductions in the wage tax , but did not call for a wage tax freeze or hike.
Quinones-Sanchez believes corporations are well-positioned thanks to federal tax cuts, and would like the city to raise the use and occupancy tax on businesses.
"There's nothing in this budget that has them contributing," she said.
WHYY is your source for fact-based, in-depth journalism and information. As a nonprofit organization, we rely on financial support from readers like you. Please give today.