Philly-area brewers join global Brew for Ukraine campaign
A craft brewer in Ukraine switched from making beer to making Molotov cocktails. Brewers around the world pick up the slack.
Listen
1:44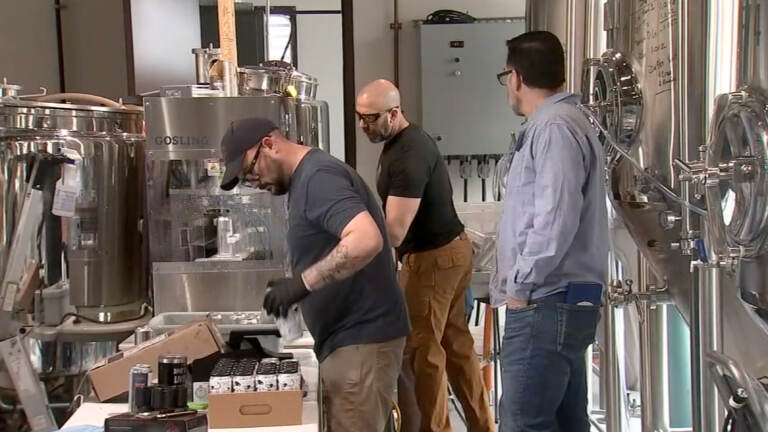 Philly-area beer brewers are helping Ukraine in its war against Russia by doing what they do best: brewing beer.
A craft brewery in Lviv has stopped production in order to switch gears into making weapons. It is now asking small brewers around the world to make its signature beer, and send sales proceeds back to Ukraine as humanitarian aid.
Pravda Brewery, with a downtown restaurant featuring its own orchestra, normally brews just over one million liters of beer a year. That makes it tiny compared to large-scale operations like Anheuser-Busch (maker of the popular Chernihivske beer) and Carlsberg (maker of Lvivske).
"A big, mass brewery would easily do that amount in a couple days," said co-owner Yuri Zastavny, who develops original beers that are unique to Ukraine.
"Craft brewing is developing in Ukraine," he said last week in an online streaming video. "We were not the first, but one of the first breweries in Ukraine. Now there are a lot of breweries."
A couple times a year Pravda normally hosts the Craft Beer and Vinyl Music Festival that can attract between 10,000 and 20,000 people over a weekend, according to Zastavny. The 10th festival was being planned for mid-May..
"We will probably have to hold off on that and do important things first," he said. "Like, clean the country of the enemy, come back to normal life, rebuild the country."
Pravda has switched to mixing and bottling Molotov cocktails – small homemade explosives thrown by hand – in repurposed beer bottles to help repel the Russian army.
While the beer operation is down, Pravda launched the Brew for Ukraine campaign, sharing its recipes and brewing techniques online, asking anyone and everyone to make their beer for them. It includes a traditional Imperial stout brewed with smoked pears and prunes called From San to Don (referring to two rivers, in western Ukraine and central Russia), and a dry-hopped ale called "Putin Huilo" (which translates to "Putin is a d**k").
At least two regional breweries have taken up the challenge: the Stickman Brewery in Royersford, PA, near Phoenixville, which is now making a batch of Pravda's witbier called Frau Ribbentrop.
Unabashedly political, Frau Ribbentrop's original label features an image Germany's former chancellor Angela Merkel, equating her with Joachim von Ribbentrop, a WWII Nazi, for her refusal to take forceful action against Putin. The label was designed seven years ago.
"We will be using proceeds from our version of @pravdabeer witbier, as well as our upcoming cream ale "aundzere landsman," to support the Pravda team and the Ukrainian people in their defense of their homes," wrote Stickman on its Facebook page.
Another local brewer taking up the challenge is Wilmington Brew Works, in Wilmington, Delaware.
Craig Wensell, the head of Brew Works, calls the Brew For Ukraine campaign a "stroke of genius."
"We know the Russians are not very kind to people that stand up to them," said Wensell to WHYY's news partner 6ABC. "These brewers are literally putting their necks on the chopping block in order to help their country."
Wensell expects to have the first batch of Ukrainian beer ready in April, which will be bottled with the original Ukrainian labels.
WHYY is your source for fact-based, in-depth journalism and information. As a nonprofit organization, we rely on financial support from readers like you. Please give today.