As animal intake outpaces adoption, Philly shelters and rescue groups are in 'crisis mode'
Calls from animal welfare rescue orgs seeking adopters, fosters, and donations have grown louder in recent weeks. But the number of pets entering the shelter hasn't abated.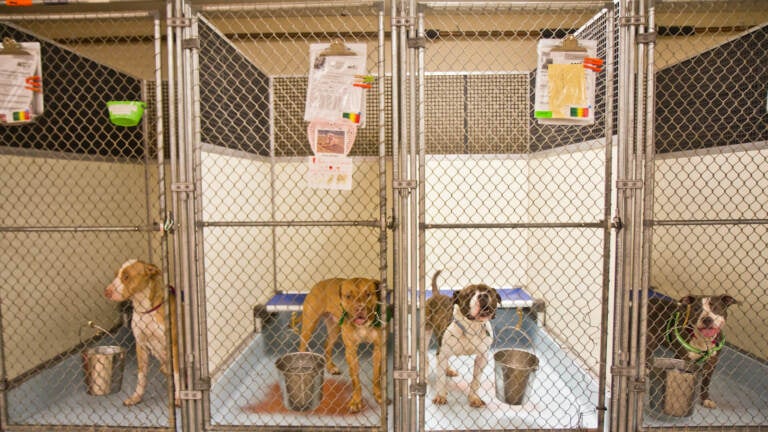 When Sarah Barnett walked into Philadelphia's Animal Care and Control Team headquarters on Thursday, the shelter was "jam-packed," with zero open kennels. Still, more dogs — a mix of strays and owner surrenders — were expected.
Then she heard the walkie-talkie. Thirty more cats were on their way to the shelter.
Barnett, the nonprofit's acting co-executive director, recalls hearing laughter from the ACCT Philly staff. "We thought it was a joke," she said.
What wasn't immediately clear soon would be: Underneath the floorboards of a Philadelphia home set to be demolished were more than two dozen cats. Most appeared healthy, but a few had neck and back wounds that would require medical treatment. People staying inside the property brought the Demo Cats — as they were later dubbed — to safety, and an ACCT staff member stayed until late in the night to get all 30 cats processed.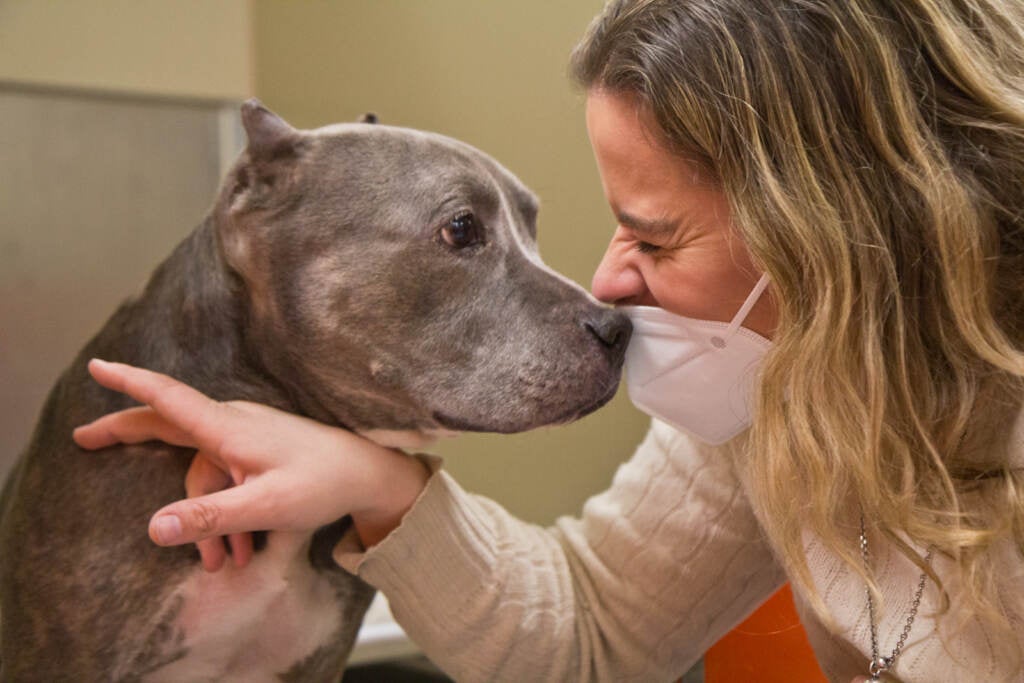 ACCT is far from the only animal welfare organization stretched to its limit. The Pennsylvania SPCA, one of ACCT's many regional partners, is similarly at capacity.
"We are full to the gills," said Maddie Bernstein, PSPCA's manager of lifesaving. Even so, the shelter took in three dogs from ACCT the day before. "We are just trying to help in any tiny way that we can."
Calls from animal welfare organizations seeking adopters, fosters, and donations have grown louder in recent weeks. Beyond ACCT and the PSPCA, Philly Bully Team, City of Elderly Love, and Brandywine Valley SPCA have all issued varying pleas for public help.
Meanwhile, the number of pets entering the shelter hasn't abated.
The average number of animals ACCT intakes on a daily basis varies. Over a five-day period that spanned the Fourth of July holiday, ACCT took in more than 70 dogs. So far in 2022, the nonprofit has taken in more than 6,000 animals.
What has slowed is the adoption rate. That means more animals, particularly dogs, are sitting in the shelter or in foster care for longer periods of time.
"Dogs are staying twice as long," Barnett said. "The animals are not moving like they used to." Pre-pandemic, the same dogs would be "flying out of the kennel," she said.
When the rescue organizations that typically pull at-risk animals from ACCT run out of space themselves, options for placement are limited.
An Instagram post from Philly Bully Team put the situation in stark terms: "We are in crisis mode."
The nonprofit went on to note that summer is the busiest time of year for rescues. "The last thing we want to do is close our intake due to financial strains," the post reads.
City of Elderly Love offered a similar assessment.
"We just need the public to be aware that our area shelters and rescues are drowning," the post reads. "We are waiving our white flags."
When COVID-19 prompted citywide lockdowns in 2020, more people had the time, flexibility, and resources to adopt and foster.
"A lot of people who adopted during the [beginning of the] pandemic adopted our hardest population of dogs," Bernstein explained, "because everybody had time for a dog."
Now, more than two years into the pandemic, the same forces that have negatively impacted other industries — inflation worries, staffing challenges, and a shrinking safety net — are hitting animal welfare organizations. At the same time, hospitals and clinics across the U.S. have been turning animals away due to a veterinary shortage.
The economic reality facing residents isn't lost on Philly shelter workers.
"You have people who are not able to make a living wage, they can't afford rent so they have to move … pandemic resources ran out, so they are being evicted," Bernstein said, adding that people with fewer resources have had to prioritize taking care of themselves. "Animals are understandably taking the backseat."
The problem, shelter workers say, is that there are not enough adopters or fosters to keep up with the number of animals coming in. The pet adoption boom seen in 2020 and 2021 made those years somewhat of an anomaly, Barnett says. Today, numbers more closely resemble those seen in 2019.
For ACCT, like many shelters across the U.S., the disparity is partially attributed to an increase in owner surrenders. Nationwide, owner surrenders for cats and dogs were up 8% and 9.7%, respectively, in the first quarter of 2022 over the same period last year, according to data compiled by Shelter Animals Count.
Local shelters are taking a heavy hit, Bernstein said, as they bear the weight of so many animals in need across the Philadelphia area. The resulting scramble to find placement has forced organizations to operate in more of a day-to-day, animal-to-animal capacity.
"It's leading to us having to make some really difficult decisions, which is heartbreaking," Barnett said.
At ACCT, that means more animals are being timestamped for euthanasia. "And the reason is space," she explained, "​​​​as opposed to when it used to be just really significant medical or behavioral issues."
For Barnett, what felt like a practice that animal welfare had begun to move away from has returned. "It's like the Twilight Zone to me," Barnett said. "Right now, we — along with many other shelters — are back at that point, which is really, really hard."
Barnett stressed that decisions over euthanasia are not made lightly. Staff want to be mindful of dogs, in particular, who display minor behavioral issues that are often situational and that could improve with time to find an adopter or foster.
In an ideal scenario, shelter workers say, no treatable, adoptable, healthy animal is euthanized.
"We would love to be out of business," Barnett said, theorizing a version of Philadelphia without enough strays to help. "We're far, far away from that."
Hard-won gains, and the path forward
What makes the current state of affairs frustrating for some advocates is knowing how much progress has been made in recent years.
When ACCT was established in 2012, the nonprofit took in more than 32,000 animals in a year. Only 62% left the shelter. By the end of last year, around 14,000 animals entered the shelter, with a survival rate of 89%, just shy of the 90% benchmark that meets national "no-kill" standards. Even then, "it's not just numbers," Barnett said. "Every number is an animal."
ACCT's survival rate for 2022 as of the end of May was 87%. But with intakes up and space limited, shelter workers fear backsliding on the hard-won gains the city has made.
Chronic underfunding and high turnover among ACCT leadership have been familiar pain points. The nonprofit has seen seven executive directors over a span of 10 years, with Barnett joining Tara Schernecke as interim co-executive director in November 2021.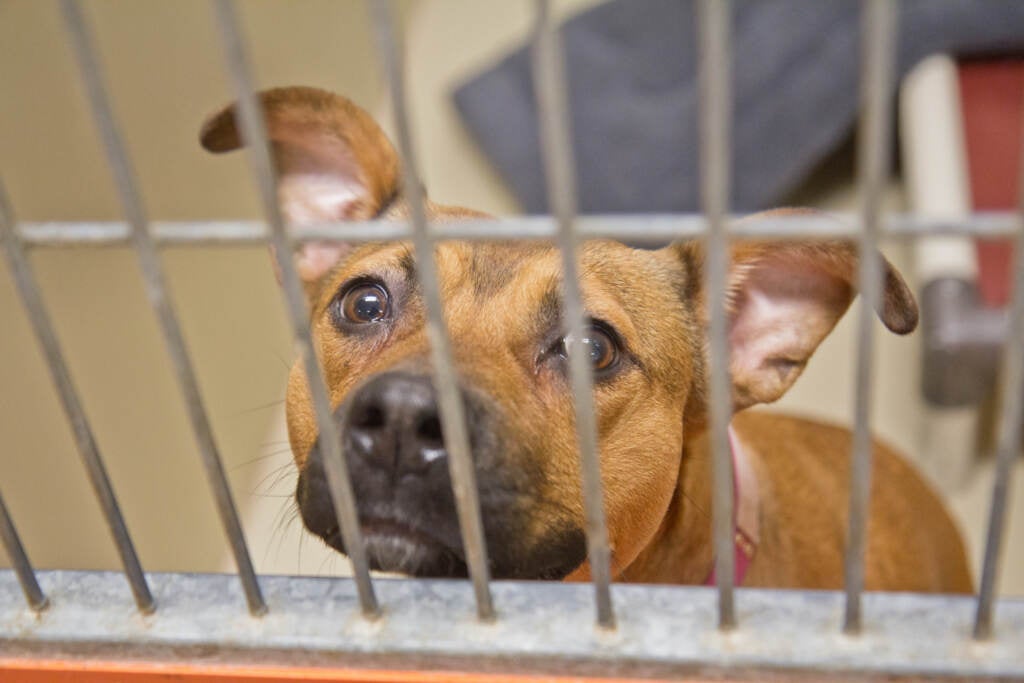 The path forward, shelter workers say, will build on the collaborative work that's led to this point.
In 2018, ACCT joined a group of area shelters to establish the Philadelphia No-Kill Coalition, with the goal of transforming Philly into a no-kill city. Now comprised of 23 member organizations, No-Kill Philly works to increase the survival rate of the city's shelter animals, in part by stepping in before an animal lands in a shelter.
The patchwork of organizations aims to connect residents with free or low-cost pet care as a way to help keep families whole.
When it comes to surrenders, Barnett points to a shift in approach across the industry, one that seeks to quell the inclination to make assumptions about someone who must give up their pet.
"[There] used to just be this kind of judgment of … 'If you're surrendering an animal, you're a horrible person and you should never have a pet again,' or 'We're not going to help you if you can't afford vet care.'"
Advocates stress the need to remain compassionate. And on a practical level, not everybody knows these sorts of prevention services exist, Barnett said.
Advocates hope that residents considering surrendering their pets will utilize such community resources before turning to the shelter. ACCT runs a help desk for pet owners in need, No-Kill Philly hosts free pet food pantries, and City of Elderly Love manages a senior pet retention fund, to name a few.
Grassroots efforts like Philly Pets Vax Project fill a similar need, hosting free clinics to help prevent costly medical issues that often lead to pet surrenders.
To get animal control to a more manageable level, PSPCA's Bernstein says, Philly also needs to see a shift in how its residents and their pets are cared for.
Eviction and housing instability are among the many reasons people give for surrendering their pets, shelter workers say. Bernstein cites the creation of more accessible, pet-friendly housing as a longer-term, if complex, fix that would reduce the number of animals surrendered to shelters.
Outside of owner surrenders, shelter workers and advocates hope to see an expansion of what's known as TNR, or trap, neuter, return. The process involves humanely trapping cats, having them spayed or neutered, and returning the felines to whence they came.
The tactic is widely considered an effective approach to reducing the stray cat population while improving the lives of community cats. But ACCT's contract with the city does not require the service, and when its budget saw an 18% cut in 2018, TNR services were pulled back. Barnett says ACCT hopes to build on the TNR capacity it's built with the help of shelter partners and private donations.
Boosting the number of adoptions and developing more robust foster care networks, however, remain top priorities for local shelters.
As of writing, six dogs and four cats are timestamped for euthanasia at ACCT. The shelter currently has more than 82 dogs and 95 cats available for adoption.
For people who are unable to foster or adopt, advocates say there is always a need for volunteers and donations, whether monetary or otherwise.
As animal welfare workers and advocates contend with overcrowded shelters, Barnett acknowledges a general feeling of helplessness.
"I can guarantee you that the shelter often feels that way, too," she said. "But there is something everybody can do to help."
Barnett says those who can't volunteer may opt to spread the word on social media, organize donation drives, or make Milk-Bones with peanut butter for dogs.
"It's not an all-or-nothing thing," Barnett said.
Further information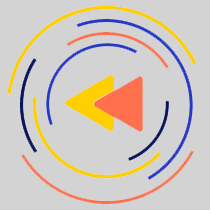 Saturdays just got more interesting.
WHYY is your source for fact-based, in-depth journalism and information. As a nonprofit organization, we rely on financial support from readers like you. Please give today.