Philly affirms commitment to slashing emissions as study shows global increase
Philadelphia officials say they are committed to a goal of reducing emissions by 80 percent by 2050.
Listen
1:15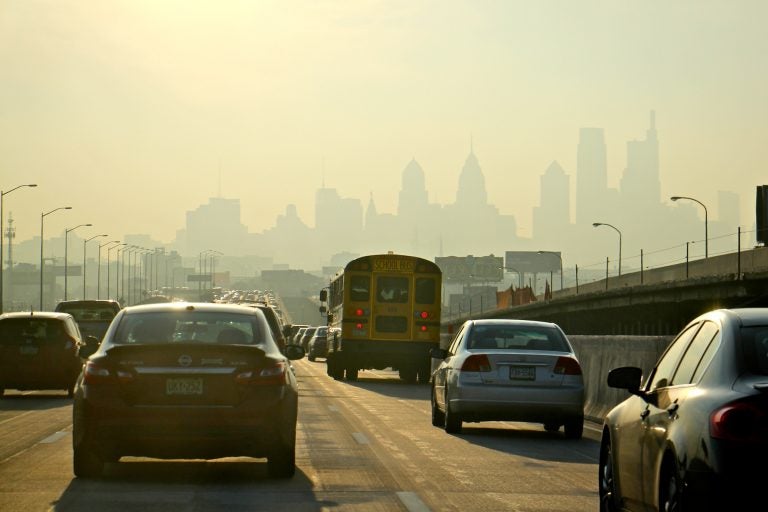 In the face of a trio of alarming climate reports — the most recent showing global emissions increasing after years of holding steady — Philadelphia officials say they are committed to a goal of reducing emissions by 80 percent by 2050.
"Cities and states and even lots of private-sector actors understand the risk, understand the importance of acting now, and are going to be acting," said Christine Knapp, director of Philadelphia's Office of Sustainability, "regardless of what the federal government is doing."
So far, the federal government under President Donald Trump has not indicated a desire to take on the issue of climate change. Trump has threatened to withdraw from the Paris climate accord, which would hold warming to 2 degrees Celsius above pre-industrial levels. Trump also has rolled back regulations meant to reduce emissions from vehicle tailpipes and power plants.
That means cities and states have been forced to go it alone.
"In the absence of a national strategy, the state and local strategies actually become much more important," said Christine Simeone, director of the Kleinman Center for Energy Policy at the University of Pennsylvania.
In Philadelphia, emissions have declined over the past decade, mostly because coal-fired power plants have been pulled offline in exchange for plants powered by natural gas, which gives off less carbon.
Between 2006 and 2012 — the last stretch for which there is emissions data publicly available — citywide emissions decreased by 9 percent. The city hoped to bring that down to 20 percent by 2015, but officials are still finalizing the data. The Office of Sustainability hopes to publish a greenhouse gas inventory report next year.
But to really move the needle, the city will have to move beyond even less-polluting fossil fuels like natural gas.
"We're going to have to be using less energy over time, and we're going to have to be using cleaner energy," Knapp said.
To do that, the city will need to increase its use of renewable energy. Last month, City Council approved an agreement for Philadelphia to contract with solar developer Community Energy Solar to build the largest solar farm in Pennsylvania. The farm will provide the city with 22 percent of its municipal electricity load, though it won't be online until 2020.
"That will be displacing dirtier energy that's on the grid," Knapp said.
The office has overseen the retrofitting of the city's four largest downtown office buildings — City Hall, Municipal Services Building, One Parkway, and the Criminal Justice Center — which has saved the city $1.4 million per year in energy costs. Officials are now looking at retrofitting the Philadelphia Museum of Art, one of the largest buildings for which the city pays for energy.
That's a start, but the city must do more of that if it's going to achieve its goal of staving off climate change.
"It's great what the city is doing, but it's not enough," said Donald Brown, professor of environment and law at Widener University Commonwealth School of Law.
Brown, currently at the U.N. climate talks in Katowice, Poland, said cities are getting a lot of attention for what they are doing at the local level to reduce emissions. But rather than bringing emissions down by 80 percent, he said, cities need to go carbon free.
"It's a fair question, whether it's feasible," he said. "But the consequences of not doing it are just so catastrophic, particularly to the most vulnerable countries in the world."
Philadelphia's Knapp agrees that more needs to be done to keep temperatures from rising.
"If we are to meet 80 [percent] by 50, we basically need to have a fully decarbonized electricity grid," she said.
But doing that will take time, and so far, the city has had little outside support.
"We're hopeful that that help will come eventually," Knapp said. "We know a lot of other cities are in a similar position in that they're moving what they can, but they're also looking for more help from higher levels of government."
Still, environmental experts said the city can't wait for the federal government to step in.
"It is all too easy to kick the can down the road," said Michael Mann, director of the Earth System Science Center at Penn State. "And 2050 is indeed way down the road."
WHYY is your source for fact-based, in-depth journalism and information. As a nonprofit organization, we rely on financial support from readers like you. Please give today.