'Nothing like this happens in the city': Watch artists in action at Cherry Street Pier's Tiny Room for Elephants festival
A three-week arts festival on the Cherry Street Pier shows the public how art gets made.
On Friday, Sean Dooley faced a 6'x10′ wall of raw fiberboard fiberboard paneling at Cherry Street Pier, holding a paint roller loaded with black primer. He was getting ready to make his first mark.
This is the biggest thing he's ever painted. At home, he usually paints 2"x2" miniatures.
"The 2x2s have been mostly paintings of butts, honestly," he said, suggesting the miniatures could translate to the larger canvas, but demurred when asked what he plans to create on this wall.
"Normally, I work digitally. I'm an animator by trade," he said. "Painting has just been more of a relaxation and a hobby."
What will Dooley ultimately make?
That question is at the heart of Tiny Room for Elephants. During the three-week arts festival that kicked off Friday, July 8, 43 artists will create large-scale work on 10'x12' or 10'x6' panels constructed inside the enclosed Cherry Street Pier.
All of the artists will be working under the gaze of the public – who will be able to watch their techniques, experiments, missteps, and recoveries.
"I'll even ask a stranger's opinion," said muralist Frank Chappell, who was rolling out white primer a few feet away. "Like, what do you think about this right here? If what they say makes more sense, I'll probably just change it."
That interaction with the public is what sets Tiny Room apart from other summer arts festivals, which typically invite people into the space once the artwork is complete. This festival shows how the sausage is made.
"When you see a painting in a gallery, there might be six different paintings underneath that," said co-founder YaYa Horne. "We're taking away the mystery and allowing people to come in and converse and interact with artists, which is something that's not done."
Horne and her partner Damion Ward started Tiny Room for Elephants in 2014 as an underground festival and party at undisclosed warehouse locations – which Ward is still, to this day, wary of revealing. It became a more legitimate festival when it moved to the Bok Building in South Philadelphia, then, in 2019, expanded into the 50,000+ square-foot space at Cherry Street Pier.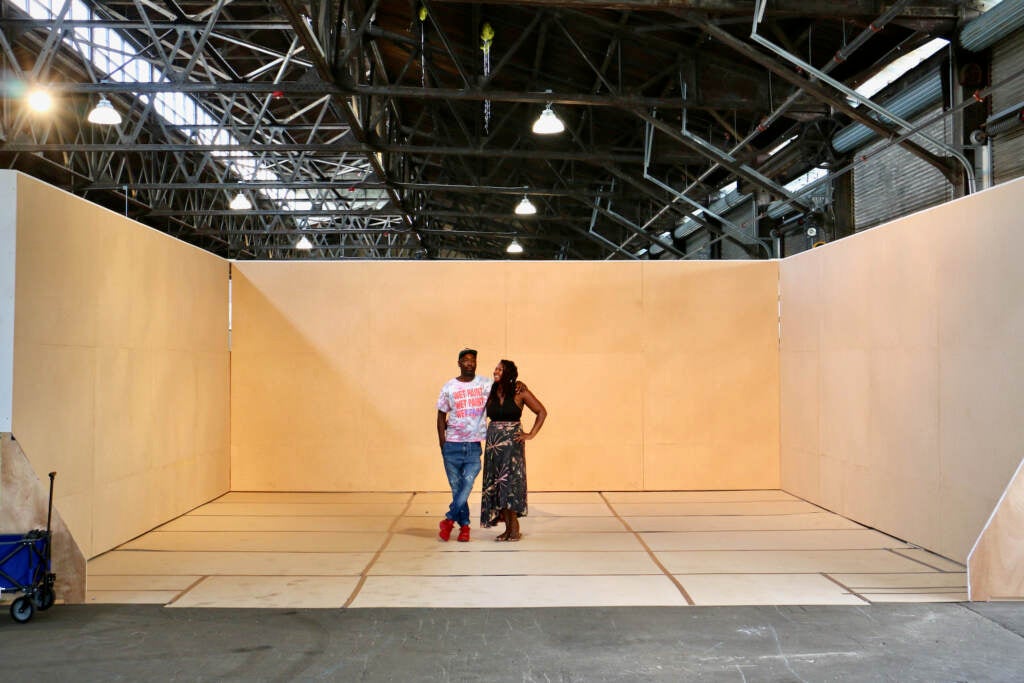 After a pandemic pause, this year's festival has more artists than ever and near-daily programming in the space while they work. At the end, on the weekend of July 21, the festival will dominate the entire pier with a blowout party, including performances from a lineup of musicians and DJs, laser light shows, and the regional finals of the Red Bull BC One breakdancing championship.
"Just harkening back to all types of creativity," said Horne. "Dance is a huge part of that."
Tiny Room is designed to allow the public to see how artists work and let artists see how each other work. Ward assigned each panel to an artist with a Post-it note. It's his job to figure out who will be working next to whom for 10 days, as a social engineering experiment.
"I want people to meet other people. I want people to interact with different people that they might know and should know," he said. "They pick up tips and tricks from other artists that they would never think about: 'I learned how to spray paint,' or 'I learned how to make drippy lines." People learn things by being next to the person that they're with. That's pretty cool."
Having been in the arts scene for many years, Ward and Horne have learned that the Philadelphia arts community can be insular. They are using Tiny Room to shake things up.
"What we found, and what a lot of our artists would tell you, is that the art scene here is very clique-y," said Horney. "We are priding ourselves on breaking up these art cliques."
It's not just artists that fall into cliques. Arts presenters feel it, too.
"A lot of the art scene here is supported by major institutions. We're two scrappy folks coming in just wanting to do something awesome, to have a platform for creatives. And folks are, like, Who are y'all? Where are you guys coming from?"
The festival at Cherry Street Pier is the main public event for Tiny Room for Elephants, which operates year-round behind the scenes, playing matchmaker between creatives and the companies or brands that need artists for projects.
"Through our festival we're able to vet all the artists and know who's the best at what, so we can pitch them to brands and organizations," said Horne.
"That's a byproduct of it," added Ward. "This started off, really, as a way to document culture."
For Chappell, the festival is a break from the business of art, and a little creative freedom.
"Being a muralist, you want to tend to your audience. When it comes to the business aspect of it, you have to follow those parameters of what people want," he said. "But this is my first chance to make a mural-size painting like I would in my studio."
Chappell has participated in Tiny Room in the past, but always as a spectator. This is his first time as an artist.
So what can people expect?
"Don't put any expectations on it because you're going to be wowed," he said. "It's not, like, 'Oh, I'm walking through a museum.' It's like, 'I'm walking through the creative process of so many different artists. I've never been part of anything like this. There's nothing like this that happens in the city. They did an awesome thing, creating this.'"
Tiny Room for Elephants will run through July 24 at Cherry Street Pier, 121 North Columbus Boulevard.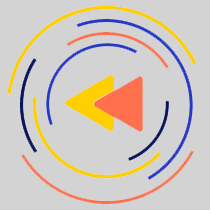 Saturdays just got more interesting.
WHYY is your source for fact-based, in-depth journalism and information. As a nonprofit organization, we rely on financial support from readers like you. Please give today.