Philadelphia's disappearing low-cost rental housing revealed in Fed gentrification study
"Gentrification" is a perennial topic in Philadelphia. Community groups fear rising costs and displacement. Academics debate the extent to which we need to be concerned. Regional leaders wish for a bit more of it. After all, another way to describe the phenomenon is that middle class people are choosing to move to the city again.
The best research on the complex forces driving neighborhood change in the city is coming from the Federal Reserve of Philadelphia. Last year it produced research showing that low-income people priced out of neighborhoods where values were appreciating were likely to move to poorer and more violent neighborhoods. It also found that low-income people who managed to stay in those neighborhoods enjoyed more positive life outcomes.
Changes in number of rental units in Philadelphia by cost level, 2000-2014
The challenge is to keep low-income people in neighborhoods that are experiencing new investment and rising property values. And a new study from the Fed shows just how hard that task will be in Philadelphia.
Analyzing Census data between 2000 and 2014, Fed researchers find that Philadelphia lost a fifth (23,628) of its housing units that rent for $750 or less. That's the rent range that's "affordable" to the city's average renter, by the authors' estimation.
The Fed study defines gentrification as occurring "when an initially low-income central city neighborhood experiences an influx of new residents of a higher socioeconomic status than the incumbent residents. The increased demand for housing from more economically advantaged in-movers leads to higher housing prices, which increase housing cost pressures on existing vulnerable residents and make the neighborhood less accessible to lower-income in-movers."
The study shows that gentrifying neighborhoods lost these units at five times the rate of weaker market neighborhoods, with particularly intensive losses in southern Center City and around University City. Dramatic decreases often occurred in places that, as of 2000, had the most low-cost units to lose. Neighborhoods like Cedar Park in West Philly or Point Breeze in South Philly with colder housing markets before the turn of the century lost huge numbers of units, while areas with longer-term appreciation saw smaller decreases in the 15 years under review.
Changes at the census tract level in low-cost rental units in Philadelphia, 2000-2014
Even as some neighborhoods surrounding Center City are steadily losing affordable rental units, average renter incomes across the city have actually fallen. Philadelphia's me­dian gross rent increased by nearly 20 percent between 2000 and 2014, the study found, but the median renter income fell by 2 per­cent. That the number of units that rent in the $750-$1,249 range increased enormously—by 32,015—probably isn't of much use to most renters in the city.
"$750 is pretty close to the maximum affordable rent for a typical Philadelphia renter household, so that should put things in perspective," says Eileen Divringi, one of the authors of the Fed study. "These are neighborhoods that are becoming less accessible to many Philadelphia renters."
The Fed report also documents the prevalence of subsidized housing, which is the strongest bulwark against inaccessibility in neighborhoods where housing costs have risen significantly. Philadelphia enjoys 37,369 rental units with property-based federal subsidies, from traditional public housing to those funded by the Low Income Housing Tax Credit. But many of these subsidy programs are also saddled with time-limited affordability restrictions, a practice that has come under increasing scrutiny, and the Fed finds that 23 percent will soon expire.
That number isn't quite as grim as it sounds. A 2012 HUD study found that most housing with expiring affordability restrictions either are owned by mission-driven non-profits, are located in weak market areas that prevent rent increases, or are owned by entities that renew their subsidy (and the accompanying affordability restrictions).
Total subsidized units in Philadelphia and percent due to expire within five years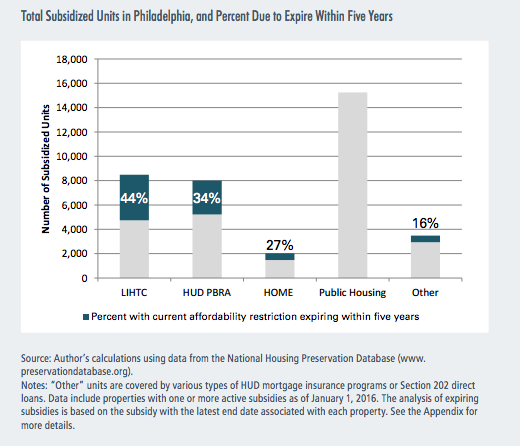 That means the fact that 20 percent of Philadelphia's affordable housing stock's affordability restrictions will soon expire isn't as panic inducing as it looks. But Divringi and her fellow researchers have gone one step further and highlighted which subsidized housing units with expiring affordability restrictions are located in hot market neighborhoods and are owned by for-profit entities. There are 1,099 in Philly that fit that description.
The question for advocates is how to ameliorate that threat. The trick is to preserve affordable housing in neighborhoods where housing prices are rising out of reach, and create class and race diversity by ensuring there is a bastion of permanently affordable homes that cannot be lost to enterprising property owners.
But support from the federal level hasn't been forthcoming.  The Center for Budget and Policy Priorities finds that the capital and operating fund for public housing "lost 25 percent of its inflation-adjusted value since 2001" (emphasis theirs). Section 8 funding is shrinking as well, as are the Home and Community Development Block Grants (CDBG) that support many local groups that build and maintain affordable housing. Under the new Trump administration, most experts expect these trends to continue if not accelerate.
"We're about to see a change of the guard [at HUD], which won't see this as a social responsibility," says Camille Charles, professor of sociology at the University of Pennsylvania. "We need to figure out how can we have gentrification and maintain affordable housing so it actually benefits people who have lived in the community. Unfortunately we are moving to a circumstance where the tendency to is to believe that markets will take care of this. There's just no evidence to support that."
There are groups working at the local level who have been trying to raise the alarm about expiring affordability restrictions in the city. The Philadelphia Coalition for Affordable Communities has been lobbying City Council about the issue in recent months, putting the pressure on Democratic politicians in a city that prides itself on its progressive bonafides.
One of their leaders is Nora Lichtash, director of the Women's Community Revitalization Project (which builds and maintains affordable housing), has been particularly vocal on the subject of expiring affordability. The group's lobbying efforts have focused on securing either an impact fee on new development to raise affordable housing dollars or a cut from the $100 million bond that City Council President Darrell Clarke plans to float next year to support a variety of home loan and grant programs.
"We're looking to our city government to pass legislation that would create more resources," says Lichtash. "The developers are often private developers and they're not required to keep affordability beyond the compliance period. But with more resources, other nonprofits or these same developers would maintain affordability."
The Fed is preparing additional research for next year on gentrification and displacement in Philadelphia. For now, though, the latest report provides an unprecedented look at where the city's low-cost housing stock is disappearing and what can be done to preserve the subsidized units. Where the Fed's previous work showed that gentrification could help lower-income people able to stay in appreciating neighborhoods, while their latest shows exactly where such retention efforts should be concentrated.
WHYY is your source for fact-based, in-depth journalism and information. As a nonprofit organization, we rely on financial support from readers like you. Please give today.