Rain-activated poetry appears underfoot in Philly parks
Rain Poetry features haikus written by schoolchildren painted on sidewalks with invisible ink.
Secret messages
waiting in Philly sidewalks
emerge in the rain
A series of haiku poems have been painted onto the pavement in Germantown's Vernon Park. They were applied using an invisible, water-repellent solution that reveals itself when the sidewalk gets wet.
The poems were written by elementary schoolchildren as part of Rain Poetry, a public literacy project that will expand to four other parks in as many Philadelphia neighborhoods over the next several months.
"There's the notion that kids only learn in school, but we believe that kids should learn everywhere," said Dawn Frisby Byers, director of engagement and content at PA Humanities. "Having poems written by children in public spaces illustrates that point."
PA Humanities, the state granting partner of the National Endowment for the Humanities, asked former Philadelphia poet laureate Yolanda Wisher to design a poetry teaching program for elementary schoolchildren, the results of which would be committed to pavement.
Wisher decided the best people to teach poetry to young people, are young people. She brought five former and current youth poets laureate into service to form a poetry education gang: Telicia Darius, Cydney Brown, Mia Concepcion, Husnaa Hashim, and David Jones.
"We re-activated them, like when you re-enlist them for duty," Wisher said. "When you're a poet laureate, you never really stop being a poet laureate."
The poems in Germantown were written by students in Germantown. The other, upcoming locations in West Philadelphia, North Philadelphia, South Philadelphia, and Kensington will feature poems written by students in those neighborhoods. They will be installed by the nonprofit workshop TinyWPA this summer and fall.
The education team focused on the haiku form, a short and simple medium easy for young people to grasp with its rigid 5-7-5 syllable structure, but expansive enough to be complex and expressive. One of Wisher's favorites is a seemingly contradictory poem written by a fifth-grader named Tristen:
I used to be weak
I can do 14 push ups
I can stay humble
"I think it's one of those low-risk, low barriers-to-entry kind of forms," Wisher said. "But then there are poets like our own Sonia Sanchez here in Philadelphia who are innovators, who've really broken the rules and created something new. There's this great potential to teach structure and form, but also imagination in breaking the rules a little bit."
In keeping with the Rain Poetry's theme of rain, the poets were given a prompt of "growth," which they could interpret as a natural result of rainfall, or any way they wished. One of Byer's favorites, by a fifth-grader named Kailei, has nothing to do with the natural environment but rather with family.
My hair grows
like my brother beside
me, he grows and grows
The invisible, rain-activated poems are accompanied by other pieces printed on adhesive sheets and fixed to the sidewalk, so even in dry weather there is something to read. Being exposed to the elements in public places, both the invisible and visible poems are expected to last about three months.
Byers has taken an extra step, out of concern the summer might wind up being a dry season with little rain.
"Hopefully it comes often so that the poems can be seen, but because of that we're going to create a book and then we'll distribute the books to all of the kids that participated," Byers said. "Because there's more poems written than we have room to put on the ground."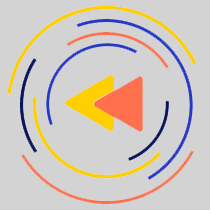 Saturdays just got more interesting.
WHYY is your source for fact-based, in-depth journalism and information. As a nonprofit organization, we rely on financial support from readers like you. Please give today.