Phila. School District passes an austere — but hopeful — budget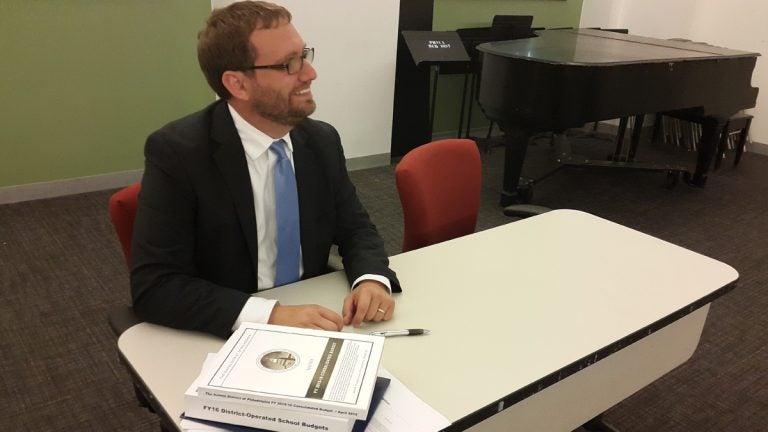 With a final budget from Harrisburg missing in action, the Philadelphia School District adopted its own budget just under the final deadline.
At a relatively brief School Reform Commission meeting, the district's Chief Financial Officer Matt Stanski laid out the budget's premise. "We will need at least $18 million dollars from the state in order to maintain, as we like to say, the inadequate, status quo budget levels that our schools are currently operating under," said.
That means an additional $18 million from the state. Combined with an anticipated $70 million bump up in Philadelphia's local contribution, the district would just be able to plug its $88 million deficit for next year.
As Stanski's language indicated, that amount is equivalent to scraping by. So the District included a hopeful clause in its budget, which greases the way the state decide to make a larger investment.
In a section marked "additional resources," the district includes a line item of $141,332,200 in added state revenues. That money can only be tapped, according to the budget, when "the appropriate legislative bodies authorize and appropriate new and additional resources for The School District of Philadelphia."
That additional amount would provide the city schools with the full amount called for by Governor Tom Wolf's budget, a total of $159 million. The $18 million "status quo"figure corresponds roughly to how much Philadelphia would get from the GOP-backed budget passed by the House and Senate but likely get a veto from Wolf.
"We have to address the issue that our schools have addressed since FY11," said Superintendent William Hite, referring to waves of layoffs that left many schools without enough teachers, counselors and support staff.
Just two years ago, the district laid off 3,783 staffers, which included 676 teachers, 283 counselors, 127 assistant principals and 1,202 noontime aides. That was the second massive layoff since 2010.
"We've got to start investing," said Stanski. "Another year of status quo just isn't good for Philadelphia."
Hite included in the meeting a presentation which ticked off some of the district's recent successes and highlighted what additional investments would mean in terms of new staff and bringing back programs that were cut.
For example, If the district received the entire $159 million, Joseph H. Brown Elementary school in Northeast would hire back five full-time staffers. That same school now has 17 fewer staff members than it did in 2011.
While District officials kept to their budget lobbying talking points, nearly all of the SRC meeting's speakers wanted to criticize the commissioners' decision to explore outsourcing some medical services provided in schools.
Kristen Luebbert, a teacher and member of the Caucus of Working Educators, called the move "penny-wise and pound-foolish" because an outside contractor can't provide the same services — tangible or intangible — that school nurses can.
Several other speakers echoed this concern. One highlighted that outsourced mental health services in her school already meant students without insurance didn't receive services. Another rattled off what services the state code requires nurses to provide and pointed out which of them are not covered by insurance.
Speakers also talked about the "soft touch" a steady, invested school nurse can provide to students in distress. Luebbert asked, what if a kid gets excited and pees his or her pants?
Then she answered her own question. "There's no billing code for that."
WHYY is your source for fact-based, in-depth journalism and information. As a nonprofit organization, we rely on financial support from readers like you. Please give today.