From the field to the screen: Thiago Vazquez is repping the Philadelphia Union in the eMLS FIFA 23 tournament
Thiago Vazquez, a sophomore at the University of Delaware, will compete in Major League's Soccer's esports competition of "EA SPORTS FIFA 23."
Listen
1:07
The Philadelphia Union's heartbreaking loss in the 2022 MLS Cup Final against Los Angeles FC may still be lingering in fans' memories, but the franchise will have its first shot at MLS glory in 2023 starting this month.
No, it won't be the likes of Alejandro Bedoya, Andre Blake, and Dániel Gazdag playing this time. For this league, the team's chances ride on one person, competing on a virtual field.
Thiago Vazquez, the Union's professional esports player, will begin his rookie season in the eMLS on Tuesday, at the League Series 1 in New York City.
eMLS is Major League's Soccer's esports arm, centered around the widely popular EA SPORTS FIFA franchise. This season, 26 of the league's franchises will compete in two league series and the final eMLS Cup in Austin, which the Union won in 2019. The prize pool this year is $100,000 and the best of the best go on to compete in the FIFAe World Cup.
Esports is already a fast-growing business in the U.S. and around the world. Market research firm Insider Intelligence projects that U.S. esports viewership will reach 29.8 million in 2022, and rise to 34.8 million by 2026. With an influx of investment, the top professional players in the world make millions from endorsements, prize earnings, contracts, and more.
Vazquez, 19, a sophomore studying computer science at the University of Delaware, is relatively new to the world of professional gaming. He was born in Argentina and spent most of his life in Honduras. During the start of the pandemic, he began recording himself playing FIFA and posting on TikTok, to alleviate boredom. As he improved and started to take content creation and livestreaming more seriously, people started to urge him to compete professionally, but he couldn't because Honduran residents were not eligible at the time.
His eligibility changed when he moved to the U.S. in 2021 for his studies, and in 2022 he seized his chance, finishing top 20 in the EA Sports FIFA 22 Global Series, the No. 2 ranked Latin American player in all of North America.
He found a coach — yes, professional video game players have coaches — and reached out to the Union to see if he could represent them. The answer was yes, and Vazquez was signed around the launch of the latest version of the game, FIFA 23. He was also selected to represent Honduras as a FIFA player in international competitions.
A big reason why he chose the Union was that it was the U.S. team he became a fan of after attending home games at Subaru Park in Chester, Pa.
Coming from Latin America, where soccer inspires near religious devotion and is deeply woven into the fabric of daily life, Vazquez did not expect there to be much of a soccer following in the U.S. — and he also didn't think his peers would be that good at playing the game.
It was a "pleasant surprise," he said, when he realized that wasn't the case — if anything, soccer is growing in importance for fans and players alike in the U.S., he said.
"Definitivamente, siento que ha habido una evolución. Y bueno, veremos cómo será el futuro",  dijo Vazquez. "Mi papá decía que en el futuro los Estados Unidos va a llegar a ser campeón del mundo, entonces, veremos".
"I feel like there's definitely been an evolution. And we'll see what happens in the future," Vazquez said. "My dad has said that in the future the United States is going to become world champions, so, we'll see."
Fútbol is in the family
Vazquez comes from a line of soccer pedigree; his father, Diego, played professionally as a goalkeeper and now manages the Honduran national men's team. Thiago, also a goalkeeper, said he "basically grew up with a soccer ball in my hands," though he would sometimes anger his dad  when he sat on it, which can quickly turn a round ball egg-shaped.
Along with exposing him to the beautiful game, Diego had a hand in introducing him to its virtual counterpart.
"When he bought me my first PlayStation, the first game that I had is FIFA. I remember I think it was FIFA 11," Thiago said. "So I played it basically since I was, what, six-seven years old. I've grown up with it."
Even today, father Diego tries to impart some of his on-field knowledge onto his son's professional career, with mixed results.
"He always tries to explain tactics to me and I always try them and see if they work on the game," Vazquez said. "Of course, the real game is very different than a video game, so you can not apply all the tactics and concepts in real life in the game, but there's some that you can definitely give them a try."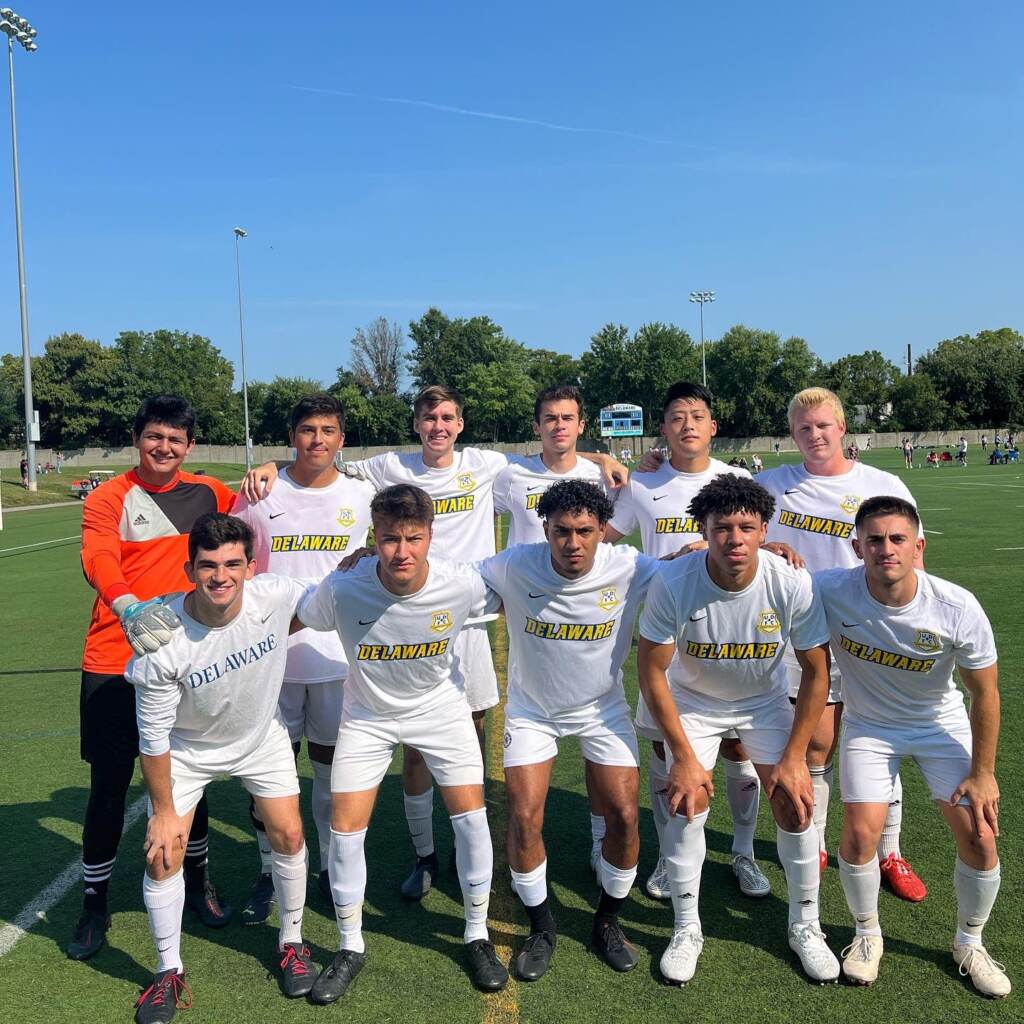 For Vazquez, representing Latino fans of the Union and U.S. soccer as a whole is "a great pride."
"Es un gran orgullo y una gran responsabilidad al mismo tiempo", dijo Vazquez.
"It's a great pride and a great responsibility at the same time," Vazquez said.
"Voy a luchar para hacerlo de lo mejor y obviamente soy un creador de contenido en español, toda la gente que me sigue habla español", dijo Vazquez. "Y sé que no solo estoy representando a la ciudad de Filadelfia, y el equipo de Filadelfia, sino a toda la comunidad hispanohablante".
"I'm going to do my best, and obviously I'm a content creator in Spanish, all of the people who follow me speak Spanish," he said. "And I know that I'm not only representing the city of Philadelphia, the team of Philadelphia, but also the entire Spanish-speaking community."
'You have to be strong mentally'
For most people, video games like FIFA are a fun hobby — games to play with friends and connect with others, even for those who are of the more competitive spirit.
For a professional eplayer like Vazquez, though, it's a full-time job. After a day of classes and completing schoolwork, Vazquez spends hours not just playing FIFA, but also analyzing videos from other top pros and his past games.
Along with honing his play, Vazquez has been sharpening his mental game for the season, which will feature a live face-to-face element with opponents.
"You have to be very strong mentally because there's some things that happen that you cannot control," he said. "If you lose your mind, you lost the game already."
Part of that mental strengthening has come through meditation. Now that playing FIFA has become much less of a pleasant distraction, he unwinds by exercising, playing for the university's men's club soccer team, and walking his dog.
Being one of the nine rookies in the competition this year only serves to motivate Vazquez more with an underdog drive that would make any Philly sports fan proud.
"I think people don't see me as one of the favorites," he said. "But to be honest, it's something that I feel comfortable with. I like not being the favorite, because that way I think I can surprise my opponents and no one will expect that."
WHYY is your source for fact-based, in-depth journalism and information. As a nonprofit organization, we rely on financial support from readers like you. Please give today.