Petition wants to make visiting the dead at Woodlands Cemetery safer for the living
More than 1,000 people have signed a petition calling for street safety improvements along Woodland Avenue.
This story originally appeared on PlanPhilly.
—
Woodlands Cemetery director Jessica Baumert wants people to visit the historic West Philadelphia burial grounds. But those visits shouldn't turn into permanent stays because of the dangerous road conditions right outside its wrought-iron gates.
"There are a lot of general traffic issues right at our front gates, and we're just concerned with all of the pedestrians that use the site that [for] somebody, someday, it's just not going to end well," Baumert said, adding that The Woodlands is an active cemetery with plots still available.
Baumert isn't the only one worried about the dangers outside the cemetery's gates. More than 1,000 people have signed a petition calling for street safety improvements along Woodland Avenue — between the cemetery and SEPTA's 40th Street Trolley Portal. The change.org call for action is addressed to City Councilwoman Jannie Blackwell, who represents the area.
"[Woodlands Cemetery] is a community asset where a lot of people go for strolls or jogs; it's a great green space in our community. However, there is no safe or legal way to cross the street anywhere from 39th street to 42nd Street on Woodland Avenue,"  said Dave Brindley, a West Philly resident and member of 5th Square, an urbanist political action committee and advocacy group. The group identified Woodland Avenue as a street in need of intervention at a meeting of West Philly members held about a year ago and co-launched the petition with the cemetery last month.
Cars tend to speed, Baumert said, and to swing around SEPTA's trolleys by using the bike lanes on Woodland as passing lanes. Lots of commuters get rides to and from the trolley station, particularly in bad weather. After a pickup or drop off, drivers often pull illegal u-turns leaving the station. On top of it all,  a lack of nearby crosswalks means that pedestrians frequently jaywalk across Woodland, drawn to the cemetery's lush grounds, as well as the nearby Veterans Affairs hospital and the University of the Sciences.
University City District, which has worked with SEPTA to revamp the trolley portal into an attractive public space with verdant landscaping and a new restaurant, tweeted its support for the petition soon after its launch.
Baumert said that  Blackwell's office reached out to discuss the matter earlier this month, but has not yet taken an official stance.
Blackwell's office did not respond to a request for comment.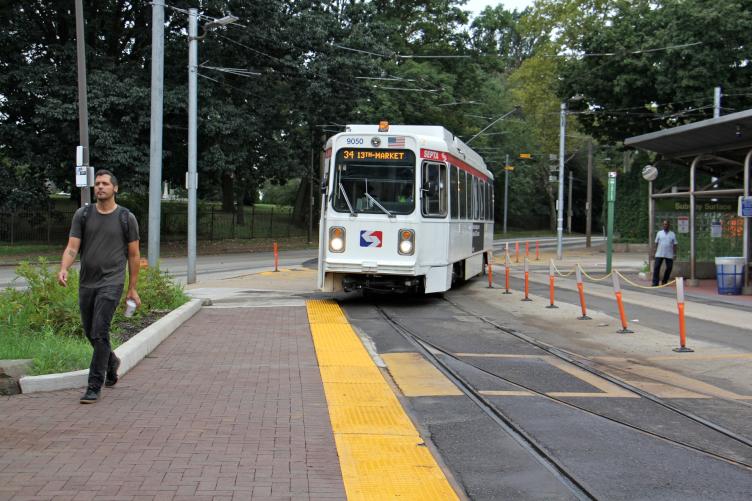 A spokesperson for Mayor Jim Kenney issued a generalized statement that did not specifically address the petition's demands. "Under Mayor Kenney's Vision Zero initiative, the Streets Department and [the Office of Transportation and Infrastructure Systems] are committed to traffic calming and safety for all users, especially along streets on the High Injury Network (HIN) like Woodland Avenue. We look forward to meeting with the relevant community organizations to discuss and address their concerns in this matter."
Baumert said she'd like to see a crosswalk just east of the entrance to the cemetery — ideally, a slightly raised crosswalk, like the one on Arch Street connecting the Comcast Tower to a heavily-trafficked Wawa. The raised pedestrian crossing would help slow down drivers. She'd also like the city to consider adding bump-outs near the entrance to dissuade drivers from driving around the trolleys that occasionally line up to enter the trolley portal during the rush hours.
The Woodlands draws more than 35,000 visitors a year, and upwards of 4,200 in a single day when they hold events like the Go West! Craft Fest, Baumert said.
The cemetery and 5th Square addressed the petition to Blackwell rather than the city's traffic planners in recognition of who ultimately decides hyperlocal planning issues like this in Philadelphia. While the Streets Department may hold legal authority on most matters of street design, a 2012 City Council ordinance requires that body's approval of most streetscape changes that remove parking or travel lanes. More generally, traffic planners rarely take actions that go against the wishes of the local district council member.
"Because of Councilmanic Prerogative, and also because any intervention would likely fall under the purview of those recently passed laws, it didn't seem like this is something Streets [Department] could do under their own authority," said Brindley.
The freshly overhauled trolley portal's grand opening is scheduled for September 27th. With the changes afoot, the petition's backers decided now was the time to agitate for improvements to station's backside. "The trolley portal itself looks great, and we're excited about what the University City District has planned for it, along with the city," said Brindley. "We just wish that Woodland Avenue received the same amount of attention."
WHYY is your source for fact-based, in-depth journalism and information. As a nonprofit organization, we rely on financial support from readers like you. Please give today.