Penn National makes its Hollywood pitch, faces questions on phasing, charity and market saturation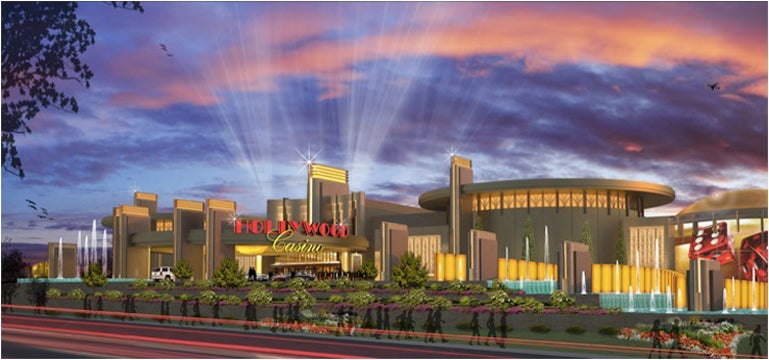 Penn National Gaming today told the state gaming board their proposed Hollywood Casino would siphon less of its revenue from existing regional casinos than the other four applicants pursuing the remaining Philadelphia gaming license.
But even Penn National's projections say that 40 percent of their anticipated revenues will come from customers who otherwise would have spent that money at an existing regional casino, with the biggest proportion coming from SugarHouse.
Pennsylvania Gaming Control Board commissioner Greg Fajt, who was chairman during the last Philadelphia license go-round, called market saturation the "elephant in the room." Early on in the board's questioning of the Penn National team, he established what he needed to hear from not only Penn National, but the other four applicants who will appear before the board between now and Thursday, to make his decision:
"I don't believe we have the capacity to open just another casino. We need something that is more than a casino," Fajt said. "We have opportunity with some of the proposals to offer more than just slot machines and tables. What are your thoughts on that, and what do you have in addition to slot machines and tables that will separate you from the myriad of other casinos within 150 miles?"
The PGCB will use the information gathered this week to help it determine which applicant is capable of generating the most income for the city and state. A four-hour time slot has been set aside for each applicant, but won't necessarily be used – the Penn National presentation, board QnA, and staff testimoney lasted three hours, until noon.
Barring technical difficulties, the Pennsylvania Gaming Control Board is webcasting the proceedings live on its website, here. The video is expected to be posted later this evening.
The Hollywood Casino team, which hopes to build a $480 million casino at 700 Packer Avenue, spent the first part of the session touting their Philadelphia proposal and accomplishments elsewhere, and to some degree, contrasting themselves with the other applicants. They said their location beats the two Center City proposals – The Provence and Market8 – for ease of accessibility and because people are already drawn to the stadium district for sports and other events. They said their experience sets them apart from the entire field, as does their plan to give a minimum of $2 million to city schools and pension funds in the first year of operation.
Penn National Gaming operates 26 casinos elsewhere in the U.S. and Canada, including one just outside Harrisburg. Penn National would build the $480 million Hollywood Casino in two phases. The applicant says it would open between 18 and 24 months after the start of construction with 2,050 slot machines, 66 table games and a 15-table poker room. Amenities would include a sports pub, casual grill, four-outlet food court, noodle bar and 180-seat entertainment lounge. Phase I would also include a 3,500-car garage, the biggest garage of any proposal.
Phase II would include a 500-room hotel, 1,000 more slots, 40 more table games, 5 more poker games and more food, beverage and parking options.
The team says the way it would meet Pennsylvania casino ownership laws – with a non-profit called the Philadelphia Casino Benefit Corp. being the two-thirds owner and, after debt service is paid, funneling two-thirds of the profit to city schools and pension funds – means Hollywood would have the most local impact. Hollywood also proposes building a west-bound I-76 on-ramp, which it says would lessen traffic impact on local neighborhoods, both from their casino and from the existing stadium traffic.
Penn National also says they can capitalize on the power of the Hollywood brand to bring fans from other places to Philadelphia.
During his testimony, Penn National Gaming President Tim Wilmott touted Penn National Gaming's Pennsylvania roots – the company was founded in Central Pennsylvanai in the 1970s, and went public in the mid-1990s.
Wilmott said Penn National has the most experience of any applicant in the regional casino market, and in this competitive market, that matters. "we have operated very successfully in some of the most competitive markets in the U.S." Penn National is opening three more casinos now, including one in Dayton, Ohio and one outside Youngstown, Ohio later this year.
"We did not elect to hire an outside consultant to do a comparison of our proposal with the four others," Wilmott told the board. "We believe you and your staff have the understanding and expertise" to do the analysis yourselves "without us doing what I would characterize as a self-serving comparison study."
He also touted certainty of financing, saying Penn National's "operating cashflows" could pay for the project. He said the location off of I-76 and I-95 would allow Hollywood to draw customers from the South Jersey market easily, and make it easiest for all customers to come and go. The access would be much better than any downtown proposal, he said.
Penn National's large database of customers from its facilities around the country would be an important tool to bring more customers to Philadelphia," he said.
"We strongly believe in hiring local," said Cori Witacre, Penn National's vice president for talent. To do this, she said, Penn National would host and participate in job fairs and work with community organizations and educational partners to find applicants.
Once hired, the majority of employees would be full-time with competitive pay and medical, dental, retirement savings and other benefits. The company also offers tuition assistance, she said. The project is projected to create 3,600 construction jobs and 1,100 casino-related jobs.
"Penn National has made a pledge to support and partner with minority vendors whenever possible," said Chy Stewart, diversity officer. That includes contracting with businesses owned by minorities, women and veterans, she said. This would be achieved in part through partnerships with local chambers of commerce and other organizations that support such businesses, she said.
Commissioner Fajt asked about Penn National's total financial committment and ability to meet that committment, since they have current projects, on-going and proposed, in other places. The Penn National team assured him they did, saying that other partners also share the financial responsibility in other places, and that some of the payments – to the state of Ohio – will be phased. Fajt asked for a detailed follow up submission that would prove it.
Fajt and Board Chairman William Ryan each asked several questions about whether any Phase II would ever come to be. "We've been burned before," Fajt said. He asked for some sort of guarantee that the second phase would happen, but Wilmott said he couldn't do that. "We will do it soley based on demand in the market place," he said. "We cannot give you any hard assurance when Phase II will occur."
Ryan later followed up on this line of questioning. Why not build the whole project all at once, he asked.
"We don't want to end up like Rebel, where it's over capitalized in a market that can't support that kind of investment," Wilmott said.
If the current market does not grow, "there is indeed the possibility that Phase II may not materialize for a very long time," he said.
"If at all," Ryan said.
Fajt and commissioners Keith McCall and Anthony Moscato asked questions about the charitable component of the plan. McCall questioned whether the charity could even be considered a two-thirds owner, when it isn't responsible for paying for construction, operations or management. The project attorney asserted that the charity was created soley so Penn National could meet the ownership requirement, and did not need to pay for construction as a result.
Moscato and Fajt asked whether charity board members would be paid. Joe Domenico, who would run the charity, said not at first, but there could potentially be a stipend later. This set off an alarm for Fajt, who said members of non-profit boards typically are reimbursed for expenses, but do not get paid. With a stipend or salaries, "I can see how that would get out of hand rather quickly." Domenico said things would be kept "lean."
When Fajt asked his market saturation question,Wilmott said access and location would allow Hollywood to pull customers from South Jersey. Other team members added that while amenties like the restaurants are important, access and convenience are key, hence the focus on adding the I-76 ramp and building the largest parking garage. They also said the Hollywood brand and rewards program that allows customers to spend points earned elsewhere here.
The team estimated 60 percent of revenues would come from new customers, while 40 percent would be "cannibalized" from existing casinos. Of that, 54 percent would come from what are now SugarHouse customers.
Fajt and McNally questioned the team on their promise to spend $3 million to build an I-76 westbound on-ramp. Fajt said that number sounded "woefully inadequate." McNally wanted to know if the team had the ok to build from the regulatory agencies, including PennDOT.
Senior Vice President Jim Baum said he's confident $3 million will cover it, because no bridges or flyways or other expensive structure would be needed – the new construction would be on-grade. But whatever it costs, Penn National will pay it, he said.
Baum said the team has not yet spoken to PennDOT, but did talk to the Delaware River Port Authority, which controlls all the land needed for the ramp, and things look favorable. He acknowledged that approvals from PennDOT and the federal highway administration would be needed, and said the permitting process would take longer than building the structure. The process would go on concurrently with casino construction, he said.
Commissioner Annmarie Kaiser asked what impact on-line gaming, now legal in New Jersey, would have on the proposed Hollywood's revenues.
"I don't think online gaming is going to pose that big a threat to bricks and mortar properties," Wilmott said. He said the people gambling from home are different from those looking for the social experience of the physical casinos.
Hollywood officials later said they did not take into account on-line gaming in their projections.
The Hollywood team told commissioners they were not planning to provide any shuttle service between the AT&T subway stop and their project, but PennDOT's Francis Hanney, who evaluated the traffic studies, said Penn National had promised to do just that in an earlier meeting. Wilmott said he'd had no knowledge of that, but if his team had committed, it would happen.
Regarding the I-76 ramp, Hanney said as someone who goes to sporting events, he thinks it would definitely be useful. And the PennDOT review of the study backs up that the casino traffic could be handled well by the infrastructure on even the busiest days – with the promised improvement. Hanney said it was not certain that the ramp would not need any additional structure to be built. A thorough review of the plan has not been done, he said.
Here's what Penn National told PlanPhilly about Hollywood when we asked why they should get the license. Here's the Hollywood website. To watch a video of this or any other suitability hearing, go the the PGCB website, here.
No sign of protestors, but a sign for protestors

The first day of casino suitability hearings are underway
WHYY is your source for fact-based, in-depth journalism and information. As a nonprofit organization, we rely on financial support from readers like you. Please give today.