Parks & Recreation pushes for river trail link connecting Ridge Avenue and Main Street.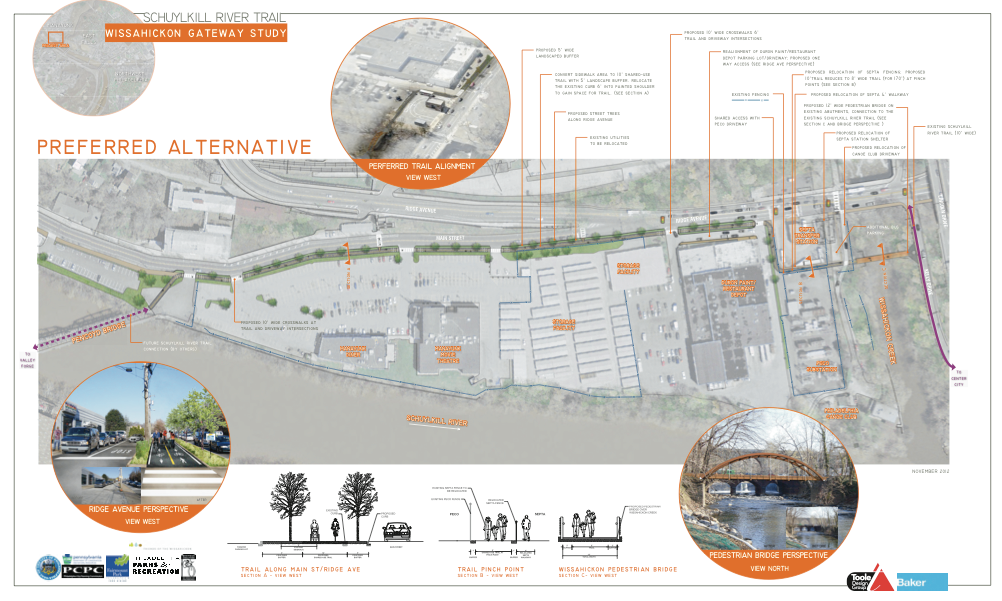 Some creative strategizing between the Philadelphia Parks and Recreation Department and SEPTA may make closing the gap between the Kelly Drive path and the Ridge Ave Bridge a realistic possibility within the next few years.
Thursday Parks & Recreation and Michael Baker Jr., Inc. consultants presented three potential "Wissahickon Gateway" trail options to link the Kelly Drive path, which currently ends at Ridge Ave where it runs into the Wissahickon Creek, to the Ridge Ave Bridge, which connects Philadelphia to Lower Merion. Rather than go along the Schuylkill River though, the trail option that Parks & Recreation presented as its preferred alternative crosses Wissahickon Creek between a SEPTA transfer station and a PECO substation and connects with Ridge Avenue and Main Street.
To connect from Kelly Drive to the Ridge Ave Bridge, the trail must first cross the Wissahickon Creek, but the far side of the creek is bordered by a SEPTA transfer station, PECO substation and the Philadelphia Canoe Club – each of which adds its own complexities to the project.
Canoe Club conflict
Though connecting the trail through the Philadelphia Canoe Club's property would allow the trail to wind along the Schuylkill River rather than Ridge Ave and Main Street, the trail would likely cut between the Canoe Club's historic boat house and its waterfront access.
"Unfortunately the way the property is configured, they'd basically be crossing the path every time they wanted to get a canoe from their building," said Christopher Stanford, Michael Baker Jr., Inc, project manager.
Building a trail bridge across the Wissahickon and over the Canoe Club property was presented as one alternative, but that alternative comes with a $3.8 million to $5.8 million price tag.
Running the trail along the river also posses the added requirement of environmental permits and creating at least some lenghth of a boardwalk.
The in-between option
The third option, that preferred by Parks & Recreation, would bring the trail from Kelly Drive, over the Wissahickon and between the SEPTA and PECO properties. This option would cost an estimated $2.2 – 2.5 million versus $2.7 – 3.5 million or $3.8 – 5.8 million for the other options.
"We've been working extensively with SEPTA and PECO to squeeze out a few more feet between their fence line," Stanford said.
Parks & Recreation and Michael Baker Jr., Inc. said they are happy SEPTA and PECO are considering this option. Christopher Dougherty, Wissahickon Gateway project manager, said SEPTA began considering the idea when, in return, Parks & Recreation offered to consider allowing SEPTA to expand into the gravel parking lot Parks & Recreation owns adjacent to the transfer station.
If this agreement goes through, the trail between SEPTA and PECO would likely be 10 feet or less in width.
Sarah Clark Stuart, Bicycle Coalition of Greater Philadelphia campaign director, attended the meeting and said she hopes the entire proposed trail could be widened to, perhaps, 12 to 14 feet.
"It's harder, as you know, to expand and so often we find that trails are under built," she said.
Though Stanford said that might be possible on most of the trail, between SEPTA and PECO that does not seem likely.
"We're really squeezed with SEPTA …and I don't think we could justify taking anything else from them," Stanford said.
Dougherty said it has been difficult to get all of the institutional partners in this study area talking, and now that several of those partners are willing to talk, he said the project leaders feel they have made a breakthrough.
"We have some momentum," Stanford said. "We really feel like we can make something happen… It's not ideal but it's sort of a midterm study to get the gap closed."
Ridge versus river
If the Parks & Recreation preferred alternative comes to fruition, once the trail passes between the PECO and SEPTA facilities, it will travel along Ridge Avenue and Main Street in a 10-foot-wide shared-use trail with a 5-foot-wide landscaped buffer between traffic.
Unlike the other options presented, this alternative does require some utility relocation and does cross more driveways.
Parks & Recreation is talking with Duron Paint & Wallcoverings, an owner of one of those driveways on Ridge Ave, in hopes that Duron will agree to an easement and driveway modification that would allow for optimal trail design along that portion of Ridge Ave.
Duron has not rejected the easement, but it has also not accepted it. Stanford said the property owner is in search of a tenant and is reluctant to make a definite commitment before the tenant is known.
Some bicycle advocates are upset that the Parks & Recreation preferred alternative takes the trail away from the river and through Ridge Ave, which they see as a light industrial road with more potential car-bicycle conflicts.
"I'm all about trying to get things done as soon as possible, but I'm really disappointed you couldn't overcome the hurdles [to get to the river]," Stuart said.
Stuart asked that Parks & Recreation consider calling this preferred alternative the short term plan and one of the two river-hugging alternatives the long term plan and that Parks & Recreation make a public commitment to working towards that long term option.
Some members of the public meeting audience Thursday noted benefits to the Ridge Ave alternative.
One woman said that she would feel safer riding along Ridge Avenue versus riding between the river and the large businesses that back up to the water but that have no rear-facing windows or activity. Another meeting attendee said he thinks the Ridge Ave alternative will accommodate more people who might commute via bicycle and work along the Ridge Ave and Main Street corridor.
On the other end of this segment, the sidewalks on the Ridge Ave Bridge would have to be widened to accommodate a mixed-use trail, but because of the way the bridge was built and then modified with a large, steel I-beam positioned on an angle to hold the sidewalks, it would not be able to support the additional sidewalk width. Regardless of whether the trail ends up traveling along Ridge Ave or along the river, a new bridge will have to be built to carry the trail across the Schuylkill, adjacent to the Ridge Ave Bridge.
Pedaling onward
Thursday's meeting was the first public meeting on this Wissahickon Gateway project. From here, the full Schuylkill River Trail Gap Analysis Study will be presented to the city and Pennsylvania Department of Conservation and Natural Resources, which provided grant funding for this study.
After incorporating public, city, and DCNR comments, Parks & Recreation will begin to secure the environmental permits and easements and enter the final design phase.
Stanford said if that goes well it could take one to two years, and construction might be seen in the next three to four years.
Though this project will take a few years to complete, Gina Snyder, executive director of the East Falls Development Corporation said she thinks this is a homerun for the city.
"I think this is the best solution at this point," she said. "It's incremental. It has a lot of problems, but it can be accomplished."
Contact the reporter at cfisher@planphilly.com
WHYY is your source for fact-based, in-depth journalism and information. As a nonprofit organization, we rely on financial support from readers like you. Please give today.