Drink Tap: Public water kiosks help Philly hydrate on Schuylkill River Trail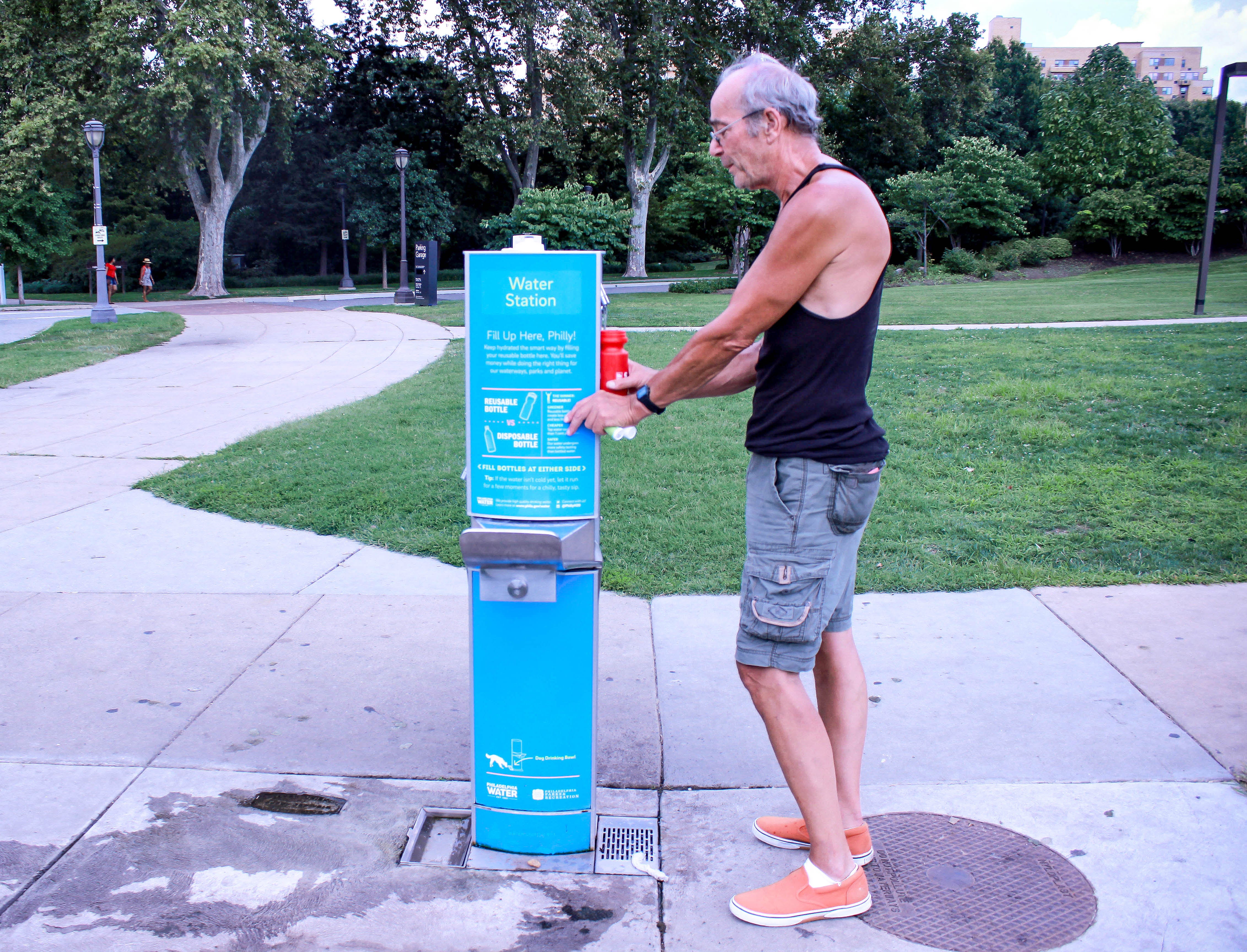 It's been nearly three months since the Philadelphia Water Department installed four new, blue water kiosks along the Schuylkill River Drive between the Water Works and East Falls. Each kiosk urges passersby to "Fill up here, Philly!" and in the heat of the summer, that's what the public has been doing. The kiosks are used by runners, dog walkers, and bicyclists on a daily basis and also come in handy during sports events, such as regattas and bike races.
Herb Henschke said he cycles along the Schuylkill River Trail multiple times a week and was delighted when he first used the water kiosks on the trail. "This model makes it easier to fill up a water bottle [compared to the traditional drinking fountain]," he said.
Each water kiosk has two spouts for filling up water bottles as well as a traditional drinking fountain feature. They've been designed to benefit all kinds of recreational trail users—even animals. "Runoff that doesn't make it into a water bottle goes down to a doggy bowl so there's water for pets on the trail," said Chris Anderson, the Watersheds Program Manager at the Water Department. While the Department is still working on a way to measure the public's use of the kiosks (as well as the amount of water being used), Anderson has only heard positive feedback about the units.
The water kiosks on the trail are by the company Aquafil and are maintained by the Water Department. According to Anderson, each kiosk cost approximately $5,800 for equipment and $9,500 for installation, plus the cost of labor to sanitize each unit and remove graffiti as necessary. A member of the Watershed Field Services unit inspects each kiosk weekly and wipes down the unit using an antibacterial cleaner, playing special attention to the water fountain, bottle filling spouts, and the trough at the bottom. Kiosk placement depended on where water pipe infrastructure already existed.
The water kiosks, along with the "Choose to Reuse" and #DrinkTapPHL campaigns, encourage Philadelphians and tourists alike to avoid buying disposable plastic bottles and to drink tap water instead. Plastic water bottles are a major source of recyclable materials ending up in waterways and polluting natural systems. Filling up a reusable water bottle with tap water is a more wallet-friendly and eco-friendly option—one that the Water Department drove home last October when it distributed 12,000 reusable water bottles during the Head of the Schuylkill Regatta. (The Schuylkill Navy, the association of amateur rowing clubs on Boathouse Row, also pledged not to use bottled water.)"It's a personal pet peeve of mine to see people buying bottled water when they could get it for pennies out of their tap," said Christine Knapp, the Director of the Office of Sustainability, who spearheaded the initiative to make public drinking water more accessible back when she was at the Water Department. Knapp wants the public to take advantage of the city's high quality drinking water in order to reduce unnecessary consumption and waste production.
"Generally, the more people drink their local water, the more they care about its protection, which helps in terms of long-term environmental stewardship," Knapp said. By connecting people to the water cycle, their support grows for managing runoff, improving water quality, and caring for rivers, parks and trees.
Access to quality drinking water is also an issue of equity. "Wealthier folks will buy water so they don't tend to care about the quality of their water," she said. Lower-income people, on the other hand, depend on tap water, its accessibility, and quality.
With this in mind, the Water Department is looking into how more water kiosks could be installed around Philadelphia. The department issued a Request for Information (RFI) on July 27 to find out the capabilities of vendors to provide, install, maintain, and support a system of new public water kiosks, equitably distributed around the city.
Knapp thinks of this future project as similar to the Indego bike share with its benefits for health, tourism, and public engagement. She pictures each water kiosk becoming a catalyst to design public space where there wasn't any before—a bench or tree might make a nice addition to a drinking station so people could sit down in the shade. She points out that such a space could increase the mobility of elderly and disabled people who can't go on long walks without resting or stopping for a drink.
"It's a public amenity provided to citizens to improve their quality of life and increase their comfort," Knapp said.
WHYY is your source for fact-based, in-depth journalism and information. As a nonprofit organization, we rely on financial support from readers like you. Please give today.