Philadelphia's building boom gives rise to another hidden lead risk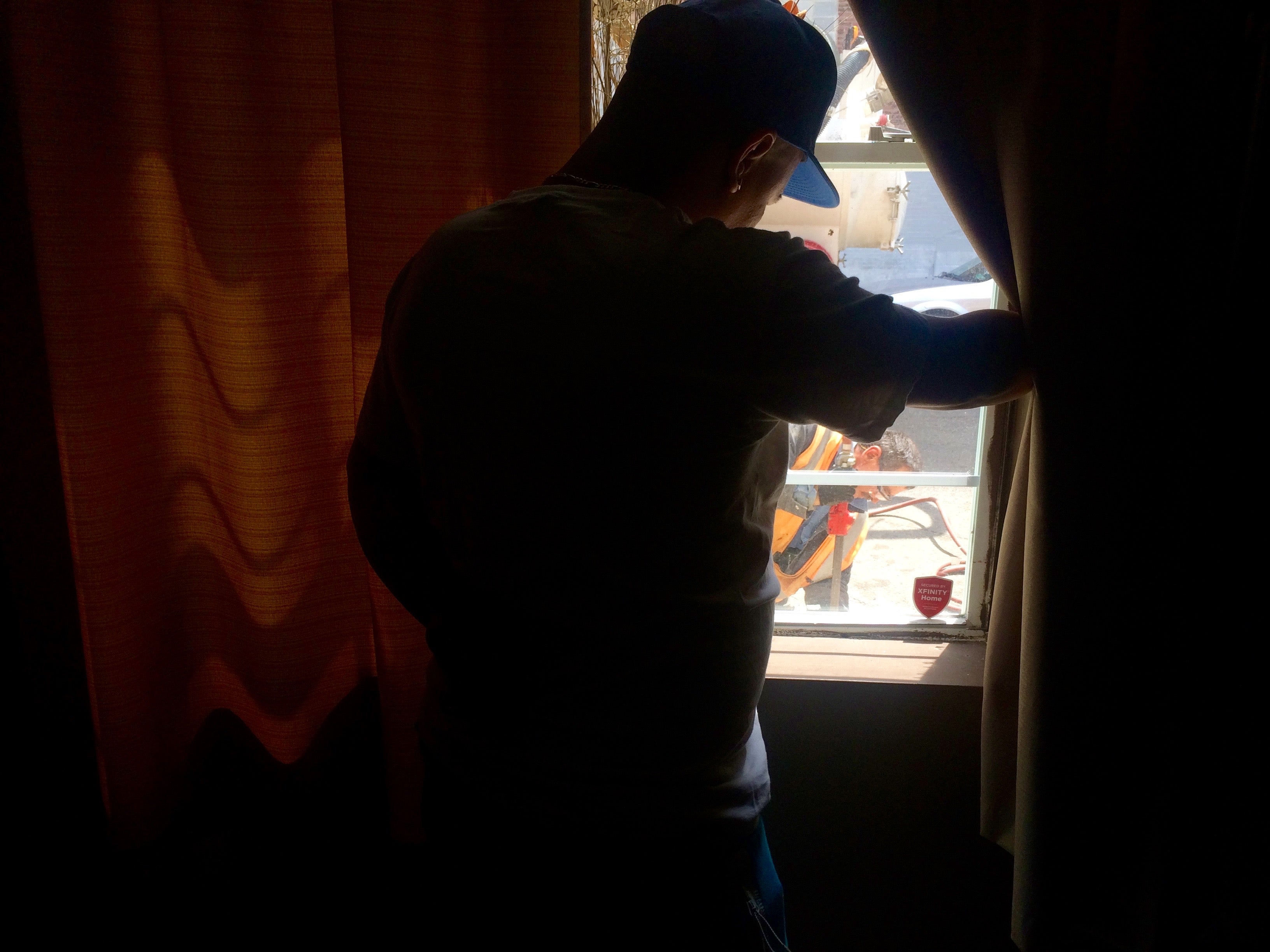 About five years ago, doctors found high levels of lead in the blood on Manuel Ortiz's oldest son. Ortiz and his wife were scared. And surprised: Manuel Jr. acted like a normal kid.
Health inspectors told them their apartment had lead-based paint. Their landlord didn't do anything to fix it, so the family moved out immediately.
They were too late. Manuel Jr.'s brain was already damaged.
Lead is a highly toxic metal. It can produce developmental delays and learning difficulties in children. Manuel Jr. needed special classes to keep up with school.
"He got two or three years back from his age, he doesn't act like a normal kid; he is 13 now, but he acts like a kid of 10," Ortiz said. "I feel sad, because, you know. But we still have to deal with it."
"We're a low-income family," Ortiz added. "A lot of people go through it, we're not alone."
Ortiz, 37, was born in Puerto Rico and works as a car mechanic. The family now rents a two-story rowhome in North Philadelphia and they take several measures to protect their son. But they didn't know that by merely drinking water from their taps, they could expose themselves to dangerous levels of lead.
Although lead-based paint and contaminated dust are the biggest source of lead for children, water remains a constant and unpredictable threat for anyone living in a house with lead plumbing.
The Philadelphia Water Department estimates that about 60,000 houses in the city have lead service lines connecting their faucets to the city's water mains. Nationally, there are an estimated 6.5 to 10 million houses with service lines made of lead. Officials can't say which houses do or don't have lead lines, although houses built after Congress and the EPA passed laws banning lead pipes in 1986 should be lead-free. Houses are privately owned, and the city does not keep an inventory of which have or had lead plumbing.
"You want to check to see if you have lead in your plumbing," said Maurice Sampson, a long-time environmental activist and Clean Water Action's director for Eastern Pennsylvania. "If you have lead in your plumbing, you will periodically have lead in your water."
To minimize lead leaching in the water supply, federal law requires the city to coat the pipes with corrosion control—zinc orthophosphate—which provides a protective layer. But lead can still get into the water when it sits in the pipes for a while or when pieces of plumbing break off into the flow.
As a reporter looks on, Ortiz goes to his basement and checks his water service lines, the pipes connecting the water mains with every house. He follows the Water Department's instructions, scratching the pipe and then holding a magnet to it. The pipe is silver and the magnet doesn't stick. His pipes are made of lead.
"Is that good or bad?" Ortiz asks.
It's bad. According to the Environmental Protection Agency (EPA) people with pipes, solder, flux or fixtures made of lead receive about 20 percent of their lead intake through water. That's why the federal agency banned them in 1986.
"So that's how you get plomo in your system?," Ortiz asks, using the Spanish word for lead. "Oh my god."
(Philadelphia Childhood Lead Poisoning Prevention Advisory Group Final Report )

(Philadelphia Childhood Lead Poisoning Prevention Advisory Group Final Report )
Street Construction: a disturbing hazard
The block where the Ortizes live, the 3000 block of Rosehill Street in West Kensington, is just one of over 20 where the Water Department is currently replacing water mains. Philadelphia has 3,200 miles of water mains. They're getting old, so the city has been replacing them at a rate of 22 miles per year. The goal is to double that number next year.
When lead pipes are shaken or banged, they can release more lead than the usual trace amounts into the water that residents drink, cook with and bathe in. Microscopic pieces of pipe break off into the stream, like chips of paint breaking off a wall, increasing the amount of lead in the water.
The Water Department said they notify customers when they're doing construction work on their streets. But PlanPhilly asked over 30 city residents if they received any notification, and many said no. And among those who reported having seen notifications, most said they weren't happy with the amount of information the city gave them.
Ortiz said he didn't know about the Water Department's work, even though a contractor was working on the sidewalk right in front of his basement. And, if he doesn't take precautions, that construction may be bad for Ortiz and his family.
An 2013 EPA study conducted in Chicago found that houses with lead service lines that were subject to physical disturbances—like roadwork, water meter repair or water main replacements—had higher levels of lead than those that went undisturbed.
"In Philadelphia, there isn't any effort, at all, to inform people about street disturbances," Clean Water Action's Sampson said.
Sampson and Claire Gavin, a retired toxicologist working with him, are worried. With all the construction, replacement of gas lines and water mains happening across the city, Sampson says the city should be doing more to make the connection between construction and lead getting in tap water.
"There should be an obligation to inform everybody, and there should be a procedure you go through which starts with: While this is going on, you should be drinking bottled water," Sampson said. "And afterwards there needs to be some testing done to determine what [the] impact [is]; to describe what happens, particularly if you have a lead line."
(Catalina Jaramillo)

(Catalina Jaramillo)

(Catalina Jaramillo)
Yanna Lambrinidou, an ethnographer at Virginia Tech working with activists in Philadelphia and across the nation, says lead in drinking water poses a health risk at all times. Physical disturbances only exacerbate the problem.
"These physical disturbances can, in fact, weaken the protective layers inside pipes," Lambrinidou said.
While Lambrinidou says a lead-releasing disturbance can be caused by a heavy truck passing by your street or your neighbor's renovations, the Philadelphia Water Department disputes that, saying the causes a lead-releasing-disturbances are debatable.
Gary Burlingame, director of the department's laboratory services, said that whether a shaking will release lead depends on the specific system, and on the state of the lead pipes in every house.
"In a system like Philadelphia that's been stable for a long time, that has been fed corrosion control treatment—that has lined it's lead pipes—no one really knows exactly what defines disturbance," said Burlingame.
According to Burlingame, no one can say definitively if a heavy truck or jackhammer ripping up the street will release more lead in your water. What's clear, Burlingame said, is that cutting or directly banging on a pipe can release pieces of lead.
The water department said it is not aware of any spike lead exposure as a result street disruption. But they also haven't done any testing.
Burlingame said the tests would be very time consuming and expensive. And the Water Department's approach is that it's better to just concentrate on the solution: getting rid of lead pipes.
Ultimately, though, it's up to homeowners to remove them. Removal costs between $3,000 to $8,000, an infeasible price for many of those who, according to the Centers for Disease Control and Prevention, are the most at-risk populations for lead exposures: poor families, recent immigrants, and renters.
While the city offers a zero-interest loan to help residents replace lead pipes, many still can't afford the extra $80 dollars-a-month that would entail. Starting this year, the Water Department has also offered free, full replacements, from the water main to the water meter, when they replace the water main (before, the city only did partial replacements, from the water main to the curb stop, which was found to actually increase lead levels).
To take this deal, homeowners need to sign an authorization sent by the Water Department along with the notification notices. PWD's Joanne Dahme said they've received 683 authorization forms agreeing on a full replacement since July of last year. Since May 24th of this year, a few properties have declined the service.
(Catalina Jaramillo)

(Catalina Jaramillo)

(Catalina Jaramillo)
FAQ for residents concerned about lead in their water
How do I know if I have lead plumbing?
Go to your basement and find the water meter. Use a coin or a key to scratch the pipe coming from the street into your house, to the water meter. If the pipe's color is silver (if it's red it's copper), use a strong refrigerator magnet and see if it sticks. If it sticks, it's steel. If it doesn't is lead.
If I have lead plumbing, how can I protect my family?
If you can, your best bet is to replace the lead plumbing. This can cost between $3,000 and $8,000 and city residents may qualify for a no-interest loan to help finance the work.
If you let water sit in your lead pipes for over six hours, the chances of lead leaching in increases. So, the recommendation is to let your cold water run for three to five minutes every time you haven't use the water for that long of a time. If you don't want to waste water, you can do some laundry, water your plants, or take a shower (but only a cold shower). Always use cold water for drinking and cooking.
Replace your faucet aerator, a screen attached to the tip of the faucet, once a year, and clean it twice a year. To take it off, unscrew it and separate each part (aerator housing, aerator and rubber washer), soak them in white vinegar for a few minutes, scrub them with a toothbrush, and put them back together.
If there's construction in your block or you replaced your service line or meter, the Water Department recommends an intensive flushing every two weeks for three months. To do that, remove all the aerators, run cold water from every tap in your whole house for at least 30 minutes.
Does boiling the water remove lead?
No. Boiling water will kill microorganisms in untreated water that can make you sick, but it won't remove metal particles like lead.
Do all water filters remove lead?
Not all. Use filters certified by the National Sanitary Foundation (NSF).
PlanPhilly asked residents in blocks undergoing water main replacements in North and South Philadelphia about their experience. Many said they didn't receive notices from the Water Department about the risk of increased lead in their water and the option to have their service lines replaced. Others said they might have gotten a letter, but thought it was a bill and didn't read it. And a third group—Hispanics and Southeast Asians—said they may have received the letter but, because it was written only in English, couldn't read it.
Dahme said the Water Department sends multiple notices in the weeks leading up to construction. And when they've found a lead service line but haven't heard back from customers, they knock on their doors and try to contact them several more times.
In the meantime, the city's recommendation is to intensively flush your pipes by letting the water run full-blast for 30 minutes, at least every two weeks for three months, after every time there has been construction or street work on your block or when pipes have been directly disturbed—cut or banged on—like when water mains are replaced.
Everytime water sits on lead pipes for over six hours there's a risk, so the Water Department recommends letting cold water run for three-to-five minutes every morning, in order to get fresh water from the main.
"Just always run the water before you drink it," Philadelphia Water Department Commissioner Debra McCarthy said. "Then you don't have to worry about was it disturbed by construction, was it this, was it that."
"It's like washing your hands before you eat, flush the water before you drink from it," said Burlingame.
Another potential fix for residents who can't replace their pipes: installing National Sanitation Foundation-certified water filters on each faucet or getting a pitcher.
All of this is news to Ortiz. When the contractor doing work outside on his street bangs on some gas pipes, all the pipes in Ortiz's basement vibrate.
"So, you got to flush the water for five minutes?" Ortiz asks. "I didn't know that."
He's not alone. Clean Water Action's Sampson says this gap between what the public should know about lead and what it does know is to blame for many lead poisonings.
"People would say, really, one of three things: 'I didn't know it was poisonous, I didn't know it was that bad and I didn't know it was in my house,'" Sampson said. "The truth is, if you know where the lead is, you can protect yourself"
In an email, the Philadelphia Health Department's James Garrow said that focusing on possible lead in water distracts from the real problem: lead paint. Garrow said the Health Department hasn't identified water as an issue for lead poisoning since 2011. But when asked if there was a chance that inspectors are missing water being a source because lead paint is also found, Garrow said the families are referred to the Water Department for a testing only "if we cannot determine the source of lead exposure" after first testing paint, surfaces, toys, spices, other items, and secondary addresses.
That's the procedure in almost every jurisdiction across the country, Virginia Tech's Yanna Lambrinidou said. In her opinion, drinking water is routinely overlooked as a lead source and "there's a bit of collective neglect."
Advocates argue that relying on water lead tests is not enough. The tests are designed to monitor if a public utility complies with federal regulations by keeping tap water lead levels under 15 parts per billion. But they're not adequate to determine whether individual taps are safe or not.
According to experts, no amount of lead exposure is safe.
"We have a regulation that is, I would submit, unjust," Lambrinidou said. "It leaves one party in the dark and vulnerable to exposures, blindly trusting the ability of water utilities to fully protect it from lead in drinking water, when in reality, water departments can never eliminate lead from leaching into the tap".
That regulation, the Lead and Copper Rule—promulgated by the EPA in 1991 to control lead and copper in drinking water—is currently being revised. Increasing transparency and better educating consumers on the health risks of lead—and how to avoid them—rank high among the recommended changes.
In December, 2016, Mayor Jim Kenney released a plan to reduce the number of children with blood lead levels greater than or equal to 5 micrograms per deciliter by 40 percent, from 2,106 children in 2011 to 1,200 children in 2020. In June, 2017, the final report was released. None of the recommendations directly address lead service lines, but there's a push for public education campaigns.
Now that he knows, Ortiz plans to only drink bottled water and to flush his pipes every time he uses tap water. "I'm going to let it run," Ortiz said, "even for taking a shower." That means $60-a-month for bottled water on top of his $30 water bill, which itself will go up.
"It's hard, it's hard," Ortiz said.
But health comes first.
For more information about lead in water, click here.
(Catalina Jaramillo)

(Catalina Jaramillo)

(Catalina Jaramillo)
WHYY is your source for fact-based, in-depth journalism and information. As a nonprofit organization, we rely on financial support from readers like you. Please give today.