Pa. women poised to make history in congressional delegation after primary victories
Listen
05:22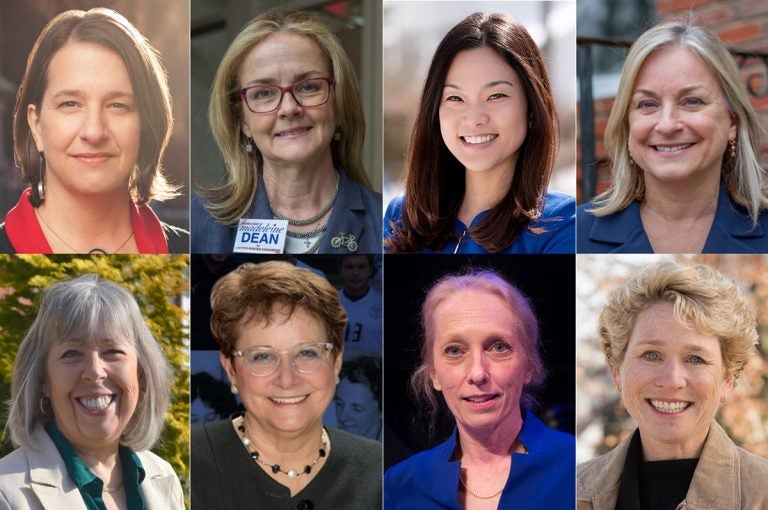 Eight women running for congress in Pennsylvania advanced to the general election ballot on Tuesday, setting a record for the state.
For the past few years, only men have been in Pennsylvania's 18 member congressional delegation in Washington, D.C.  But after Tuesday's primary, that's almost guaranteed to change in 2019.
In its history, Pennsylvania has only elected seven women to the U.S. House of Representatives — ever. Three of those women won special elections to fill vacancies left by their husbands.   
No woman in Pennsylvania has ever been elected to the U.S. Senate, or to the Governor's office.
"This is more than a little overwhelming," said Mary Gay Scanlon, a Democrat, in her victory speech on Tuesday night. She's running in the newly drawn 5th congressional district comprised of mostly Delaware County and parts of South Philadelphia.
Scanlon recounted a story from the 2016 election in her speech.
"A year and a half ago, my daughter and I donned pantsuits to go to the polls and vote for what we hoped would be the first woman president — a celebration we believed was long overdue," said Scanlon. "And, like most of you, we were shocked by the election to our country's highest office of a man who had no record or seeming inclination for public service."
Scanlon, an attorney who leads the pro-bono program at Philadelphia's Ballard Spahr law firm, beat out a crowded primary field that included five other women. Her only experience in public office was on Delaware County's Wallingford-Swarthmore School Board.
In November, she'll face Pearl Kim, a former special victims prosecutor in Delaware County, and the only Republican woman congressional candidate on the ballot in the state.
Having two women go head-to-head in a congressional race is a first for Pennsylvania, and Scanlon says she's thrilled.
"We've made it possible for this new district for the first time to be represented by a Democrat in congress and to be represented by a woman in congress," she said.
Kim did not return requests for comment.
Why so low?
To understand why Pennsylvania currently lacks women representatives in Congress, you may only have to look at the state's lower-level offices.
Pennsylvania's three row offices — Treasurer, Attorney General and Auditor General — are each currently occupied by men.
And in the current legislative session of the General Assembly, women make up 14 percent of members in the State Senate and about 20 percent in the State House. Nationally, that puts Pennsylvania 38th among states when it comes to women in state legislatures.
Dr. Jennie Sweet-Cushman, assistant director of the Pennsylvania Center for Women and Politics, says this matters.
Typically, Sweet-Cushman says, women feel they need to get their feet wet in politics and work their way up before jumping into a congressional race.
But this year is different.   
"Many women, not all of them, but many of them said, 'You know, I can sit around and wait until I have all of these requisite qualifications or I can say, you know what, I bring a lot of great things to the table and throw my hat in the ring."
For some women, as Scanlon made clear in her speech, you can draw a direct line between the election of President Donald Trump and their candidacy, said Sweet-Cushman.
"Many of them very explicitly said, 'I was engaged in the Women's March and I wanted to catapult that into doing something more,'" she said. "Others have been a little more subtle and they say, in response to the #MeToo movement, we need a culture change. And one way to do that is to have more women with seats at the table."
So will having more women in congress affect policy?
According to Sweet-Cushman the research says, 'Yes.' Issues like: equal pay, family leave, health care and the cost of child care are more likely to be prioritized by women than their male colleagues.
Erie County Executive Kathy Dahlkemper, a Democrat, agrees.
"It's not that women are better legislators, but we bring a different voice. We bring a different perspective and you need both types of different perspectives around the table as you're making decisions on issues that affect all of us," said Dahlkemper.
Dahlkemper was elected to congress in 2008. She served one term and was defeated in 2010 by Congressman Mike Kelly under a congressional map that's since been declared unconstitutional for diluting Democrats votes.
Kelly recently made headlines in a showdown on the House floor with Congresswoman Maxine Waters (D-Calif.,) over a debate on gender and racial discrimination in the automobile industry.    
Dahlkemper says she has no plans to run for higher office again, but she encourages others to take the leap.
She's hopeful Tuesday's results will inspire more women.   
"I think that if women just see those examples more and more, then more women will say, 'Maybe I can do that too,'" she said.
The last woman to serve in Pennsylvania's Congressional Delegation was Allyson Schwartz, a Montgomery County Democrat. She relinquished her House seat to run for governor in 2014, and ultimately lost to Tom Wolf in the primary.
What's next?
Although Sweet-Cushman is hopeful about the future prospects for women candidates, she cautions about declaring 2018 another "Year of the Woman" or a "pink wave."  
She's recalls that 1992 was also considered the "Year of the Woman" after a surge of women were elected to congress.  But that wave was short-lived, an anomaly rather than a new normal.
The election that year came on the heels of the contentious confirmation hearing of U.S. Supreme Court Justice Clarence Thomas and the testimony of Anita Hill to a male-dominated Senate Judiciary Committee.
Sweet-Cushman says the real challenge is to continue to generate momentum for women candidates beyond 2018 — election cycle after election cycle.
She also points out that the buzz surrounding women running for office is lopsided.
"This trend is almost exclusively among Democratic women, and Republican women are underrepresented too," said Sweet-Cushman. "So they're being left out of all the energy and enthusiasm, around whatever we are calling this movement. [And that] should be of concern to everybody because we need women's voices on that side of the aisle as well."
Of the seven congressional races with women on the ballot, political analysts expect four of those races to be at least competitive for women, with Houlahan (PA-06), Scanlon (PA-05) and Dean (PA-04) favored to win.