Pa. teen takes action against hate mail
Listen
4:24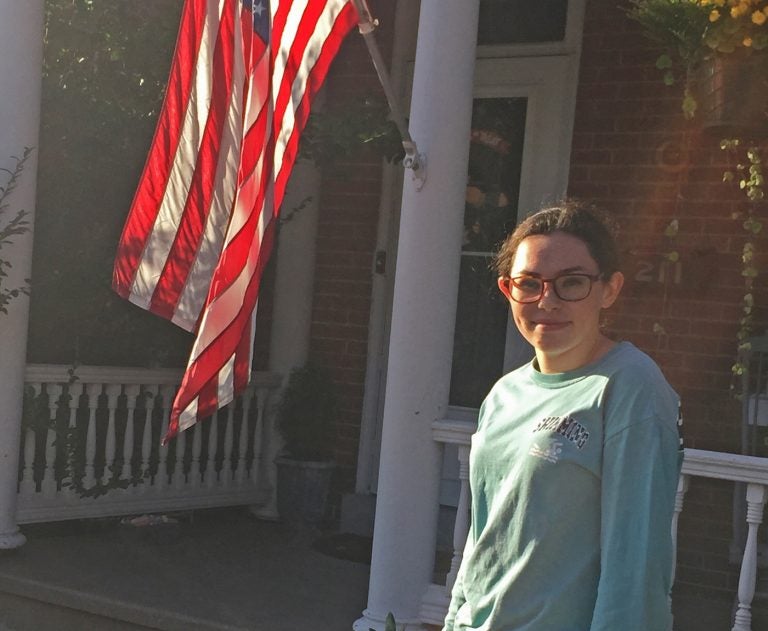 A Montgomery County teen was admittedly curious when she came home from school this month, sorted through the mail as she always does and came upon an envelope addressed to "Proud American."
But 16-year-old Erin Dunphy's curiosity soon turned to outrage once she opened it.
"I found a really horrible illustration along with a swastika at the bottom," Dunphy said. "It basically depicted an African-American man holding a knife to the throat of a white businessman with the caption of, 'How do you like your multicultural America now?'"
Dunphy, a junior at Upper Perkiomen High School, later learned that the letters were mailed to residents in three mostly white neighboring boroughs using personalized descriptions. The family with a lush garden got one mailed to 'Flower Power,' and the family with a wrestling sign on their front lawn was 'Wrestler.'
Dunphy's family, who lives on a quaint block in East Greenville, flies an American flag in front of their home … hence the "Proud American" label.
"I was kind of frightened because they had very specific details about people," she said. "To know that the people who send these letters basically stalked members of the community and kept a record of that … It was scary."
Dunphy could have let her fear get the best of her. Or, she could have thrown the letter in the trash and packed for swim practice, like she usually does.
Instead, she took action.
Standing up to hate
She started a Go Fund Me page, "Stand Up to Hate in Upper Perk" to raise money to buy "Hate has no home here" signs so she could distribute them at no charge to anyone who wanted them.
So far, Dunphy has raised more than $2,300. She gave out 150 signs this week and has placed an order for more.
According to the Southern Poverty Law Center, Pennsylvania ranks fifth in the nation in its number of hate groups, tallying more than three dozen.
This year, it seems those groups and their sympathizers have become more willing to make their biases public.
It's not typical for hate-groups to randomly target individual homes in Pennsylvania, according to the Anti-Defamation League. But this action fits in with a larger recent pattern of hate messages becoming more visible and more public.
Nancy Baron-Baer, director of the Philadelphia chapter of the ADL, said 18 incidents of spreading racist fliers on college campuses throughout Pennsylvania have been reported this year.
"Often we see this kind of mailing on college campuses because it is a way for just one individual or two rather than a large group of people who are racist and bigoted to be able to get their message across to large groups of people," she said.
Asked if the incident constituted a crime or whether an investigation was underway, the Upper Perkiomen police declined comment, citing department policy.
Dunphy, who aspires to become a doctor, said she's shy by nature and has never engaged in activism before. But now, she wants to make her campaign national. The more hate groups come forward, she said, the more people like her should make their dissent known.
"This is not going to change the minds of whoever spread this mail, and I know that," she said. "But my goal is really to show that, as a people, we are not hateful. We are not here to spread malicious and spiteful messages. Generally this is an accepting country,  and I want it to stay that way."