Pa. school may remodel locker rooms over transgender student access
This article originally appeared on PA Post.
—
One Lancaster County school district might spend about $1 million to build private showers and changing stalls for its high school students.
The moves come after community members protested how the Eastern Lancaster County School District is providing locker room and bathroom access for a transgender student.
Under the proposal, high school students would not have designated boys and girls locker rooms. Instead, there would be three new public areas. And those three areas would each lead to individual showers and changing stalls.
"I think we're headed in the right direction," Robert Hollister, the district superintendent, said during a meeting Thursday night inside Garden Spot High School.
In January, about 250 people attended a school board meeting, LNP reported, with raising concerns about a transgender student's access to a boys' locker room.
At that January meeting, an attorney for the district, Jeff Litts, said the district can't ignore court decisions that have gone in favor of transgender students.
In the past, the school district worked with transgender students and their families to allow the students "to use single-user restrooms or have alternative locker room arrangements," Litts said.
But he said this year, the "family of a transgender student insisted that their child" have access to boys' restroom and locker room facilities at the high school. Litts said the student is "a biological female" who identifies as male.
Locker rooms weren't an issue in the first semester, because the student did not have a physical education class, Litts said. But this semester he did, and Litts said the district took steps to protect the privacy of students. He said the district:
installed four changing stalls, similar to bathroom stalls in public bathrooms, in the boys' locker room; and
made an auxiliary locker room available for students.
But there was still a public outcry. And at that January meeting, the district created an ad hoc committee to look into long-term changes and create a comprehensive policy for bathrooms and locker rooms.
That's where the $1 million comes in.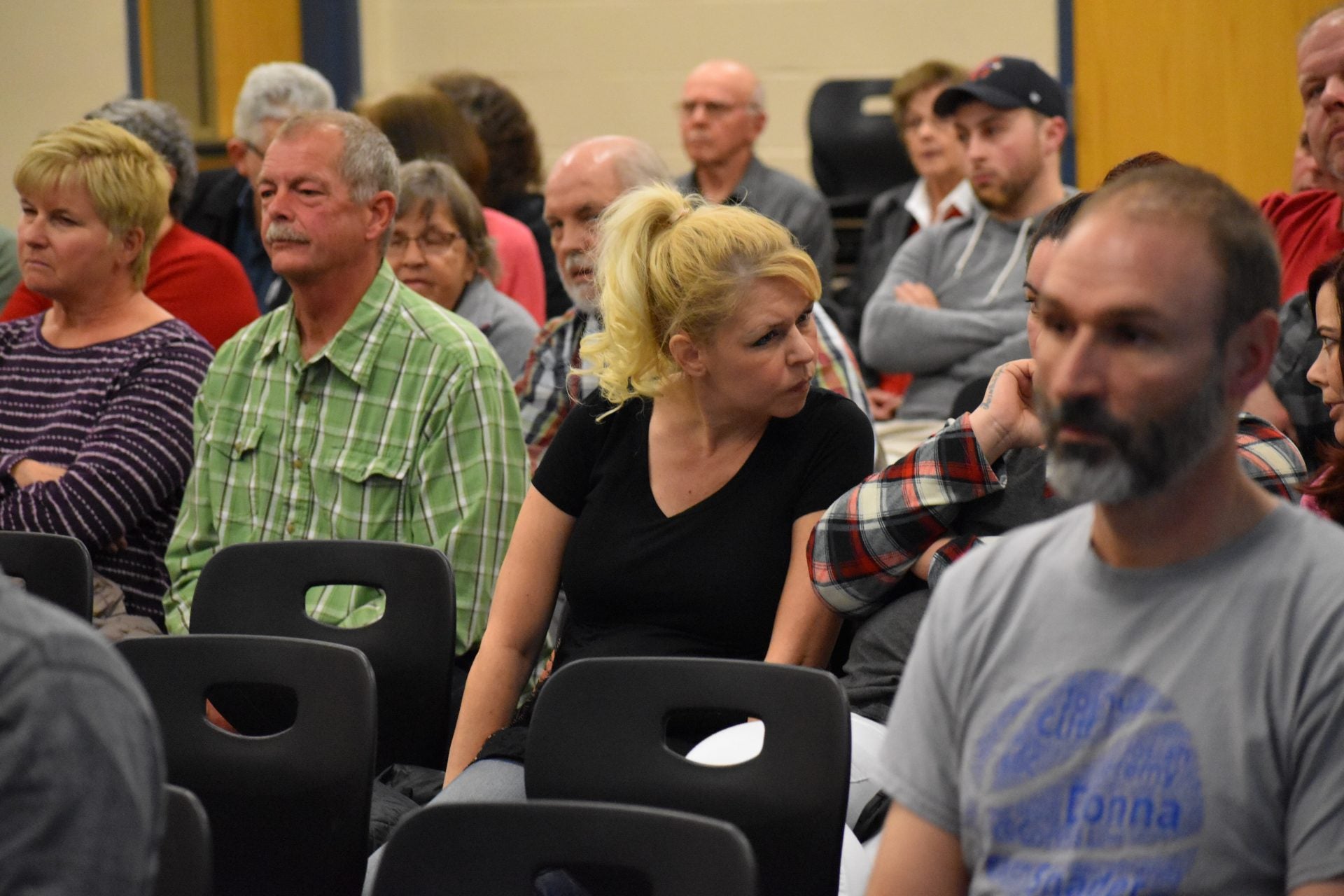 More than 75 people attended the meeting Thursday night. Several of members of the public criticized the idea of allowing the transgender student to use boys' bathroom and locker room facilities.
"Why is this one child allowed to dictate for everyone else?" said Diane Eberly, later suggesting that the transgender student should use faculty facilities until the district settles on a policy and plan. "Why can't that child be made to follow what was done in the past?"
After the meeting, Hollister, the superintendent, said the change is meant to benefit all students — not just a single transgender student.
"I often ask the question to people, 'Raise your hand if you're comfortable when you're in middle school or high school changing in front of your peers,'" Hollister said. "And, of course, no one raises their hand."